The Very, Very Tough Challenges That Egypt's New President Will Face
Whoever wins this week's vote will have to deal with debt, food shortages, and more.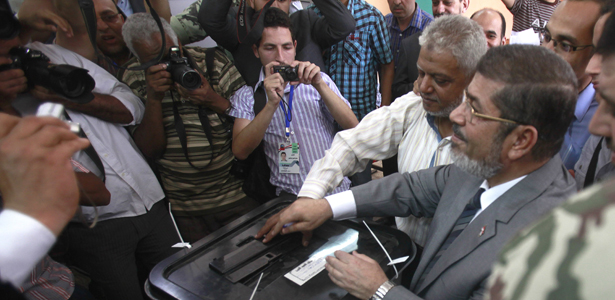 ---

MORE FROM THE COUNCIL ON FOREIGN RELATIONS
---
Today and Thursday, Egypt's 50 million eligible voters will have the opportunity to make history by participating in the country's first really contested presidential election. As I watch all the strenuous last-minute campaigning, I can't help but wonder why any of the candidates want the job. Since the constitution has yet to be written, it's not at all clear what powers the president will have. Moreover, the country's economy continues to stagger, and whoever is at the helm will inevitably get the blame for deteriorating economic conditions.
For the first time in 50 years, Egypt's growth in the fourth quarter of last year was actually negative; when I wrote about Egypt's foreign currency reserves back in November, the country had approximately $22 billion on hand, a decline from more than $35 billion at the end of 2010. Now, it holds a little over $15 billion, although fortunately, this is a minor improvement over last month's reserve levels. A devaluation of the currency seems not just likely, but inevitable. April saw food prices rise at an annual rate of nearly 11 percent, and major cities are experiencing daily protests over food shortages.
Over the past year, several countries and multilateral institutions have promised to give or loan significant resources to Egypt. The Deauville Partnership pledged close to $40 billion in economic assistance for Tunisia, Egypt, and other MENA countries at last year's G-8 summit in France; Gulf countries, the African Development Bank and the World Bank have also pledged billions. But the money has been slow to arrive-in no small part due to lenders' unease about the lack of political clarity in the region. For more than a year, Egypt has been involved in protracted negotiations with the IMF for a $3.2 billion loan. These talks at last seem to be in their final stages, which could help unlock other funding. As Mohsin Khan, a senior fellow at the Peterson Institute for International Economics noted in February, "Many of Egypt's friends aren't going to move until the I.M.F. loan is approved." A successful completion of Egypt's presidential election could bring some much needed political direction, and get the financial ball rolling. Still, analysts warn that Egypt now needs about $15 billion in external financing.
While international funding can help address Egypt's immediate balance of payments problems, over the longer term, the countries of North Africa will flourish only if they can attract private sector investment and marshal domestic resources. Let's not forget that before the revolution, Egypt was regularly touted as an up-and-coming emerging market, notable for its large, youthful population, untapped natural resources, and busy ports on the Mediterranean Sea and Suez Canal. It is the "E" in CIVETS (Colombia, Indonesia, Vietnam, Egypt, Turkey and South Africa), the catchy acronym coined by investors to describe the next set of countries to watch after the BRICs.
Yesterday, I hosted Jose Fernandez, assistant secretary of state for economic and business affairs, for a meeting at the Council on Foreign Relations. Fernandez's office is working on projects in several North African countries to strengthen economic governance, encourage investment, and reduce corruption. In particular, he discussed the State Department's efforts to expand a program called Domestic Finance for Development (DF4D) in the Middle East. DF4D aims to improve countries' abilities to attract investment and build up internal resources through measures like reducing corruption, publishing more transparent budgets, and creating more efficient tax systems. This month, DF4D worked with the government of Tunisia to host a conference bringing together regional finance ministers, tax experts, and business representatives in Tunis to discuss best practices in domestic resource mobilization. (Fernandez cited the example of Sergio Fajardo, the mayor (2004-2007) of Medellin, the Colombian city once synonymous with corruption and drug trafficking, who was able to significantly increase tax collections (and turn the city around) by convincing citizens that their taxes might actually be put to productive uses and not siphoned into politicians' pockets.)
Yesterday, G-8 leaders meeting at Camp David announced a number of new initiatives for the Deauville Partnership including establishing a Financial Services Advisory Corps, which will be run in cooperation with DF4D. The Advisory Corps will consist "of volunteer experts from the public and private sectors to provide technical assistance to help transition countries develop financial sectors that are strong, stable, transparent, and accessible." Other projects include an initiative to help transitioning MENA countries access international capital, and a proposed fund to enhance job creation, rule of law, and public services.
I'm hopeful that Egypt's presidential election this week will result in sufficient political clarity to get some of the international funds promised actually delivered, and begin the long and challenging process of economic rebuilding that the region desperately needs.
This article originally appeared at CFR.org, an Atlantic partner site.