The Very Different Life Chen Guangcheng Would Lead at NYU Law
The Chinese activist would find a very different world at the Manhattan institution.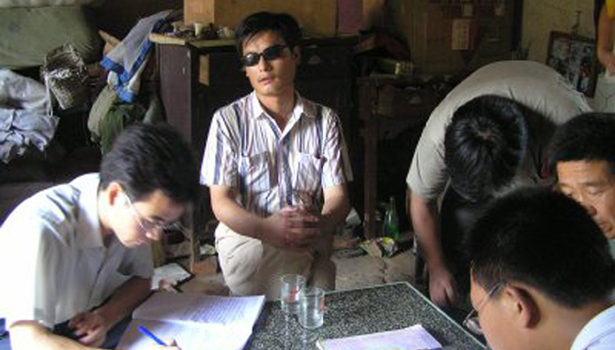 When it came to dealing with the blind activist Chen Guangcheng, the authorities in Beijing apparently decided against sending him back to house arrest and offered him freedom as a law student. Chen countered that he wanted to study in the U.S. -- no small ask, but one it appears China will grant.
The official response was that, if he wanted to study overseas, he could go through "normal channels to the relevant departments, according to the law, just like any other Chinese citizen." It's rumored he's been offered a fellowship at New York University.
We don't yet know Chen's next steps, or if he'd even attend NYU if he came to the U.S. to study, but if he did he might find a very different sort of environment than the one he's accustomed to from seven years of house arrest.
He'd be at an old-line, first-rate institution whose long-standing concern for civil liberties is unassailable and manifested by a law school symposium Chen could check out Tuesday if he can get out of Beijing that fast: "Turkey's Constitutional Transition -- Institutional Reform, Regime Change and a Bill of Rights -- Are They Possible?"
Well, he might need a bit of studying before broaching that topic, but he'd obviously be a helpful addition for any potential seminars on "Protecting Human Rights," "Governance Challenges in Foreign Policy," "Political Participation in a Diverse China," or "Political Intellectuals in China."
There would likely be appearances on public television -- can one not envision the earnest Charlie Rose interview, translator at his side? -- newspaper op-eds, and a guest lecture or three with a fancy stipend elsewhere.
One can envision him in the Soho living rooms of liberal activists, be they academics or movie stars of a Robert De Niro caliber, or the sumptuous Hamptons weekend retreats of Wall Street barons who want him to know of their sensitivity to oppression, even as they invest in firms exploiting China's cheap labor.
Of course, one assumes he won't have to be part of faculty meetings, grading papers, or doing mind-numbing research on a paper never to make it beyond a little-read professional journal.
But if he does have to do all that, maybe it better explains China's willingness to resolve a pain in the neck by turning to American higher education. Law school is so time-consuming that he might have less energy for those years to devote toward, say, pointing out abuses back home. And maybe that was the point.