The Swiss Appear Largely Relieved as Bachmann Renounces Her Citizenship
An anecdotal review of Swiss media and social media suggests that the Tea Party failed presidential candidate will not be missed in Switzerland.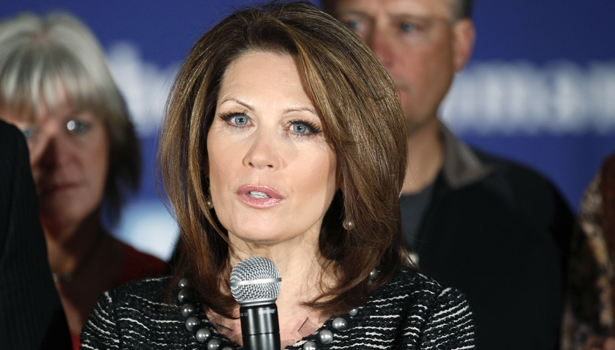 "U.S. Republican Michele Bachmann doesn't want Swiss citizenship anymore," read a headline from Swiss paper Blick on Wednesday. The past week of Michele Bachmann-Swiss citizenship news has been pretty weird even for Americans. But it seems to have been even weirder for the Swiss.
Minnesota Rep. Michele Bachmann and her family, it was recently revealed, have been claiming Swiss citizenship through her husband's immigrant parents. Bachmann became a dual citizen automatically upon marrying her husband in 1978. It only became a story Tuesday due to what appears to have been re-registration as part of her children's claim to Swiss citizenship. After a two-day media frenzy, Bachmann
announced
 Thursday that she was renouncing Swiss citizenship.
The town that the Bachmanns were claiming as their home, it turns out, is a tiny parish called Wigoltingen, population 2200, according to the amused Swiss papers. Amusement -- and bemusement -- appear to be the principal reactions from the Swiss and the Swiss media. "I hardly believe Ms. Bachmann would want to get mixed up with the circus in Bern," a web commenter wrote on a Bachmann story Wednesday, referring to the Swiss Federal Assembly. He offered the joking 
advice
 that, if she did participate, the right-wing populist Swiss People's Party would be a good fit. A French-speaking
commenter
on the
Tribune de Genève
's site had the same idea: "company for Blocher!" the commenter pointed out, referring to Swiss People's Party Vice President Christoph Blocher.
The Wigoltingen parish president Sonja Wiesmann, for one, is reported by Swiss
Blick
 to be just fine with Bachmann renouncing citizenship, having "experienced the past few days as some of the most hectic since her installation in 2009." Journalists from both Switzerland and America inundated Wiesmann with calls in the past few days. "Luckily," she told the
paper
, I used to be an
au pair
in the USA and could communicate well." Blick's online 
readers
seem similarly unoffended by Bachmann's renunciation -- even relieved. "It'd be great if all the Swiss expats followed suit," one commented. "Ufff, thank God!" wrote another. "We have enough loonies in our country already." Bachmann's controversial profile in Switzerland was noted even in the driest news reports: "The canton of Thurgau is about to lose one famous or infamous citizen, depending on your view,"
concluded
the Neue Züricher Zeitung.
What about all the waffling?
The Guardian
reported
on Friday that "Bachmann spokeswoman Becky Rogness declined to comment on whether Bachmann's office had any concerns about offending the Swiss."
The Swiss media, at least, don't seem too offended. "That's how life goes," opened Washington correspondent Martin Kilian's
article
on the topic for Swiss paper
Tages Anzeiger
. "One day you're Swiss, the next you'd rather not be." The country probably wouldn't have suited her, he joked rather provocatively: "Here, Latinos are called Germans, aren't illegal, and as a result Bachmann wouldn't have been able to insist on their immediate deportation."
Conclusion? No international embarrassment necessary. As one of the most-liked Swiss comments on Kilian's article said succinctly: "I think we'll get over it"