The Paper Mache Agenda for Afghanistan
Western leaders are making promises about what they'll do for the country, but will they follow through?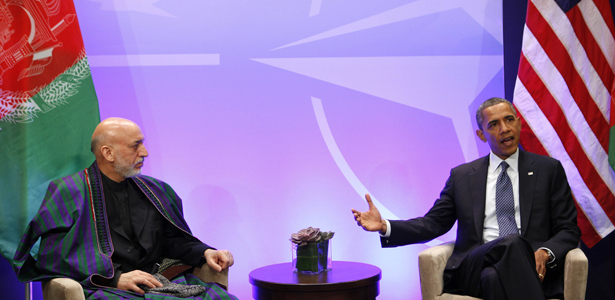 The Afghanistan-related measures NATO members are expected to adopt in Chicago are a mix of concrete international agreements and paper promises that European capitals may or may not uphold.
Start with the money. NATO members--with defense budgets shrinking and poll numbers against maintaining the war soaring--are expected to commit to some formulation of funding that keeps Afghan National Security Forces' (ANSF) training and operations running beyond 2014. The United States estimates those costs to shrink from $6 billion per year for the current supersized "surge" force to $4 billion after culling more than 100,000 Afghans from the rolls.
Those agreements may be the only hard-line positions the heads of state adopt, though the real details will come at July's donor conference in Tokyo. The U.S. and Afghanistan have already signed up for their shares, and Germany last week pledged $190 million annually, but more than two dozen other European countries have yet to climb aboard.
As for combat, no agreement reached in Chicago can predict exactly when and how NATO will morph into the "training" mission expected in Afghanistan (which will occur while counterterrorism fighting carries on overhead.) Training missions have proven expensive--up to $2 billion per year in Iraq, where maintaining and housing trainees cost far more than the actual training. And Iraq could pay much of its bill. Foreign countries have to pick up even greater share of Afghanistan's training, which cost $12 billion at its peak last year.
---
MORE FROM NATIONAL JOURNAL
---
The flexibility in NATO's less-than-ironclad agreements leaves Stephen Larrabee, Rand Corp.'s distinguished chair in European Security, pessimistic.
"I think that a lot of the commitments are paper commitments," Larrabee argued on Friday, referring to funding the ANSF. "I don't think there are many European allies that are very enthusiastic at all."
Afghanistan's President Hamid Karzai, meanwhile, is signing individual security agreements with NATO members separate from the alliance. Karzai and President Obama this month signed a 10-year deal allowing Americans to stay, though not to seek permanent bases. But new French President Francois Hollande on Friday told Obama he would fulfill a campaign promise to withdraw combat troops early, by the end of this year.
"NATO members have committed to the principle of 'in together, out together.' But will they follow through?" wrote Council on Foreign Relations' Stewart M. Patrick, senior fellow and director of the International Institutions and Global Governance Program, on Thursday.
Brookings Institution's Michael O'Hanlon, who believes NATO deserves credit for keeping 40,000 troops in Afghanistan, said analysts dreaded the timing of Hollande's election and the summit. "This has been a concern ever since it became apparent very early this year that Mr. Hollande would probably win."
Not everyone is a naysayer. Senate Foreign Relations European Affairs Subcommittee Chairwoman Jeanne Shaheen, R-N.H., in a Foreign Affairs article, argued, "At this year's summit, the West must push back and remind the world that the United States and its NATO allies still wield unrivaled power to shape the world for the better."
But even Shaheen pressed NATO members to offer something tangible. NATO, she wrote, must "plan a post-2014 relationship with Afghanistan that is credible and realistic. Plans need to include specific troop numbers and financial commitments from alliance members." She also called for a "more realistic" sized ANSF, one that is affordable.
"The big if," warned Brookings' Steven Pifer, senior fellow and director of the Arms Control Initiative, is located far outside NATO's borders: Who succeeds Karzai? It's a topic only recently gaining traction in Washington.
"Because if you get essentially the equivalent of a warlord winning, then I think all bets are off, and we'll be trying to, you know, control the damage at that point."