The Good News About Foreign Media Coverage
This year's Overseas Press Club of America awards shows that, even if international reporting resources and bureaus are being scaled back, the quality is still excellent.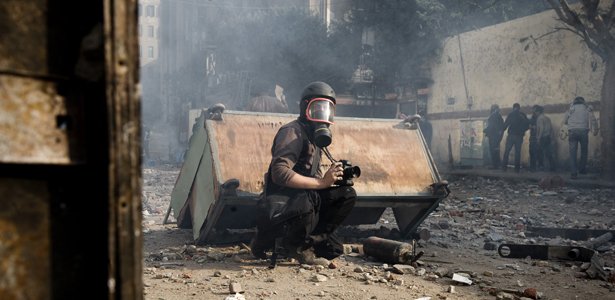 Every spring, the Overseas Press Club of America has a banquet to hand out prizes in what this year were 27 categories. There is a widespread belief that coverage of foreign news in recent years has been significantly diminished as newspapers, news magazines, and broadcast networks have reduced and in some cases eliminated altogether their bureaus abroad. And yet, sitting in the audience as each recipient came forward and as the announcer described their work, I grew increasingly impressed with the range and quality of the stories being honored and with how many organizations were represented.

There are traditional winners such as the New York Times, represented this year by C. J. Chivers for his reporting from Libya and Afghanistan: "tough, cool and brave: these were the hallmarks of Chivers' great reporting in 2011." A team from the Wall Street Journal won for a series that showed how Iran, Egypt, Libya, and Syria used technology supplied by Western and Chinese companies to "spy on dissidents, track mobile phone users, conduct surveillance of them and censor web activity and satellite television broadcasts." Another Wall Street Journal team won for "coverage of the European sovereign-debt crisis ... in a nuanced three-dimensional series that explained how a mountain of debt threatened to sink a continent." For all the justified travail News Corporation and the Murdochs face because of the scandals in the United Kingdom (and conceivably in the United States), the Wall Street Journal can still do outstanding reporting.
The Associated Press's David Guttenfelder won photography awards for a series from North Korea and a spread in the National Geographic from inside Japan's closed-off nuclear exclusion zone surrounding the Fukushima Daiichi power plant after the March 2011 earthquake and tsunami. Pete Muller of the AP won a photography prize for "documenting a sensitive and difficult story, rape in the Democratic Republic of Congo." The New Yorker won two prizes; one of which, I should acknowledge, about Fukushima, went to my son Evan, and the other to Sarah Stillman, a young freelancer who did a remarkable investigation about the abuse of foreign workers on American military bases in war zones, "including sexual assault and indentured servitude, that were ultimately carried out on behalf of the U.S. government and funded by American taxpayers." Among the other winners were ABC News, NPR, Bloomberg BusinessWeek, the Washington Post, and the Financial Times, for a project with ProPublica on how banks have taken advantage of gaps in tax laws costing the U.S. government billions in lost revenue. The full list of winners is available on the OPC website.
There are several organizations whose contributions last year represented extraordinary output that would not necessarily be thought of as part of the general news ecosystem. The General Excellence Online Award went to the staff of ForeignPolicy.com, which has been transformed over the years from a quarterly magazine with a limited circulation to a genuinely creative Internet site with, as the citation read, "wonderfully clever and engaging content which helps readers see the world in new ways." As one judge commented, "the image and illustration choices were inspired and even funny ... I was drawn to every topic from Japan to the Kremlin." There was praise for ForeignPolicy.com's effective use of social media, integrating Twitter and attracting "an engaged and informed community of commentators." Susan Glasser is editor-in-chief of the website and the magazine, and congratulations are in order to her and the small but clearly very talented staff.
The Council on Foreign Relations won the prize for Best Use of Online Multimedia "such as interactive graphics, Flash and slideshows to report on international news." On CFR.org the "Crisis Guide: Iran" used multimedia to provide in-depth coverage of Iranian politics, economics, and, of course, its nuclear program. The Council on Foreign Relations magazine, Foreign Affairs, has maintained its stature for decades as the leading journal for the cognoscente, which is why it is so notable that its website has moved from stodgy reproductions of articles to what the OPC said were "visually pleasing and accessible" graphs, timelines, and video interviews. The award for Best Use of Online Video went to Maisie Crow and Jesse Dukes of the Virginia Quarterly Review for "Half-Lives: The Chernobyl Workers Today." This small enterprise managed to produce video, archival footage, and still photography of a quality that the judges said "are rarely seen in video produced for the web. [Ms. Crow] has elevated the standard for online video." The winner for Best Online Coverage of Breaking News was GlobalPost, the Boston-based organization, which has stringers all over the world and, now in its fourth year, is attracting followers for its energy, commitment, and breadth. Its prize was for coverage in a 72-hour period during which Muammar Qaddafi was captured and assassinated
There were 520 entries this year for OPC awards, and aside from the award winners there were runner-up citations in every category that doubtless also included excellent work. So, while we need to concede -- and mightily regret -- that time-honored foreign news-gathering has been cut back sharply in some quarters (particularly from metropolitan dailies), readers and viewers with an interest in the world have an enormous amount of news and background information available. But now, more perhaps than ever before, the responsibility for finding the best of what there is takes effort from consumers of the news. What the OPC recognition of these winners demonstrates is that the search for quality is definitely worth the time, and the results are, well, rewarding.