The $630-Million Trees That Sparked a Social Media Revolt in China
When officials spent billions of yuan to blanket Qingdao with pricey foliage, citizens fought back online.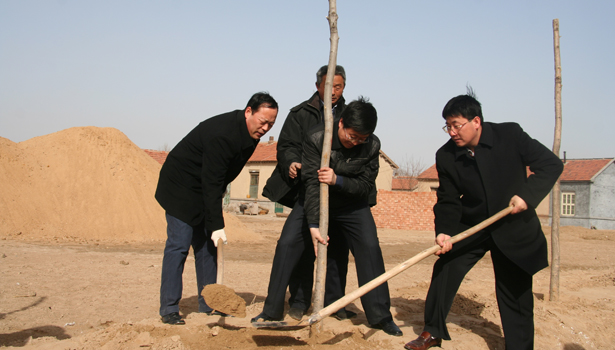 The project rolled out like many others in major Chinese cities: bulldozers wiped over the verdant grass field next to the coast, spades overturned the granite blocks blanketing the city squares, and nearly two million crescent-shaped tree holes popped out in less than a month, along the avenues, by the beach, and under overpasses, turning the serene port city on China's Pacific coast into a dirt sieve. The new mayor of Qingdao, a major city in Shandong province, was pushing forward a massive tree-planting campaign to make his city a "National Forest City" by 2014. It is an act that should have surprised no one in China, where more skyscrapers are shooting up than could be filled, and roads are being reconstructed faster than taxi drivers could keep track. Like these urban developments, the Qingdao tree-planting campaign is part of a Beijing-led surge in national infrastructure spending, a stimulus meant to restore the country's flagging economy.
This innocent-sounding campaign in Qingdao, however, has turned into a tug-of-war between the city government and local residents since its launch in late February. After a few concerned citizens spoke out against what they saw as wasteful spending, their campaign has caught fire on wider Chinese social media and spread to even the tight-lipped state media. The battle has mobilized the Chinese public on an unusual scale and engaged them in an intense civil bargain with the government, the sort of which is rarely seen in today's China.
When the plan to "Construct a Green Qingdao" was first announced in 2009, in typical Chinese government fashion with slogans veiling details of implementation, it went largely unnoticed by local citizens. It was not until they saw the bulldozing in late March of a large patch of green grass in a local park, a favorite spots for citizens to fly kites, take after-dinner strolls, and go on dates, did the angry murmuring begin. Many long-term residents said they felt the act violated their fond childhood memories of the old city, and posted old pictures of the park on Internet forums side-by-side with new ones of the destroyed grass. The discontent was soon exacerbated by an official announcement that the tree-planting budget for 2012 alone would be 4 billion yuan -- about $630 million.
"Four billion for planting trees ... do you know how many people in Qingdao can't afford medical cost? If you take out one tenth of your tree-planting budget, we can all have universal health care coverage," a Weibo user named national grassroot anti-corruption association wrote.
User sinnryuu, complaining about the hefty cost of her niece's kindergarten education, suggested, "Why not invest the money instead into building schools?" .
Others questioned why officials, before making a decision that would affect the lives of so many, had not sought public approval first, and demanded the right to know the minutiae of the project and spending plans.
"I am 27 this year...and I don't really care about politics. But it all changed after the new mayor took over our city and started planting trees," Panuu wrote in an open letter he posted on Weibo in early April. He included the relevant clauses from the Chinese Constitution that entitle citizens the right to criticize government practices, the transcript of his phone conversations with various branches of city government (which invariably shunned his inquiries), and an approximate calculation of the labor and inventory cost for the project. "Who decided the number 4 billion? How are they spending it? Who is there to supervise? ... Is the density of the trees going to affect our normal life? What is our land size per capita after the project is finished?"
The complaining web users soon gathered into a more organized community, which attracted a number of Weibo celebrities with a million-plus followers each. At their appeal, thousands of citizens flooded the local government offices with phone calls, filled its email inboxes with demands for a public explanation for their actions, and took up cameras to snap photos of places where trees were being unreasonably planted: under bridges, next to the ocean, amid rocks. "Why is it so difficult for you [the government] to admit your mistake?" Several frustrated web users asked.
The city government, focused on planting all 8 million trees before the end of May, first ignored the pleas and censored relevant posts on Weibo. When the movement against their project suddenly picked up momentum in April, however, the officials seem to have been caught unprepared. One official from the Qingdao Municipal Bureau of Landscape and Forestry compared the outburst of discontent to a nuclear reaction, "it was so explosive." The force of the public inquiries seems to have finally forced the government to respond, if reluctantly, first through Internet announcements, newspaper briefings, television interviews, and eventually with an unprecedented online live chat between the city major and the citizens. Over 200,000 users logged on, crashing the server.
The local government has also started to quietly undo its project, pulling out trees from some overcrowded areas. But the effort, which focused on social rather than mainstream media, has still not cooled public anger. For a government not used to responding to public sentiment, this sort of PR crisis has proven an extraordinary challenge. Many locals took the clumsy response as a sign of insincerity in the supposedly open dialogue. "Why don't you walk onto the stage, give a frank explanation, and apologize?" one web user asked.
The government posted a letter on its official website in late April, apologizing for the lack of communication with citizens and its sluggishness in responding to their questions. This might seem like a victory for local citizens, but the Qingdao web activists confessed that they were disappointed.
"They tried to downplay the incident from the beginning to the end and remained silent most of the time, only putting up a show when pushed by public pressure," web user xiumubuxiang said. "They are not sincere."
Another user, a retired party cadre, said that he saw a wasted opportunity for the government to connect with its people. "Our demands are rational, and the leaders should have used it to conduct an equal conversation with us to build a positive image."
Still, in going after the trees that blocked their view of the ocean, Qingdao's citizen-activists also managed to shake the wall that has long blocked their access to the government and to public dissent. As for Qingdao's officials, they may better see the potential risks of lavish and costly government-administered projects, which are often a component of China's economic stimulus measures, but can sometimes go to extremes. When Chongqing party chief Bo Xilai was sacked, he left behind a city of expensive gingko trees, which cost the government 10 billion yuan in 2010. They were part of his expensive campaign to make the city a more "livable" and "accessible" place, but are now mockingly referred to by the citizens as "Xilai trees."
"Who is party secretary and who is the mayor makes no difference to me," zuoyeben, a leader in Qingdao's anti-tree planting movement, tweeted to his 2,800,000 followers on Weibo. "But I still need to talk to you about planting trees, because I can't talk about democracy."