State Department Human Rights Report Ignores U.S. Role in Abuses
The report is an example of U.S. unwillingness to acknowledge its role in civilians killed during counterterrorism operations in Yemen, Pakistan, and elsewhere.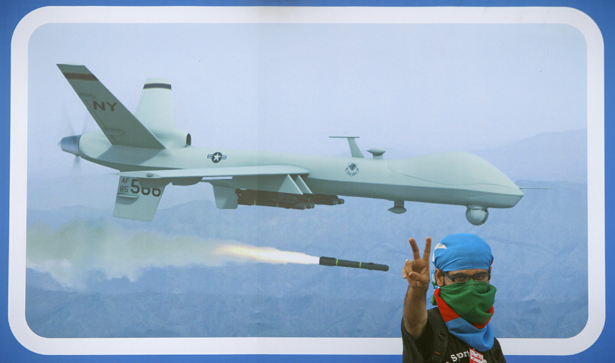 ---

MORE FROM THE COUNCIL ON FOREIGN RELATIONS
---
Late last week--89 days past its legal deadline--the State Department released its annual Country Reports on Human Rights Practices for 2011. The new, user-friendly interface allows you to find and read individual country chapters much more quickly and easily (and might explain the delay). For all its flaws, the report remains a must-read for its reporting and candor. It serves as a generally honest counter to the rosier assessments of U.S. partners and allies' human rights practices.
From my vantage point of trying to understand the Obama administration's policies and practices of target killings, the report is also notable for what it does not include; namely, any mention of U.S. involvement in or responsibility for such operations.
The chapter on Yemen, for instance, has an entire section dedicated to "killings:"
The government also employed air strikes against AQAP and affiliated insurgents in Abyan, with some strikes hitting civilian areas. Although some accused the government of intentionally striking civilians in Abyan, most if not all noncombatant casualties from these bombardments were attributed to a lack of air force training and technical capability.
First, because U.S. targeted killings in Yemen are "covert," the State Department cannot acknowledge American complicity or collusion. But it stands to reason that some, if not a majority, of these air strikes were carried out by CIA or Joint Special Operations Command (JSOC) drones, or even U.S. Navy assets offshore. Even the most careful, discriminate, and "surgical" uses of force can unintentionally kill civilians. According to three Yemeni officials, for instance, two drone strikes earlier this month killed seven suspected AQAP militants and eight civilians.
Second, given the CIA's request to "broaden the aperature" by conducting "signature strikes" against anonymous AQAP militants based on "patterns of suspicious behavior," the number of civilian casualties will only continue to increase. Today, Iona Craig reported meeting a farmer in Abyan, Yemen, who witnessed two separate air attacks that killed twenty-six people. According to the farmer, "They were all local people, many of them friends of mine."
Third, although some of these strikes could have been carried out by Yemeni forces, civilians on the ground are hardly able to distinguish among Yemeni, CIA, and JSOC missiles. It would be difficult to devise a counterterrorism strategy that did a better job at creating a common enemy among victims or neutral third parties.
Fourth, the State Department report implies that additional "air force training and technical capability" (presumably funded by U.S. taxpayers) would prevent civilian casualties in the future. The United States gave $326 million in (overt) security assistance to Yemen between 2007 and 2011, which has had negligible impact on the government's ability to combat AQAP. In that same time period, AQAP has tripled in size and expanded its geographic reach and influence. According to Air Force General Ali Abdullah Saleh Al Haymi, "U.S. assistance was used to kill Yemeni people, not to kill al-Qaeda."
Beyond Yemen, the chapter on Turkey includes the section "Arbitrary or Unlawful Deprivation of Life," which notes two unfortunate incidents:
On December 28, military aircraft killed 34 civilians near the town of Uludere in an airstrike intended to kill members of the PKK. The government's investigation was underway at year's end...

On several occasions throughout the year, the government used military aircraft to attack areas where the PKK terrorist organization was active in northern Iraq. According to press reports, fire from Turkish aircraft killed seven civilians in Iraq on August 21.
Since November 2007, when the combined intelligence fusion cell opened in Ankara, the United States provides targeting information from manned and (more recently) unmanned aircraft to guide Turkish air strikes against suspected PKK members. Reportedly, a U.S. Predator drone provided the initial video imagery that led to a Turkish airstrike against a caravan of men, who turned out not to be PKK militants, but civilians.
Every single State Department Human Rights report--2007, 2008, 2009, and 2010--since the U.S.-Turkey cell targeting opened warned of civilians killed in counterterrorism operations where the PKK was the intended target. Does the United States have a role in or responsibility for these unintentional civilian deaths that have persisted year after year?
But the most remarkable and hypocritical aspect of U.S. unwillingness to acknowledge its role in civilians killed during counterterrorism operations, is that it reports other air strikes with collateral damage. The chapter on Somalia, for example, contains this finding:
On October 30, a Kenyan military airstrike in the town of Jilib, Middle Juba, reportedly hit an IDP camp. According to Doctors Without Borders, its clinic received five dead and 45 wounded, mostly women and children, from the incident. The Kenyan military spokesperson dismissed reports of civilian casualties and instead claimed the aerial bombs had hit al-Shabaab targets who used the IDPs as human shields.
Finally, the Pakistan chapter reveals, "During the year there were reports of civilian casualties and extrajudicial killings committed by government security forces during operations against militants." There were also at least seventy CIA drone strikes in Pakistan over the same time period, at least some of which accidentally killed civilians and tribal police members. But you won't read about that in this report.
This article originally appeared at CFR.org, an Atlantic partner site.