South Africa's Thorny National Debate Over Nude Painting of President Zuma
What race, politics, and freedom of expression have to do with the controversial portrait.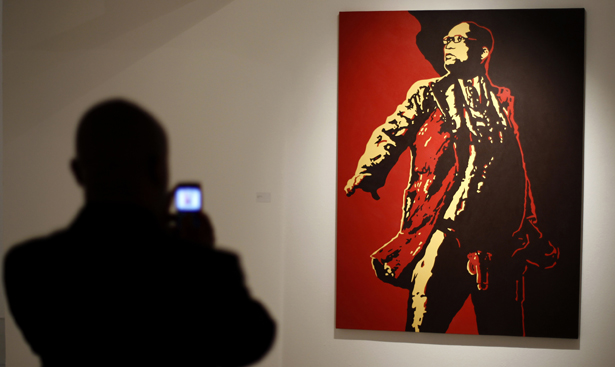 ---

MORE FROM THE COUNCIL ON FOREIGN RELATIONS
---
The New York Times reports that an exhibition at a Johannesburg art gallery is pushing contemporary hot buttons. On exhibit is a large painting of a figure resembling President Zuma with his genitals exposed. The governing African National Congress (ANC) is suing to have the painting removed. The gallery and its supporters from civil society are claiming the right to free speech, which the constitution guarantees.
There are several special South African dimensions to this episode.
The ANC is using the courts. It is seeking the removal of the painting through the rule of law, rather than by other means. (The painting has subsequently been defaced, and, as a result, the gallery temporarily closed, but I have seen no evidence of ANC complicity in the vandalism.)
Zuma is black, while the artist and those associated with the art gallery appear to me to be white. Hence, for Zuma's supporters there is probably a racial dimension. One of his supporters claims publicly that the painting feeds white prejudice that blacks are "over-sexualized."
Zuma is likely to face a challenge to his ANC leadership at the party convention in December. He is a polygamist with four wives, at least twenty children, and was acquitted in a notorious rape trial where he argued that the unprotected sex - with an HIV-positive woman-was consensual. Hence, the painting hardly helps his image.
In addition, the painting is almost certainly deeply offensive to the evangelical and Pentecostal communities, which are growing fast among black South Africans. Zuma of late has been reaching out to both communities as he looks toward the December party conference.
So, it is about art that is offensive to many South Africans. It is also about Jacob Zuma. But, the context for its resolution remains the rule of law.
This article originally appeared at CFR.org, an Atlantic partner site.