Shanghai Noir: China's Long History of Crime Stories, Real and Fictional
Now a center of global commerce, the city was once so dangerous that its name was slang for "to kidnap."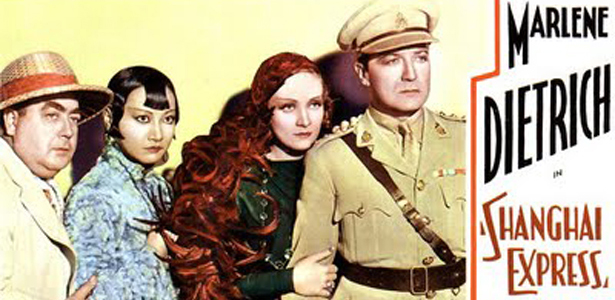 As my son and daughter will be the first to tell you, I'm a bit obsessed with Shanghai.  When they were teenagers, they'd tease me about my proclivity for bringing the city into dinner conversations that had nothing to do with Shanghai -- at least on the surface. Say the Beatles were the focus of discussion, I'd slip in the fact that George Harrison wrote the theme song for Shanghai Surprise, a film starring Madonna and Sean Penn that's excruciatingly bad.  If computer games came up, I'd point out that "Shanghai" was the name of an online version of mahjong.  And so on.
As I noted recently, allusions to noir books and films have featured prominently in commentaries on the recently purged Bo Xilai and his wife Gu Kailai. They were from Chongqing, where Bo was party secretary, but no other Chinese city is as tightly linked to the noir as Shanghai. Consider these basic facts:
During its century-long incarnation as a treaty port (1843-1943), Shanghai was viewed as such a dangerous place that its name entered the English language as a verb meaning to dragoon or kidnap.
By the 1930s, Old Shanghai (to use a common term for the city in treaty port days) became globally famous or rather infamous for possessing all of the things you would expect to find in tales by Damon Runyon or Mickey Spillane. Drug deals? Check.  Brothels? Check.  Gangsters? Double check.  This Chicago of the Pacific even had its counterparts to Al Capone: The Green Gang leaders Pockmarked Huang and Big-Eared Du.
Old Shanghai served as the setting for many Golden Age Hollywood films dealing with intrigue and danger.  Some remain famous (think 1932's Shanghai Express), while others are deservedly obscure (think 1935's Charlie Chan in Shanghai).
Throughout the early 1900s Old Shanghai also showed up regularly in Chinese films dealing with crime, as well as in books in various languages that focused on topics such as espionage and detection.  In 1933 alone, it was the setting for both André Malraux's La Condition Humaine (Man's Fate), a violent tale of conspiratorial plots, and Frabcus Van Wyck Mason's The Shanghai Bund Murders, a largely forgotten book by an author whose other works sometimes name checked other cities with noir associations (The Budapest Parade Murders, The Cairo Garter Murders, and so on).
When Cheng Xiaoqing, an early translator of Sir Arthur Conan Doyle classics, created Huo Sang, a Sherlock Holmeswith Chinese characteristics, he decided, of course, to have his detective solve crimes in Shanghai.  And when Hergé dreamed up a Chinese adventure for his famous boy detective, Tin Tin was sent looking for clues in the same city.
The wicked old treaty port as it was (or at least was imagined to have been) has never stopped showing up in films and novels that are pure noir or at least have some connection to the genre.  In cinema, late 20th-century and early 21st century movies that come to mind include Steven Spielberg's Empire of the Sun (1987), Zhang Yimou's Shanghai Triad (1995), and Ang Lee's Lust, Caution (2007).  Turning to novels, the city has figured in works such as Kazuo Ishiguro's When We Were Orphans (2000), which features an eccentric sleuth who is based in London but during World War II heads to Shanghai and has surreal and dangerous experiences there.
New Shanghai, as the unified city of the present is sometimes known, doesn't have the same sort of tight ties to noir as its fragmented predecessor, but it has not been overlooked completely as a setting for noir tales. Most notably, in recent years, the Shanghai-born but U.S.-based poet, translator and fiction author Qiu Xiaolong has been publishing a string of mysteries featuring Inspector Chen, who works for the police force in the city of his author's birth.
The city has played a crucial role in the careers of many powerful and controversial Chinese men and women, but not in those of either Bo or Gu. Cities mentioned more often than Shanghai in accounts of this fallen power couple include Dalian (Bo held his first major post there), Singapore (a place Gu visited often to make deals), and Chongqing (where Bo was Party Secretary and where murdered British businessman Neil Heywood spent his final hours).
But Shanghai has long held a place in noir too prominent to ignore, so here are five books in the genre, loosely defined to includes thrillers and true crime tales as well as whodunits, that seem particularly worth tackling while Bo and Gu remain in the news. Shanghai won't be the only city dealt with below, but this time it will get its due. Here, then, in no particular order, is my rundown of five notable works on noir that are set in China:
The Mao Case, by Qiu Xiaolong

This Inspector Chen mystery is not my favorite work by Qiu, since it has some of the plot devices that struck me initially at least as a bit too far-fetched.  Still, it is a particularly fitting one to read -- or re-read -- in 2012, given the role that secrets in the upper echelons of the Communist Party play in it and its meditation on the varied uses to which memories of and symbols associated with the Mao era can be put in contemporary China.  And while the story continues to strike me as containing over-the-top elements, they do not seem quite as outlandish now as they did when I read the book around the time of its initial publication.
Old Shanghai: Gangsters in Paradise, by Lynn Pan

This work which came out in the 1980s and has recently been re-issued, is a non-fiction publication written with a novelist's grace.  It tells the story of the notorious Green Gang, which gives it special interest in light of Bo gaining fame in part through a high-profile crackdown on organized crime.  Revelations that participants in that crackdown may have behaved thuggishly themselves won't seem shocking to readers of Pan's book, since in the 1930s one of the gangsters she discusses, Big-Eared Du (Du Yuesheng), was both a leading figure in the opium trade and a member of officially constituted groups in charge of suppressing the sale of illegal drugs.
Exploring the growth of a massive economy
See full coverage
The Pool of Unease, by Catherine Sampson

One subplot in this gripping detective story by a former journalist living in Beijing, involves a Briton who meets a violent death in China.
Midnight in Peking, by Paul French

French, a longtime Shanghai resident whose previous publications include a history of foreign correspondents in China, offers a compulsively readable true crime work in the tradition of Devil in the White City.  Like Pool of Unease, it deals with a foreigner's death -- in this case a young woman whose was murdered in a particularly horrific way and whose killers were never brought to justice. (Click here to read Asia Blog's review of Midnight in Peking.)
The Fat Years, by Chan Koongchung

This book tends to be approached as a work of dystopian science fiction rather than noir, and it certainly owes a clear debt to such classics of that genre as 1984 and Brave New World.  It is, however, filled with moody scenes and settings.  And like many works of noir, it includes an effort to unravel a mystery -- in this case, why almost no one living in China in 2013 seems to remember anything about the events of a month in the recent past. Central to its plot are many issues that figure in Bo's case, including the Communist Party elites obsessive concern with maintaining control and projecting an air of total unity.
This article originally appeared at Asia Society, an Atlantic partner site.