As mentioned yesterday, what I know about this case, from the other side of the world here in DC, mainly depends on the blog posts and Twitter feeds of people on scene.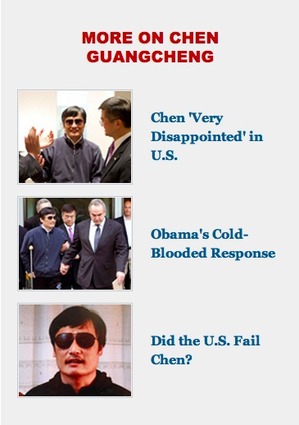 The Atlantic has had several interesting posts about the matter, but I want to sound a cautionary note about their unintended cumulative effect. Right now we have a featured headline on our site saying "Chen Says U.S. Officials Lied to Speed His Exit." The International-channel headline for that same article says "Chinese Activist 'Very Disappointed' in the U.S., Says Officials Lied to Him." Another featured item has the headline, "America's Cold-Blooded Treatment of Chen Guangcheng." [Update: At right is the way our site is now featuring "More on Chen Guangcheng." My concern is about the accumulation of conclusive-sounding headlines all pointing the same way, in advance of what anyone knows for sure.]
Quite a lot about this situation is confusing and contradictory, to put it mildly. But I would caution readers against drawing an inference, from headlines like the ones above on US-based analyses rather than on-scene reports, that (a) it is clear that U.S. officials so clearly mis-handled, or coldly handled, this case, or (b) there was something much more clearly successful or satisfying that they could have done. It's possible that both those things will prove to be true, and the Obama Administration and its representatives in Beijing will deserve criticism. But that is far from clear now -- and I worry that a pileup of headlines of this sort can give an initial shape to the story that is hard to change, and that the complicated facts don't support.