May Day in Israel: Scenes From a Communist Rally in the Holy Land
The 90-year-old Israeli communist movement, one of the last hold-outs of an ideology that mostly died with the Soviet Union, held demonstrations across the country this weekend.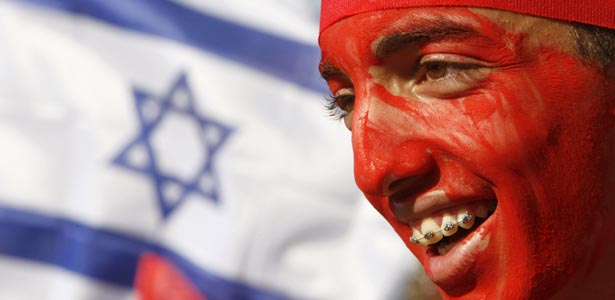 NAZARETH, Israel -- There's sometimes a perception that Israeli politics are dominated by right-leaning conservatives, and not only is it more complicated than that, but the international left is in fact alive and well here. Maki, the Communist Party of Israel, held a succession of rallies and protests across the country to mark May 1 -- May Day, otherwise known as International Workers' Day. Knesset Member Dov Khenin, also a member of Maki, told me they were campaigning for social justice, peace, democracy, and the two-state solution.
Under the direction of the Israeli Communist Party, part of the broader left-wing Hadash movement since 1977, demonstrators rallied on Friday evening in Jerusalem, Saturday night in Haifa, and on Sunday in Tel Aviv. In Nazareth, prior to lunch on Saturday, hundreds of people from across the generations and genders spilled out for a march that crossed from a petrol station located near to the Catholic Church of the Annunciation northward toward Mary's Well, where Orthodox Christians believe the Virgin Mary was visited by the Archangel Gabriel, thus commencing her pregnancy.
Maki's history goes back to the declaration of the Israeli state in 1948, and its roots extend to the Palestinian Communist Party, founded in 1923, mostly by immigrants who brought Europe's burgeoning communist movement with them. Communism around the world has changed dramatically since those early days, when it was a movement of labor unions and chin-stroking intellectuals, and has become more closely associated with the totalitarian regimes of Josef Stalin, Mao Zedong, and Pol Pot. But the Israeli branch missed most of these changes, and today it's more about farmer communes and worker's unions (and some Israel-specific issues, such as its controversial anti-Zionism).
Israel's influx of conservative Russian immigrants and its occupation may edge the country ever to the right, but Hadash -- a superficially joint Judeo-Arab front of socialist parties and organisations -- won four seats in the most recent Knesset elections. They propose a self-described non-Zionist platform, one opposed to all forms of nationalism, in favor of total withdrawal from the West Bank and other territories gained after 1967 (an "aggressive war"), and the institutionalisation of the right of return for Palestinian refugees. Maki's report on the most recent Party Congress in March speaks of the dangers of U.S. imperialism in the Middle East, and the dangers posed by the "fascistic" Netanyahu government.
Hadash appeals for Israel to become a bi-national state, as opposed to a homeland for the Jewish people (General Secretary Mohammad Barakeh has stated previously that he "does not accept the demand that every Jew can come to Israel"). This position has, according to Haaretz writer Avirama Golan, shackled Hadash and Maki to "the separatist-nationalist and populist stream." They are, as such, merely one facet of the larger Arab bloc with Balad, Ra'am, and Ta'al, all Arab-Israeli parties.
A number of children also participated in the May Day demonstration. Clad in pristine white shirts and smart red neckerchiefs, they formed several marching bands made up largely of drummers, carried banners, or in one case dressed up as milk cartons festooned with Arabic writing. Most had been brought to the rally by their parents, who watched from the side of the road, cheered, and snapped pictures of their offspring.
Discussing the complex and often tortured history of communist can be difficult when talking with a still-committed Marxist-Leninist, whose views aren't tied to Stalin or Mao, but aren't always easily separated from these touchier legacies, either. Talking to Khenin, the communist Knesset member, we managed to discuss them indirectly by talking about whether the kids in the crowd understood the complexities of the ideology they were marching for. Khenin said that the children could not know the "mistakes of history" and the "lessons learned" from them.
By the time that the final rally in concrete carbuncle reached what was supposed to be its climax, the heat of the midday sun had sent most of the marchers retreating to shady areas, where boxes of popsicles waited. The designated speakers, grizzled old comrades, were left to make their passionate, firebrand speeches to a half-empty square, each concluded with a smattering of wilted applause.
Maki and Hadash haven't quite succeeded in establishing themselves as the strong opposition to the current Netanyahu-Barak government that they'd sought. As a non-Zionist outfit, they've isolated themselves from Israel's main opposition forces -- parties such as Labor, Meretz, and Kadima; and peace organisations such as Peace Now -- who all broadly support withdrawal from the West Bank as a means to securing a Jewish and democratic state.
Khenin repeatedly used the phrase "social justice" to describe the protest's main message: "Money for Jobs and Education -- Not War and Occupation", one banner read. Social justice is in and of itself a noble cause, but Maki are perhaps the wrong voice to trumpet it, given their status as one branch of a larger movement that is more associated with its many injustices. It is a reminder of how isolated Israeli communism has been from the rest of the communist world since the first communists arrived here almost a century ago.