A poll of experts reflects a significant cooling of tension between Tehran and Washington.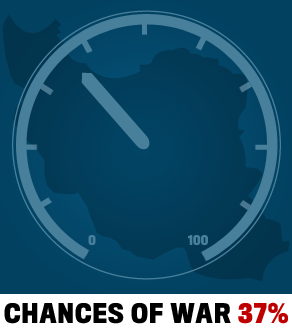 There's a 37 percent chance that the United States or Israel will strike Iran in the next year, according to The Atlantic's Iran War Dial.
We've assembled a high profile team of experts from the policy world, academia, and journalism to periodically predict the odds of conflict, including: Daniel Byman, Shahram Chubin, Golnaz Esfandiari, Azar Gat, Jeffrey Goldberg, Amos Harel, Ephraim Kam, Dalia Dassa Kaye, Matthew Kroenig, John Limbert, Valerie Lincy, James Lindsay, Marc Lynch, Gary Milhollin, Trita Parsi, Paul Pillar, Barry Rubin, Karim Sadjadpour, Kenneth Timmerman, Shibley Telhami, Stephen Walt, and Robin Wright.
It's a diverse group ranging from a former Deputy Assistant Secretary of State for Iran, to a military correspondent at Haaretz. Each panelist makes an individual prediction about the percentage chance of war and we report the average score. For more on the Iran War Dial and the panelists, visit our FAQ page.
In recent weeks, the crisis temperature has cooled. The estimated 37 percent chance of a U.S. or Israeli strike is down from a figure of 42 percent in April, and 48 percent in March. This decline is consistent with the betting site intrade.com, which predicts a roughly 30 percent chance of war by the end of the year.