In Afghanistan, Warily Watching the U.S. and Fearing Abandonment
Many Afghans worry that American policy will once again give up on their country.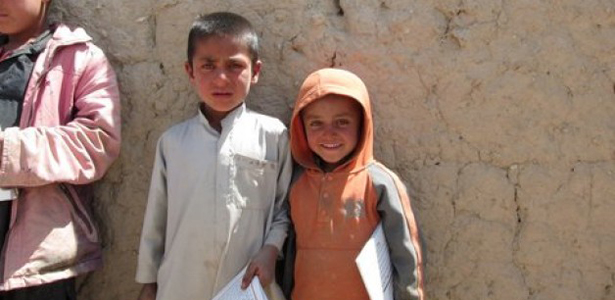 KABUL, Afghanistan--Mohammad Masoom Stanekzai limped into the room on a cane and sat down with a smile. We inquired about his health. "I am under repair," he said. "It will never be the way it used to be." Stanekzai, the Cambridge University-educated head of the Afghanistan Peace and Reconciliation Program, was in this same room last September, in the sprawling home of  former Afghan President Burhanuddin Rabbani, when a Taliban pretending to be interested in peace talks arrived. The Taliban had a bomb concealed in his turban and promptly blew himself up. Rabbani, the head of the government's peace talk efforts, was killed. Stanekzai was badly wounded.
On Thursday, in a meeting with visiting reporters, Stanekzai sat across from Rabbani's eldest son, Salahuddin, an earnest, English-speaking young man like so many of the elite young men here--more than two-thirds of Afghanistan's population is under 25--whom President Hamid Karzai appointed last month to succeed his father as chairman of the 70-member High Peace Council. The appointment was a message to everyone, but especially to the Taliban: We're not stopping. You can't kill us before we kill the worst of you and reconcile the rest to coming home. We will outlast you.
---
MORE FROM NATIONAL JOURNAL
---
Afghanistan, like Masoom Stanekzai, may never be fully repaired. But if you were inclined to bet money on the fate of nations, the sounder gamble would probably be on men like Stanekzai and young Rabbani, who is 41 and holds a master's degree from Columbia University. True, Afghanistan is going to be a bloody mess for a long time, maybe decades. But what cynics fail to understand is that it is usually only when backward countries are completely abandoned by the international community that the bad guys win. And it is now clear beyond any reasonable doubt that whoever is elected U.S. president in November, Barack Obama or Mitt Romney, the U.S. and international community are going to remain here in a fairly robust way, if not with a large-scale troop presence.
As a result, the mood is "shifting," Stanekzai says hopefully. The psychology has changed in recent weeks with the news of U.S. and Western commitments: first, with Obama's announcement of a 10-year strategic partnership agreement running to 2024; then, in two weeks, with the NATO summit in Chicago that is expected to elicit money for long-term funding of Afghan security forces; and, finally, with the Tokyo conference on economic development plans scheduled for July, when Afghanistan will present its "strategic vision," according to Finance Minister Omar Zakhilwal.
Nothing tells that story of hope better than the real-estate market here, notes Nader Nadery, Afghanistan's feisty human-rights commissioner. When Obama frightened Afghans with his announcement that American soldiers would be coming home by 2014, housing prices plummeted, from $200,000 for 100 square meters to $80,000. People and money were fleeing. But in the four days after Obama's speech in Kabul last week announcing the strategic partnership, "prices jumped back up to $120,000," Nadery said.
Only this week, 10 more Taliban surrendered in northern Kunduz province, saying they wanted to come home. About 4,000 have formally done so nationwide, although most are in the north and west, where they and their families are not likely to be as threatened by Taliban retaliation. Although he was nearly killed by a fanatic, Stanekzai says he still hopes the Taliban leadership will see reason.
Many young Afghans fear and mistrust this reconciliation process; they fear that even if the Taliban agree to lay down their arms, they will undermine the government politically. Above all, the Afghans are terrified of abandonment by the U.S., which happened twice with horrific results. It occurred first in 1989, when President George H.W. Bush turned his back after the mujahadeen forced a Soviet withdrawal; and then again in 2002, when Bush's son, George W., turned his attention and resources to Iraq while the Taliban quietly regrouped. (Even though the younger Bush had declared, in a speech in October 2001 after attacking Afghanistan, that the United States "should learn a lesson from the previous engagement ... that we should not just simply leave after a military objective has been achieved.")
Abandoment is a national trauma here, like Hiroshima to the Japanese or 9/11 to us. Today, once again, Afghans know their nation is in a desperate race with America's patience: A recent AP poll, released Wednesday, shows levels of support for the war in Afghanistan now on par with Vietnam in the 1970s, with only 27 percent of Americans in favor of continuing it and 66 percent opposing. Back in Washington the debate is all about "Afghan good enough," CIA Director David Petraeus's tart phrase for minimal expectations. The threshold of "success" is now so low now that anything less than another Taliban takeover will be fine with most American policymakers.
The Afghans I spoke to understand all this; they meticulously track every step of the debate in Washington. At dinner on my final night in Kabul, Nadery noted to me, very worried, "Obama has dropped the words 'democracy' and 'human rights' entirely when he talks about Afghanistan." I told him he was probably right: It's because U.S. policymakers, the president included, still are not terribly keen to nation-build; they just want an honorable way out. He said, "You know, whatever is said in Washington is automatically translated into policy here in Kabul." In other words, the moment Obama stops talking about human rights, all the warlords and other bad guys start thinking they can get away with more mischief, and the good Afghans duck into a crouch because they fear they've lost their only protector. "I think the 2014 withdrawal is premature," Safia Siddiqi, a former member of parliament, said on Thursday, echoing what others say.
But what is being pledged now may be just enough. As we've learned so many times over the decades, the permanent presence of the international community can fundamentally alter the equation; it can overturn the iron law of history that seems to doom backward countries like Afghanistan to ever-more war and repression. We saw it in Bosnia, when everyone expected the 1995 Dayton Accord to fall apart and the ethnic killing to resume (it didn't, because NATO stayed); we saw it in Kosovo, which gained its independence under NATO monitoring; we saw it in the ultimate impact that the 1975 Helsinki Final Act had in undermining the illegitimate Communist regimes in the Soviet bloc. In the end, Moscow's reluctant agreement to sign onto vague promises of "human rights and fundamental freedoms" inspired "Helsinki monitoring groups" in East-bloc countries. Those in turn helped to engender the dissident movements that blossomed in the 1980s and eventually shattered the Soviet empire.
Yet there is also some evidence that a few senior U.S. officials understand this finally, and will continue to pressure Karzai's government to make human rights and democracy a contingency for aid. "Hillary Clinton gets it," one International Security Assistance Force official told me. "Watch what she does at the NATO summit."
We will be watching. So will Salahuddin Rabbani. So will Massom Stanekzai, cane in hand.