From Victim to (Mutual) Aggressor: South Sudan's Disastrous First Year
The new African country, founded in part to escape from the northern government's violence, is showing some hostility of its own.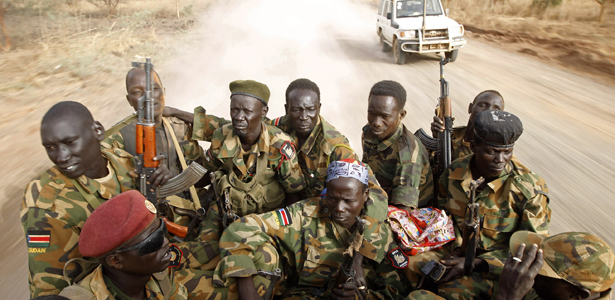 Some wars have a self-evident logic to them. When U.S. troops first set foot in Afghanistan, there was little doubt about why they were there or what they wanted to do. But the fighting between The Republic of Sudan and the Republic of South Sudan, which reached official "war" status when Khartoum formally declared war on its southern neighbor on April 19, belongs to a different category of armed conflict. It's more like Russia's 2008 invasion of Georgia, or Israel's 2006 incursion into Lebanon, the end product of a long series of calculations and miscalculations, internal politics and external pressures, suspicions legitimate and imagined -- a war launched on its own uncontrollable momentum.
Still, this conflict, which has cooled in the few days since the UN Security Council demanded that both sides cease hostilities and enter into negotiations, could have been prevented. When I visited South Sudan in mid-March, knowledgeable individuals described war between the north and south as a serious, though not inevitable, prospect. A non-Arab Sudanese rebel group known as the Sudan People's Liberation Movement-North -- which Khartoum sees as aided by South Sudan -- is fighting the northern army in South Kordofan, Sudan. If the rebels had made dramatic enough gains, one U.S. official had earlier speculated to me, the northern government might attack the South in response. A South Sudanese government official told me that Khartoum wanted to go to war, or at least wanted to appear willing to go to war, in order to pressure the South into making concessions during ongoing negotiations over oil revenues. Ethnic conflict in Jonglei and Unity States, two provinces in South Sudan, risked throwing much of the new nation into the sort of chaos that the regime in Khartoum, still smarting from the loss of over a third of its territory, was likely to exploit. Abyei and other disputed areas were mentioned as possible flashpoints, but in all of my conversations with officials, scholars, consultants, and civil society figures, the name Heglig -- the oil-producing border region that southern troops entered on April 10, sparking the current crisis -- was never mentioned. There had even been a recent, diplomatic thaw. Sudanese dictator Omar al-Bashir was scheduled to visit Juba on April 3 for a presidential-level summit. A soccer match between youth clubs from the countries' capital cities would even mark the occasion (the summit was canceled on March 26, when border flare-ups began).
So how did it get to this point? From one perspective, the war is the end result of a complex of unresolved issues between north and south. The status of Abyei, a disputed, oil-producing, and mostly non-Arab city that the northern military practically leveled and depopulated in the summer of 2011, is still undecided. The south has a sizable oil industry that is dependent on northern infrastructure. In January, the Southern government responded to punitively high transit costs imposed by the north -- as well as evidence that Khartoum was siphoning oil away from the north-south pipeline without compensating the southern government -- by shutting down its entire oil sector. Somewhere between 200,000 and 800,000 southern refugees from the Sudan's 23-year long civil war still live in Khartoum, and their status has yet to be determined.
Though the two Sudans had gone through the motions of multilateral negotiations, over time, the South became convinced that the north wasn't negotiating in good faith. It is easy to see why officials in Juba believed that military action was a viable means of changing Khartoum's calculus. Arguably, Khartoum's declaration of war was a formality, an official confirmation of the already war-like posture that Bashir has taken towards his southern neighbor since it became independent last July.
After Juba shut down the country's oil production in January, Khartoum bombed oil wells inside of Southern territory. In November, northern Antonov cargo planes dropped bombs on Yida, a refugee camp for civilians fleeing South Kordofan, that is clearly inside of southern territory. The northern military mounted attacks on several border cities, including Jao and Teshwin, which is near Heglig. And in April, Khartoum moved to strip over 750,000 southern refugees of their citizenship, reneging on an agreement reached just days earlier.
The south entered Heglig on April 10, after nine months of provocation from the north. The United Nations, U.S., and African Union have all declared the seizure "illegal." The invasion had proven provocative, and even reckless -- the South has earned international condemnation while ending near-term hopes for negotiated peace.
South Sudan doesn't see its invasion as illegal, given the Khartoum government's aggression over the past year. The South is also convinced that it has a legitimate claim on Heglig, which was ethnically cleansed of its native Dinka population during the Sudanese civil war, and could reasonably be considered disputed territory, according to a report by the International Crisis Group. The northern response has been predictably thuggish: northern warplanes have repeatedly bombed Bentiu, the capital of oil-producing Unity State, and a place that is indisputably inside of the South Sudan, killing several civilians. On April 14, an Antonov was spotted over Juba (according to sources inside the South Sudan, the plane later crashed inside of Southern territory after developing mechanical difficulties). The rhetoric coming from Khartoum has matched the regime's behavior: Bashir vowed to "liberate" the South Sudan, and to "give them the final lesson by force."
For the South, war is a sequel to the oil shutoff, which has deprived a suffering northern economy of one of its chief sources of revenue. It's a means of gaining leverage over an aggressive and seemingly implacable neighbor that has eschewed earnest, diplomatic engagement. For the north, aggression and implacability is an effort on Bashir's part to appear stronger than he actually is. The northern government faces armed uprisings in Darfur, Blue Nile, and South Kordofan, an organized political opposition, international sanctions, multiple International Criminal Court indictments, and an economy that's on pace to contract 7 percent by the end of the year. The vulnerable Sudanese regime, undoubtedly unnerved by the violent and nonviolent toppling of governments throughout the Arab world, might see war with the south as, literally, politics by other means.
But the north's war effort could backfire. The Southern military is stronger than many realize -- the SPLA is organized, battle-hardened, and, by all accounts, far better equipped than it was when it fought Khartoum during the civil war (unlike the north, the South has no air force, but they do have anti-aircraft weaponry, and succeeded in shooting down at least two northern aircraft since hostilities began). The northern military is managed by regime cronies and demoralized by decades of continuous war. Its repeated failure to retake Heglig might cost the current defense minister his job.
On April 21, the South voluntarily withdrew from Heglig, after holding the area for 10 days, and pushing as far as 25 kilometers into northern territory. It's possible that the Southern invasion of the region wasn't meant as a prelude to a long-term occupation, but rather as a reminder to Khartoum that Juba is more than capable of making the north pay for its belligerence.
Maybe this gambit will pay off -- or maybe it will result in a massive, inter-state conflict that could badly destabilize two countries that aren't terribly stable to begin with. Clashes are continuing along the border, as the armies jostle for territory before the upcoming rainy season. The UN is keen on stopping the conflict before it escalates. On May 2, the Security Council unanimously passed a resolution threatening to sanction both governments if they did not immediately cease hostilities and enter into African Union-mediated peace talks within two weeks.
For now, the conflict is a novelty in the long history of north-south violence: a true inter-state war, a fight between regular armies rather than militia groups, and between internationally recognized governments rather than guerilla leaders.
Political independence represents the ultimate responsibility for a people, a means of giving tangible expression to a community's immediate priorities, as well as its long-term dreams. South Sudan's leadership is getting a crash course in just how heavy this responsibility is. The war is an ironic sign that the South Sudan is truly a member of the community of nations, empowered to make consequential decisions and to defend its perceived interests -- regardless of where these decisions might lead.