Facebook's Amazing Growth in the Developing World
The social network's users are increasingly located in Latin America, the Middle East, and Southeast Asia.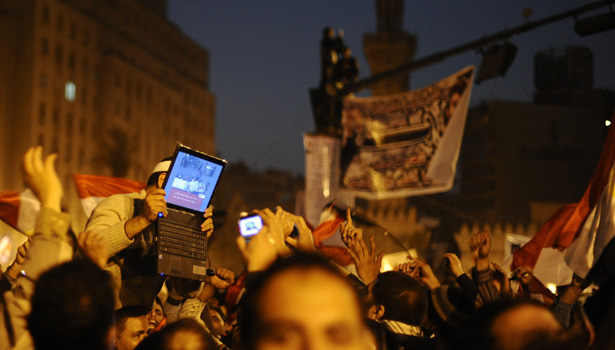 The story of Facebook's rise began in the U.S., but today it is mostly told elsewhere, with more than 80 percent of users living in foreign countries, and more than half of the company's revenue coming from outside of the U.S. Much of Facebook's success -- and the high valuation that earned it $16 billion yesterday on its first day of public trading -- comes from its international expansion. Facebook now has higher market penetration -- meaning it is used by more potential members -- in some parts of Latin America and even the Middle East than it does in the U.S.
It's a trend that appears likely to continue, with Facebook increasingly a service not just for rich, developed countries, but for people in the still-developing societies of Africa and Latin America and the Middle East, where it can sometimes play a slightly different role. In part, it's a story about the change in platforms, as more users access Facebook from smart phones, which are fueling the network's growth in African and Asian countries such as Nigeria or Thailand, where a home computer might be too expensive and where public infrastructure can make at-home broadband difficult to secure. It's also about the urbanization of the developing world, which means that more users have access to the internet cafes that dot the world's rising cities.
Though Facebook's remarkably international rise is of course largely due to the fact that people like using their website, some of its greatest successes in foreign markets say as much about those countries and the people in them as they do about Facebook itself.
Some of the fastest-growing Facebook markets are in the developing world, where more people are living in cities, have greater access to technology, and are looking for more ways to connect with family members across countries that sometimes lack the sort of transportation or communications infrastructure that we enjoy in the developed world. Here are just a handful of the 22 countries that have seen their number of Facebook users grow by over 50 percent in just the last three months: Republic of Congo, Mexico, Malaysia, Tanzania, Russia, Colombia, Iraq, and Yemen, which grew the fastest.
According to Facebook's official estimates, its highest market penetration is a staggering 85 percent in Chile, Venezuela, and Turkey (the company estimates 60 percent penetration in the U.S. and UK). These countries are among the per-capita wealthiest in the two regions that have seen some of the most impressive user growth rates: Latin America and the Middle East. Facebook has five million and three million users in Saudi Arabia and the United Arab Emirates, respectively, meaning that one-in-five Saudis and four-in-ten Emiratis have registered accounts, a remarkable statistic for a country where animal husbandry was one of the most common professions only 50 years ago.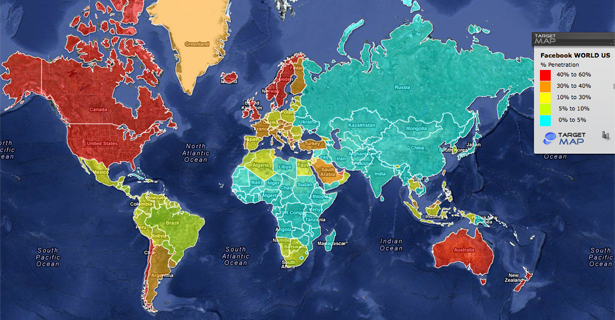 Facebook's much-studied rise in the Arab world has been called a product of the growing Arab middle class, an indication of the youth bulge of Arab 20-somethings, a reaction against the authoritarian regimes that have pushed public discourse off of the street and onto social media, and a sign of the increasing connectivity among communities that were long fractured by oppression and war. All of these factors, it so happens, have also been attributed to the rise of the Arab Spring pro-democracy movements. Facebook was perhaps more suited for activists in these societies, because the website emphasizes sharing within a self-selected network rather than with everyone as on Twitter, making it easier to keep private from security forces.
Facebook's growth in Latin America is much more recent. As of 2010, some tech-watchers considered its then-lackluster growth there to be a disappointment. Since then, the social network has profited from the proliferation of internet cafes and smart phones, and has been able to grow within Latin America's strong regional identity, emphasizing a network that does especially well by spanning the Spanish-speaking countries. Facebook has aggressively courted the region, hiring away top Google executives in Latin America last year, and it appears to be working.
The big international disappointment has been East Asia, which would seem like a great market for Facebook. People there are wired at some of the highest rates in the world, and just as importantly they've got the kind of money that makes them attractive to advertisers. But some of Facebook's lowest market penetration is here, at less than 15 percent in tech-savvy Japan and South Korea, and about zero percent in social media-obsessed China. But it's precisely because these countries are already so tech-crazed that Facebook is having such a tough time: existing Japanese, Chinese, and Korean social media networks already have high penetration rates, and are specialized to service these very particular societies, making Facebook less attractive to potential users there.
Though the U.S. still has the most users of any country, with 150 million, both Brazil and India are catching up quickly with about 50 million. Analysts estimate that India will overtake the U.S. in sheer number of users by 2015, though it's difficult to imagine that advertisers will be willing to pay quite as much to reach Indian consumers as their wealthier American counterparts. But, with the number of developing-world users rising so rapidly, the proportion of users in the rich developed world is likely to continue dropping, which may have implications for Facebook's efforts to make money off of its growing but decreasingly wealthy users.