Chinese Activist 'Very Disappointed' in the U.S., Says Officials Lied to Him
Chen Guangcheng, who the U.S. embassy in Beijing this morning, portrays American officials as having manipulated him to encourage his departure.
Chen Guangcheng, who left the U.S. embassy in Beijing this morning, portrays American officials as having manipulated him to encourage his departure.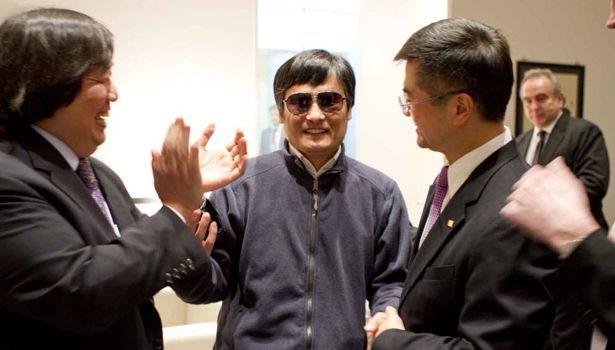 A little over 12 hours after blind Chinese activist Chen Guangcheng was released from the U.S. embassy in Beijing, to which he had fled after escaping house arrest, Chen now says that American officials encouraged him to leave the safe haven of the embassy building, in part by making promises that they failed to keep. In an interview with CNN's Steven Jiang, he expressed deep disappointment with the U.S. and with President Barack Obama personally. He said that embassy officials were no longer picking up his calls and that he already felt his rights being "violated" by the Chinese government, which had promised him his freedom in exchange for him leaving the embassy. He strenuously and repeatedly asked the U.S. and Obama to help him and his family leave China.
The interview portrays Chen as furious at the U.S., which he had only 24 hours ago seen as his greatest hope, and portrays the Obama administration as having sold out the high-profile activist, who in 2005 made an enemy of the Chinese government when he campaigned against thousands of forced abortions and forced sterilizations.
The interview, initially published on Jiang's verified blogspot account, has since been removed. Neither he nor CNN appear to have explained why. (Update: Jiang, on Twitter, says he removed the interview to re-post it later as part of a larger CNN.com story, which is now up.)
Chen's comments portray the U.S. as manipulating him, cutting him off from outside communication and encouraging him to leave the embassy rather than seek asylum. He said he was denied his requests to call friends. He said he felt the embassy officials had lied to him.
"The embassy kept lobbying me to leave and promised to have people stay with me in the hospital. But this afternoon as soon as I checked into the hospital room, I noticed they were all gone," he said. "I'm very disappointed at the U.S. government. ... I don't think [U.S. officials] protected human rights in this case."
When asked why he had left the embassy rather than staying and perhaps seeking asylum, Chen seemed to blame the embassy officials. "At the time I didn't have a lot of information. I wasn't allowed to call my friends from inside the embassy. I couldn't keep up with news so I didn't know a lot of things that were happening," he said.
Chen agreed when Jiang asked him, "If you stay in China, is there no future?" He also said that he had tried calling two U.S. embassy officials "numerous times" but that no one had answered. "I told the embassy I would like to talk to Rep. [Chris] Smith but they somehow never managed to arrange it. I feel a little puzzled."
He described the Chinese police's brutal treatment of his wife while he was in detention, which appears to have been a tool for coercing his departure from the embassy. "[My wife] was tied to a chair by police for two days. Then they carried sticks to our home, threatening to beat her to death," he said, adding that they told her she would be sent home to Shandong province and beaten there if Chen did not leave the embassy.
The activist pleaded with the U.S. to remove him and his family from China. "I want them to protect human rights through concrete actions. We are in danger. If you can talk to Hillary [Clinton], I hope she can help my whole family leave China," he said. "I would like to say to [President Obama]: Please do everything you can to get our whole family out."
A statement this morning from Secretary of State Hillary Clinton read, "I am pleased that we were able to facilitate Chen Guangcheng's stay and departure from the U.S. Embassy in a way that reflected his choices and our values. I was glad to have the chance to speak with him today and to congratulate him on being reunited with his wife and children."
If Chen's story is true, it suggests that U.S. officials manipulated him in an effort to defuse what could have become a tense stand-off between the U.S. and China. That would have been just the sort of mess that the U.S. doesn't need as it prepares for this week's U.S.-China summit on economic and geopolitical issues. The Obama administration needs China's support not just for its most pressing foreign policy issues -- Iran, North Korea, Syria, etc. -- but for domestic issues too. Obama is facing reelection in a few months, and his prospects then are dependent on U.S. economic growth, which is in turn at least partially dependent on Chinese economic policies.
That's not to say that Obama sold out a blind human rights activist to ensure his own reelection. We simply don't know why embassy officials did what they did, and they may have had very different -- and better-intentioned -- reasons than what Chen seems to believe. But it certainly appears that American officials were eager to rush Chen out the door, and it's hard to divorce that from the enormous incentives they had to avoid the U.S.-China confrontation that could have followed had Chen sought asylum for himself or for his family.
Update: Time's Jay Newton-Small reports that U.S. officials deny Chen's account, and give a very different version of events. According to several diplomatic officers, the U.S. offered to either grant Chen asylum (he would have to leave his wife and child in China) or to work out a special deal with the Chinese government on his behalf that would grant him partial freedom within China:
In unprecedented diplomatic negotiations with the Chinese starting Monday, Cohen and his colleagues laid out Chen's options. He could leave and seek asylum in the U.S. while his wife and daughter would likely remain under house arrest in Shandong, or he could choose to stay in China. If he chose the latter, U.S. negotiators would seek assurances from the Chinese government that Chen and his family would not return to the abusive circumstances under which they lived for the last seven years. Cohen advocated a middle path to Chen, based on a deal forged by Chinese activist Ai Weiwei, with whom Cohen has also worked. Chinese officials released Ai from detention last June after 81 days and allowed him to travel freely within Beijing; he recently gave a Skype speech to hundreds of supporters. "Though this solution has caused some problems for the government, they have tolerated it because they know it's better than the international condemnation of locking him up. Ai is showing a kind of path we are trying hard to create, a space between prison and total freedom," Cohen told reporters on a call sponsored by the Council on Foreign Relations. "That's a kind of precedent I've talked to Chen about."
Some U.S. officials, according to Newton-Small, are worried that Chen's interviews, like the one with CNN's reporter (which actually went online after Time's story) might "have complicated [the] delicate and unprecedented diplomatic deal, orchestrated by Chinese and American officials over the last three days." In other words, in expressing his desire to leave China, he is embarrassing the Chinese officials who are now his protectors; he's also alienating U.S. officials in the process.