China Soft-Power Watch, Chapter 29,167
From the Guardian just now: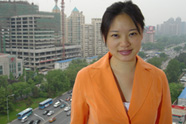 This is really a shame, in every possible way. Melissa Chan of Al-Jazeera (right, from
Al-Jazeera's site
) has done excellent work from China, which I've made a point of following. I don't know her but I respect her courage and honesty. More on the
case here
from the NYT. And from the
Committee to Protect Journalists
.
I won't rev up right now for a full discourse on what this might mean and where it might lead. But this is no kind of good signal, for China or for anyone else.