Can One Chef Take Finnish Food From 'Worst in the World' to Gourmet?
Sasu Laukkonen is trying to revolutionize a food culture that has long emphasized sour rye bread, root vegetables, and gruel.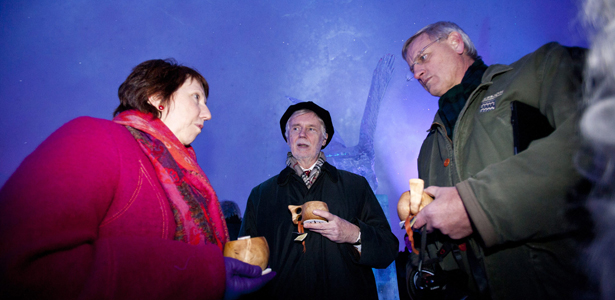 On a mid-morning flight from New York to Helsinki, I was fortunate to be seated next to Mikko Laukkanen, who studies Finns for a living as a researcher in the department of marketing at Aalto University School of Economics. He told me that his countrymen, though smart and hardworking, could learn a thing or two from Americans on how to market themselves. For one thing, he said, Finns don't talk much, as illustrated by a story about a pair of brothers who leave Helsinki for their family country house for a long weekend. They spend their days fishing and their nights drinking without uttering a word. On their third night they take a sauna, and one brother finally breaks the silence. "Pekka," he says, "my wife left me." His brother turns to him with sad eyes. "Leo," he replies, "Are we here to fish or are we here to talk?"
But when I arrived, I found that Helsinki was far from silent, the boulevards swarming with hockey fans (the world championships were in play), skateboarding teenagers, sharply dressed hipsters, and families basking in the long days of sun. I had come to learn how Finland's remarkable educational system could be linked to its entrepreneurial zeal. I spoke with economists, business people, educators, and union representatives, but nowhere was the quiet drive toward innovation more apparent than in what boosters here call the "Finnish food revolution."
Finland's bleak culinary reputation is grounded in a drab diet of sour rye bread, root vegetables, and gruel. There is also cloudberry jam, reindeer steak and wild mushrooms, but these "wild foods" were until recently not widely celebrated. Finnish cuisine has such a poor reputation that, in 2005, French President Jacques Chirac pronounced it the "worst in the world." But even then a handful of ardent young chefs were quietly building on the country's extraordinary natural larder to create affordable dishes that honor tradition by going well beyond it. Among the most promising of these is Sasu Laukkonen of Chef & Sommelier, a Lilliputian space tucked away on a typically silent street in Helsinki's charming Eira district (no relation to Mikko Laukkanen; in Finland, vowels are apparently all).
Born in 1975, Laukkonen is a rare Finnish representative of the New Nordic Cuisine, more commonly associated with the great chefs of Sweden and Denmark. Though he served his internship at Chateau Carsin in Bordeaux and worked in two well-known restaurants in Stockholm, Laukkonen has spent most of his career in Finland, and relies heavily on humble local ingredients out of which he coaxes some remarkable textures and flavors.
Laukkonen describes his food as "cuisine of the heart," but there is nothing sentimental about it. The night I visited the menu included only nine choices -- including starters, entrees, and desserts, and customers were encouraged to choose among them, or choose all of them -- in any combination. Since the restaurant has only 25 seats, Laukkonen is able to deliver each dish personally to the table, along with a brief discourse on its provenance. In typical Finish fashion there is no pretense here, the wooden tables are uncovered, and silverware is plunked in a basket for customers to excavate as they wish.
"I call this finesse-dining, which to me means that one can get fine dining on the plate but feels relaxed and even has a bit of fun while having a great dinner with the chef, his sommelier, and his kitchen team," Laukkonen said.
Helsinki has three Michelin-starred restaurants; all of them are fairly new, but it's difficult to imagine them taking such a carefree and non-hierarchical approach. What distinguishes Laukkonen's restaurant is the grace with which time passes here and the infectious joy the chef and his staff bring to the table. In a dish called "from Sea to Earth," Laukkonen applies his wizardry to what he calls "trash fish," four specimens in all that include a thick skinned and slimy relative of carp that he filets and smokes and then "chucks into some cream" infused with the essence of Douglas fir. The fish is plated with a dusting of fireweed, "frog's stomach" (an herb), and yellow flowers. For an appetizer called "Nettles and Cheese," he deep fries nettles picked that morning in Sipoonkorpi National Park. For the starter, "Onions and Hay," he slow-roasts organic onions in almond cream to make them as crunchy and sweet as an ice cream topping.

Often, he credits someone's grandmother for having inspired a dish, brushing off compliments by crediting the excellence of his ingredients and the integrity of the farmers and fishers who produce them. Given the labor and intelligence applied, the cost for a meal here is surprisingly modest, so much so that one feels enveloped in a labor of love.
Like Helsinki itself, Chef & Sommelier is an understated delight, free of cant, pretense, and hype, and with a deep appreciation for what matters: craftsmanship, integrity, and humility. With apologies to Mikko Laukkanen, perhaps Americans have a thing or two to learn from the Finns.