What China's Talking About: An Ominous Warning Against Rumors
Weibo reports disciplinary action to halt the spread of rumors "causing social unrest" on the social media service.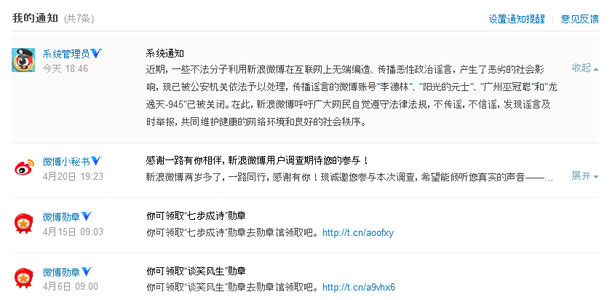 This morning, Sina Weibo micro-bloggers received a message from a System Administrator, whose avatar is a giant eye wearing a police cap.
"Recently, some criminals have been using Sina Weibo to senselessly fabricate and spread vicious political rumors and cause social unrest," the message read, "Don't spread rumors, don't believe rumors, report rumors in a timely manner."
Three users' accounts were reportedly closed by administrators for spreading rumors.
The notification comes after the sacking of Chongqing Party Chief Bo Xilai resulted in rampant speculation on micro-blogging sites like Sina Weibo regarding Bo's alleged illegal activity and widespread chatter about a coup, which turned out to be false.
Today, searching Weibo for "Bo Xilai" -- the Chinese characters for his name as well as pinyin transliteration -- produces a message saying that because of recent legal action, information on the leader has been censored.
Around a million Sina micro-bloggers commented on the message hours after it arrived in their Weibo notifications box.

A Beijing-based micro-blogger who self-identified as a lawyer explained the implications of the message.

"Don't re-post [Weibo messages] too casually! Or it's the police that will deal with you," wrote Ni Liangyue Lvshi.

Many users were worried that the message was directed at something they had said in their own micro-blogs. It seems more likely that the message was blasted out en masse than targeted at specific users, but the note's ominous tone has many people worried.
Hong Kong-based user ShiGaoSi wrote in Cantonese: "I got a message -- are they warning me?"
"Really frightening message," said SanYeCaoGe, from Canton.
One of the three Sina accounts allegedly shut down for illegal activity had "Canton" in the title.
Some users weren't frightened, but rather angered by the notification.

"What the heck is this supposed to mean," user One Gun YiQiang boldly messaged @ the Sina administrators, "Lately, you are constantly deleting all our messages and now you send this (...) Is this some kind of soft threat?"