Saakashvili's Dilemma: Can Georgia's Leader Keep Power and U.S. Support?
As Georgian president Mikhail Saakashvili cracks down on a powerful rival, he risks his two biggest constituencies: Georgian voters and American politicians.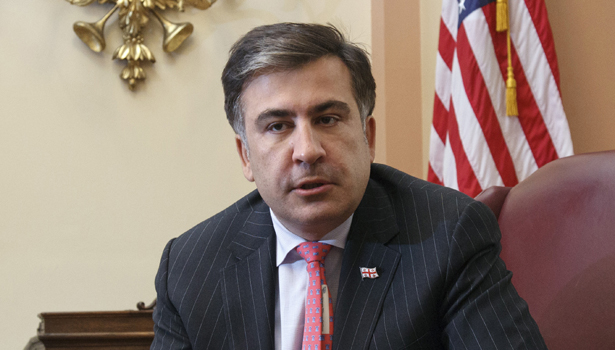 It's been six months since Bidzina Ivanishvili, the Republic of Georgia's sole billionaire, announced his new political party, which he said would win a parliamentary majority in October 2012 elections that he would then use to impeach current President Mikhail Saakashvili. Ivanishvili, who made his money in metals and banking, has personal wealth equal to nearly half Georgia's gross domestic product. Until October, he lived a life of monastic quiet while funding major publics works projects and subsidizing the incomes of thousands of Georgians. Saakashvili, apparently recognizing the threat Ivanishvili poses, responded by revoking his challenger's Georgian citizenship outright. Suddenly unable to legally form his party, Ivanishvili applied for re-naturalization, gathered several prominent opposition groups around his planned "Bidzina Ivanishvili-Georgian Dream" party, dispatched his pop-singer son Bera to compose a campaign anthem, and hired lobbyists to spread the anti-Saakashvili gospel in Washington.
But the American capital is Saakashvili's turf -- he has cultivated close ties with a number of political leaders, particularly in the Republican party, as a pro-American democrat in the volatile Caucasus region, and as a bulwark against Vladimir Putin's Russia, with which he waged a brief war in 2008. That war became a foreign policy issue during the U.S. presidential campaign; Governor Sarah Palin suggested Georgia should be allowed into NATO (which, technically, would have compelled the U.S. to declare war on Russia) and Senator John McCain declared, "We are all Georgians." Prior to the August 2008 War, it would have been near impossible for anyone, billionaires included, to turn Washington against its favorite post-Soviet head of state. But Georgia's handling of that war took some bloom off of Saakashvili. His current campaign to hold power could risk his greatest remaining asset in D.C. -- his democratic credentials. If Saakashvili wants to win in Georgia, in other words, he might have to lose in the U.S.
April 4, the day the Georgian government was due to make a decision on Ivanishvili's appeal on his citizenship application, also happened to be exactly six months before the parliamentary elections. The Civil Registry Agency recommended his appeal be rejected, explaining that the application ought to have been for dual citizenship, as he also carries French citizenship (dual citizens cannot form political parties). But Ivanishvili couldn't have relinquished his French citizenship prior to re-naturalization without becoming illegally stateless, so the agency's explanation seems suspicious. Citizenship is formally bequeathed via executive order, but Saakashvili has given no indication about whether he will accept or reject the agency's recommendation.
In a poll conducted by the National Democratic Institute in February, 70% of Georgians said they thought Ivanishvili ought to have his citizenship returned. Saakashvili has painted himself into a corner. If he awards Ivanishvili citizenship against the agency's recommendation, it will make that the agency's initial ruling look like a PR stunt to allow Saakashvili to graciously and confidently bestow citizenship upon his rival. By upholding the decision, he would appear scared out of his wits, and willing to abuse his power in order to keep it.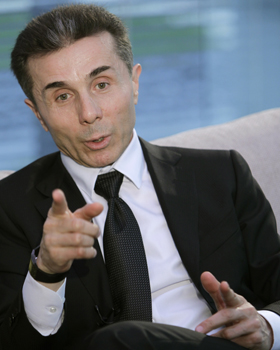 Saakashvili will likely suffer politically for blocking Ivanishvili's citizenship and boost Ivanishvili's already substantial popularity in the process. State-sponsored injustice can improve an oligarch's image even in a country that loathes them, and Ivanishvili's reputation as a philanthropist positions him especially well. Abroad, Saakashvili's undemocratic behavior will not go unnoticed, especially among his carefully cultivated allies in the West. Dangerous for Saakashvili, these domestic and international reactions could be mutually reinforcing.
This is not the first hurdle that Saakashvili's state has thrown in front of Ivanishvili. The Georgian parliament revised its campaign finance laws immediately after the super-rich Ivanishvili announced he was entering politics. Since then, the Chamber of Control (an audit agency) has used its broadened powers to fine him and to interrogate his supporters. These and other offenses are listed in the "Republic of Georgia Democracy Act of 2012," a bill introduced to the U.S. House of Representatives on March 26. The bill would make U.S. aid to Georgia in 2013 contingent on the parliamentary elections being conducted in a "free, fair and competitive manner" and would require a report on "whether Bidzina Ivanishvili and the Georgian Dream Party participated in the election, and, if not, the reason for their absence." The new bill, while unlikely to make it out of the review in the House Committee on Foreign Affairs (most bills don't), is part of a trend of growing Western concern for the upcoming parliamentary elections. Both the active U.S. ambassador to Georgia and his successor, as well as NATO General Secretary Anders Rasmussen, have spoken out.
U.S. disapproval matters for more than just foreign aid -- it could help steer Georgian public opinion. Much of Saakashvili's credibility at home is predicated on his image as the leader who will advance Georgia's integration with the West via free trade agreements and acceptance into NATO. His overarching ambition is to move Georgia as far out of Russia's orbit as possible. That will become more difficult if he starts alienating those same Western leaders he's spent so much time cultivating, and Georgians know it.
The U.S. relationship with Georgia, which was strong enough in 2008 to give Saakashvili hope -- albeit false hope -- that the U.S. would back him against Russia, has not returned to the same lovefest level since that disastrous war. Partially out of apparent disillusionment with Saakashvili, partially out of what seems to be a sense that a reset with Russia is more important than democracy promotion on Russia's rim, high-level U.S. engagement with Georgia has dropped off. Saakashvili was not invited to visit Obama in the Oval Office until this January, three years into his term. The meeting, which Saakashvili said elevated relations to a "new level," came only weeks after Obama used a signing statement to make a passage of the 2012 defense authorization bill calling for a normalization of arms sales with Georgia non-binding. While Congress continues its steady murmur of support for Georgia, that can at times seem driven more by Russophobia than Georgiaphilia.
Georgian state-owned television channels seem aimed at keeping Georgians believing in Saakashvili. Rustavi-2 portrayed the "Republic of Georgia Democracy Act of 2012" as the result of Ivanishvili's traitorous campaign to end U.S. assistance to Georgia. But Ivanishvili has the resources to bring Saakashvili's undemocratic actions to everyone's attention -- both in and out of Georgia. However far Saakashvili falls in international public opinion, he will fall that much farther domestically. If he becomes unpopular at home, he could well face protests that, if violently suppressed as such protests have been in the recent past, would likely draw more criticism from the West this time around.
Saakashvili still proclaims Georgia as a bastion of democracy to Western leaders and boast of Georgians' trust in him at home. But his willingness to act undemocratically suggests that he knows his position in the West is weakened. Although he touts to the international press the "amazingly good" reception he receives in the Oval Office, Saakashvili is likely getting cooler treatment behind closed doors. That Saakashvili no longer sees the need to project an image of a democratic Georgia suggests he knows how little he has to lose.