Now That You Ask: Why, Yes, in Fact I Do Have a Book Coming Out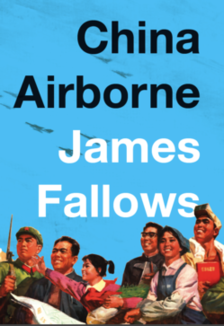 Thanks for noticing! (With update below.)
I'm prompted to mention it in part because it's just a month away, and also because of several related items in this past week's news.
1) Two days ago, in a widely marveled-at event, passengers who were upset about a delayed Shenzhen Airlines flight stormed out of the terminal and onto a taxiway at Shanghai's (mammoth, international, very busy) Pudong Airport, causing another plane to change its course. Immediately after the event, the passengers were given 1000 RMB compensation each -- more than $155, quite a lot in China -- for the delay. Now they appear to be getting into some kind of trouble.
Many themes in modern China come together in this one episode, from the growing pains of the unbelievably rapid scaling-up of China's transport infrastructure, to the impressively take-no-shit attitude of many members of the Chinese public. As Bill Bishop of the Sinocism blog wrote, along with a picture of the incident (below): 

In the US I assume this would be a violation of one or more federal statutes and you would be looking at significant fines if not jail time and a select spot on the no fly list.... Yes, the folks who rushed the tarmac and halted a moving airplane received 1000 RMB in compensation each for the efforts. Talk about setting a bad precedent.





Flight delays are common in China, so expect to see similar incidents at other airports here. When dealing with a frustrating delay this kind of protest is not only viscerally pleasing but now lucrative as well.

It is also a reminder that Chinese do care about standing up for their rights, at least when they think there is limited downside.

2) Last week Andrew Galbraith of the Wall Street Journal had a very nice item about a discombobulating event at Shanghai's other airport, Hongqiao. It was the landing of a Cessna Caravan -- a small commuter-type turboprop plane whose presence would be entirely unremarked at most North American or European airports. Shanghai authorities allowed it to land only late at night, in a special slot when all other traffic had been cleared, because they were so apprehensive about handling something out of the ordinary. Meta-point: it is much, much harder to operate an advanced, high-volume airline system than you would think, and as it builds airports more quickly than the rest of the world combined (and multiplied by three or four), the Chinese system is coping with surprising challenges.
3) The Cirrus Aircraft company, of Duluth, Minn., announced on its website today that some big, very big announcement is coming next week:

Cirrus has been a big story in aviation for years. A decade ago it was a centerpiece of my book Free Flight and related Atlantic articles, and since then its SR22 has become the best-selling single-engine piston plane in the world. (As I've often pointed out, among the 5000+ SR22s now in service is the one I own.) And as of last year the Cirrus company is owned by  ... a subsidiary of AVIC, the Chinese state aerospace corporation. How did that happen? What does it mean? Hmmm, I wonder where one could turn for that story.
4) Last week the NYT reported on a navigation advance that is supposed to cut delays at major U.S. airports. For reasons I won't go into, I'm skeptical about how much delay-fighting power these "NextGen" systems will actually have in America.* But in China, navigation advances, mainly pioneered by small American companies, are making a fundamental difference in the ability to bring people, commerce, tourists, and businesses to the remote western half of the country -- which includes Xinjiang and Tibet. Hmmm, I wonder where I might learn more about this, and its implications.
I'll try to do this with a light hand, for example alluding to some upcoming related stories in Popular Science and Wired, and some upcoming video features on our web site. Main point: there are lots of lenses through which to view China's ambitions and challenges. I think there are some surprises to be found in the view through this one.
___
* Short version: they can't change the main factor in U.S. air travel delays, which is the limited number of runways on which to land at the busiest airports. It's comparable to big-city car traffic being limited by parking spaces. William Langewiesche did the classic article on the problem 15 years ago in the Atlantic.
UPDATE. I've heard from someone who was sitting on the airplane that had to stop unexpectedly, while taxiing in at Pudong Airport, because of the passengers who had poured out from terminal. He is a Chinese-speaker who has lived and worked in China for many years. He sends a description:

I was actually on that flight from Abu Dhabi to PVG [Shanghai Pudong] and took some pics and videos with my iPhone.

Being on the plane I couldn't know what was going on, but I guessed what happened, and what was confirmed in the article of your link.

I was surprised to see these people actually dragging their personal belongings all the way to the front of our airplane. (then the captain switched off the front camera we have access to from our seat), but, at the same time NOT surprised ... knowing I was in China.