Many of the men responsible for the Kony 2012 campaign follow something called the Emerging Church, which has become an unusual and newly influential wing of the larger evangelical mission to Africa.
For Jason Russell, co-founder of Invisible Children, stumbling into Uganda's one-time civil war wasn't an accident; it was a divine calling.
While the rest of the world laughs at or ponders the psych ward-ridden creator of Kony 2012, the unlikely Internet video sensation that brought both himself and a vicious Ugandan rebel instant and overwhelming fame, the mystery of his inspiration and success only grows more curious.
Who is this man? Is he crazy?  What drives him? Russell summed it up in two hesitant words -- Jesus Christ.
"For me, that's the motivator," Russell told me in an interview early one morning from California in March, as the video was first going viral.
He'd just had what was among the first of many nearly sleepless nights, he told me at the time, which his family later said contributed to his nude psychotic breakdown on a San Diego street corner.
"I can't do it without that faith," he said, calling Jesus the "ultimate storyteller." Excitement rushed through his voice. "If I thought I was doing it myself, it would feel myopic."
Behind the origins and success of Kony 2012 is an eclectic and powerful network of Christian activists, traditionally dominated by the Christian right, that has at times brought mass attention, almost single-handedly, to some of Africa's worst and most ignored conflicts, from South Sudan to the Nuba Mountains, Darfur to the Lord's Resistance Army.
The movement has also sparked controversy. It is a community of activists that wields disproportionate influence over African affairs, from military politics to public health to social policy. As they work to organize a global effort to catch the leaders of the Lord's Resistance Army, a distinct but not-so-distant wing of the same movement helped to implement Uganda's notorious anti-gay law, which legalizes the killing of "repeat" gay men.
Still, for all the financial links connecting Invisible Children to the socially conservative American activists in Africa, the two could not be more different.
Invisible Children, as an organization, does not formally affiliate itself with any religious entity. Indeed, not all of its staff, supporters, and financial backers are actively Christian or affiliated with Christian organizations -- just most of the most important ones.
The group is a product, and perhaps the most successful manifestation of, a little-known, ultra-liberal, and highly controversial post-Evangelical Christian movement known as the Emerging Church.
Like more traditional evangelic organizations, Invisible Children is out to spread the gospel. But they are not out just for Africa. They seem to be -- based on their past efforts, the statements of the group's leaders, and the religious ideology that drives them -- out for you. And the Kony 2012 campaign is how they're doing it.
No doubt, Russell is evangelic, but he and Invisible Children are spreading the gospel in the Emerging Church style. No Bibles, but movies. Instead of telling us what to believe, silently, secretly pulling our consciences towards Jesus.
 "America has wrapped itself around the cross, and that is blasphemy," Russell told me. "Our point is, let humanity be the identity; then just join with humanity."
For a young Jason Russell, growing up in a sunny and observant San Diego community, two things seemed to matter most: acting and God. His parents helped found Christian Youth Theater, an after-school theater arts program that calls itself the nation's "largest youth theater."
He "accepted Christ into my heart" when he was five-years old, he said in a 2010 interview on Catholic radio station Relevant Radio.
He even met his current wife in the theater program -- he was seven and she was six -- according to a 2005 newspaper interview. They abstained from sex until they were married. He sang "The Luckiest," by Ben Folds, when he proposed.
Russell's Christian upbringing focused as much on faith as an experience as it did on faith as a belief. It was a time when a generation of young believers who "crave spirituality but feel disconnected," as a local newspaper article put it, began moving towards something different. It didn't have an address, but people threw around the name Emerging Church.
Russell's first experience with Africa, he says, was as a missionary in Kenya, in 2001, with a Christian organization that spread the gospel through dramatic theater.
After returning to the U.S., he helped write a treatment for a musical film that was sold to Dreamworks, he told me, and graduated from the University of Southern California with a degree in film.
"The dream for my life, at that point, was just to make Hollywood musicals, like Moulin Rouge, and Chicago, and Hairspray," he said during a 2011 conference at Liberty University, a Christian university in Virginia. 
While in college, he discovered the journals of Dan Eldon, a young photojournalist who was killed in Somalia in 1993 and left behind a litany of collage-diaries of his experiences in Africa.
"It changed my life," Russell said. "I saw what it was like to look at life demanding explanation, capturing powerful stories."
"I think about Dan Eldon constantly."
He also thought about how that meshed with his faith. His ideas about Christianity were evolving, and his experience as a missionary in Africa had left a gnawing disillusionment on his conscience.
"I didn't like what we were doing, I didn't like spreading the gospel in this way," he said during our March interview. "All the Kenyans I met, they didn't need faith, their faith was stronger than mine."
"That was when I decided to go back and tell a story," he says, "telling it apart from any organization."
In 2003, he and two friends traveled to Sudan, where a decades-long civil war between the north and the south had been largely forgotten by the rest of the world, except for human rights activists -- and a handful of evangelical Christians.
Russell and his friends wanted to tell a story about the relatively Christian southern Sudanese victims of the war, and went to neighboring Uganda to try to find some. Instead, a story about the victims of the ongoing Ugandan civil war found him.
"I really felt God was saying to me, 'Jason, you went on this experience for a reason, and I'm showing this to you because there is a story that I desire for you to tell,'" Russell said in a 2006 newspaper interview.
He had found his mission. Russell would spread the gospel of Jesus Christ, and he was going to do it without talking about Jesus Christ. Rather, his plan was to embody the gospel by, as he put it, "ending genocide." And he was going to do it through a movie.
"The trick is to not go out into the world and say I am going to baptize you, I'm going to convict you, I have an agenda to win you over," Russell said at Liberty University. "Your agenda is to look into the eyes, as Jesus did, and say, who are you, and will you be my friend? Like he did to the prostitutes, to the tax collectors, to the fishermen."
Or former child soldiers. Or American teenagers.
Ugandans, Russell told me, "know Christ far more than I or anyone in the Western world and in the Christian church knows Christ." The Western world, he suggested, treated faith like a "line item."
While the story that Russell and his fellow travelers wanted to tell was about the victims of the brutal Lord's Resistance Army in Uganda and central Africa, the message they were trying to send -- much of the "experiment," as Russell narrates in the Kony 2012 film -- was to the people back home.
Engage. Get passionate. Find a cause. Rediscover the gospel.
"God said, Jason, open it up, open it up," Russell testified at a 2005 conference. "Do not limit it to the church, which often times can be the most divided, or the most secluded, or the most discriminatory."
In 2004, they founded Invisible Children to try to make it work. And for that to work, Russell argues, religion had to have nothing to do with it.
"It was too delicate of a choice to put the cross on our website, or to put a fish on the website," he said in the 2010 radio interview, "because, you're honestly dealing with the truth."
"You're dealing with the creator, and so to make a brand around that, and to have money flow in and out around that idea," he continued, "felt cheap."
(Invisible Children brought in over $13 million dollars last year, according to its most recent financial statement, and its $30 Kony 2012 action kits were quickly sold out, according to the organization's website.)
Invisible Children had this to say about religious affiliation, according to a 2006 version of their website's frequently asked questions:
Is your organization a Christian organization?

No. The three filmmakers believe in Christ, but do not want to segregate themselves in any way. They believe that this story is not theirs to own/brand. They strongly believe that every person needs to hear this story regardless of race, religion, gender, or culture. Invisible Children is about invisible children, and is not exclusive to people who believe what the filmmakers believe. It's about the "orphans, the widows, the hungry, and the oppressed." It's about children that are born into a horrific situation, with no voice. For further insight, read anything Brian Mc Laren (no relation), or Donald Miller writes.
Brian McLaren and Donald Miller are two authors and Christian theologians closely associated with the Emerging Church movement in the United States.  McLaren was once named one of the most influential evangelicals in America by Time. Miller sits on an Obama White House taskforce on family values
The Emerging Church has no formal organization, no single leader, and no uniform code of belief. It's part of a larger Generation-Y of disillusioned youth looking for a cooler, more accessible brand of Christianity for the 21st century.
At the heart of the movement is the growing perception that mainstream, organized Christianity is not only fundamentally flawed, with its dictates and rigid doctrines and inherently negative and insecure worldview, as many Emerging Church adherents see it, but that it follows a false gospel. Some wouldn't mind seeing the Vatican collapse.
Contemporary institutional religion, as opposed to "redemption," is "the most disgusting false gospel in the world!" Pastor Mark Driscoll, who identifies himself as an Emerging Liberal, declared in a sermon on YouTube.* "Religious people are the ones murdering Jesus."
The Emerging Church preaches, in its uniquely deconstructionist way,  what it claims is Jesus Christ's original, true message, seemingly lost long ago: that God lives in each person, that the Kingdom of Heaven is here on Earth now, and that faith is not belief but an action and spiritual state of being to be experienced creatively, through human relationships, and by raising questions.
"There are a lot of us who would agree that we need to re-focus on Jesus's core message, which is very, very different from what a lot of Christians have focused on," Brian McLaren told me in a recent interview. Members of the movement don't necessarily seek the answer to life's questions or even believe those answers necessarily exist. "It has a lot more to do with what is God's will for the planet, and how do we human beings start cooperating and addressing each other."
A member of the Emerging Church movement might not believe in a literal hell. He or she might question final judgment or the significance of the cross. An Emerging Church might look like a living room of sofas arranged in a circle, as does Solomon's Porch in Minnesota, instead of pews in rows.  A DJ might play ambient music while "gatherers" partake in a "discussion" rather than listen to a sermon.
Not everyone has been receptive. "There is an alarming trend in Christianity today," warns an anchor on a Christian YouTube channel, that is "finding its way into many churches and Christian colleges."
"They have erased the boundaries!" exclaims Pastor Bob DeWaay on the show. "You imagine God how you want to imagine God, you imagine the future how you want to imagine the future." He warns, "Dear ones, don't be deceived by these people!"
"Assuming we are in a secular culture, which we are, that is in need of the church, which it is," Pastor Driscoll, of the Emerging Church, said in 2006, "the question is, how should we function as missionaries and emerge a faithful church for post-modern culture? What does that church look like?"
As the years went by, and the Invisible Children organization grew, it began to shy away from its public stance on religious affiliation.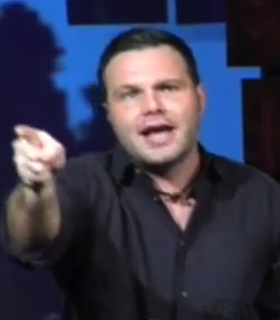 Pastor Mark Driscoll in a sermon entitled "Why I hate religion." YouTube
As of March 11, just days after the Kony2012 video first went viral, the group's website seemed to assume some religious drive to their work. "Invisible Children is not a religious organization, meaning we are not affiliated with a certain church or ministry," the FAQ page read. "While we do not focus on proselytizing, we allow all of our employees and beneficiaries to practice their own personal beliefs."
As of March 18, the same answer reads simply, "No, Invisible Children is not affiliated with any religious organization."
A week later, that question on the FAQ page had been deleted outright.
Though the organization now chooses to be publicly silent on the religious affiliations and convictions that inspired its founding, Invisible Children has been explicit from the very beginning, using personal Christian connections. It's worked with Christian high schools, universities, churches, charities, and private companies for its awareness campaigns, financial funding, and volunteer recruitment drives.
According to data in the organization's first financial record from 2006, more than half of the money received from donations of $5,000 or more came from Christian entities or individuals who strongly identity themselves with the church. One funder was a wealthy evangelical charity, the Christian Community Foundation, also known as Waterstone, which has over $100 million in assets. Its website says the organization "exists to glorify Jesus Christ" and describes itself as "a launching pad for Kingdom work nationally and internationally."
Invisible Children's original financial report states the organization's aim as "TO BUILD, HOUSE AND CARE FOR ORPHANS IN GULU, UGANDA, AND AFRICA." It also reports that the group spent over $140,000 on Apple computers and digital cameras.
In 2005, they went across the U.S. showing screenings of their original and namesake movie, Invisible Children: Rough Cut, an endearing documentary that tells the story of three young Americans (one of whom is Russell) finding their purpose while discovering the Ugandan civil war.
"It's really become an underground phenomenon," Reverend Sherman Williams told an Oakland newspaper in 2005 after seeing the movie.
In some ways, so was Invisible Children. The organization more than doubled its gross revenue from the year before, according to its 2007 financial record. The list of Christian-affiliated donors grew longer.
Invisible Children got more active in Uganda and in the U.S. And Russell's sense of confidence, crusade, and artistic creativity flourished.
In a 2007 Invisible Children event at San Jose State University, hundreds of people thronged to experience a full-entertainment night, beginning with a Christian rock group, then a Christian dance troupe, then Invisible Children, the movie.
"Millennial generation, there is something about the way we think and see the world," Randall Wong, a blogger and a Christian student club leader who helped organize the 2007 university event, wrote days after Kony 2012 came out. "As Christians, we need to look beyond what's going on in our little circles, but actually go out and do something."
Their Gospel message got more creative, blending political advocacy with song and dance. It didn't always seem to work.
To promote the organization's 2006 Global Night Commute campaign, Invisible Children filmed a comedic and at times self-deprecating musical featuring Russell and his two co-founders dancing and singing, in a style reminiscent of a Michael Jackson video, in a high-school gymnasium to get people excited about the Ugandan conflict.
In the music video's story, Russell and the two others fire lasers out of their hands at suspicious youths, turning them into rainbow-clothed, line-dancing converts to the cause. "We're on a mission to put Uganda deep inside your mind," they sing. "It needs attention and a dance to make it sparkle and shine." The chorus intones, "We're on a mission to change the world."
 "Romans 12," Russell told me in explaining his worldview on faith and missionary work. "Do not conform any longer to the pattern of this world."
It worked. However unlikely, Russell was creating a movement. In 2006, Invisible Children mobilized about 80,000 people, mostly youth, across over 100 American cities, according to the organization's statistics, for the "Global Night Commute" campaign. In 2007, they mobilized 68,000 in 15 American cities for their "Displace Me" campaign. In 2009, they led a rally called "The Rescue" in 10 worldwide cities, mobilizing 85,000 people. In 2011, a campaign called "25 and Break the Silence" attracted 90,000 participants at 18 events across the U.S.
In Washington, D.C., Invisible Children held three different lobbying events over the years, bussing in more than 3,000 young Americans to meet with congressional representatives considering anti-LRA legislation. The law passed. On May 24, 2010, President Obama signed the Lord's Resistance Army Disarmament and Northern Uganda Recovery Act.
"They are a movement-building organization," said Sarah Margon, a former staffer of Senator Russ Feingold, who spearheaded the anti-LRA legislation. "Young active Americans who took up the LRA issue were essential in getting the LRA on the foreign policy agenda of senators, and frankly the President of the United States."
From its tours and screenings at schools, churches, and other organizations, Invisible Children recruited scores of teenagers and young adults driven by a sense of idealism, particularly young Christians. Many of them took on jobs and later leadership positions in Invisible Children while staying in touch with their alma maters.
As of the Kony 2012 video release, senior officers of Invisible Children who are affiliated with Christian entities or identify strong Christian backgrounds include: national tour coordinators, lead graphic designers, the "director of ideology," on-the-ground Africa programs officers, finance officers, communications staff, all of the founders, and most of the Board of Directors -- one of whom himself leads an Emerging church in San Diego that Russell and his colleagues sometimes attend.
Russell has rebuked long-running criticisms that Invisible Children feeds off emotion to gather support.
"Our goal at Invisible Children is not to guilt you into doing something, because we don't believe guilt does much except makes you cry, and then you give your money, and then you feel bad and go to Starbucks," Russell told students at Liberty University last year.
The Invisible Children website's bio for Hailey Mitsui, a regional tour manager who joined the organization in 2006, reads: "Hailey first got involved with Invisible Children her freshman year of college when her friend took her to see a screening, she cried her eyes out and bought everything at the merch table."
By the time Kony 2012 was ready to go public, Invisible Children had built a widespread and tight-knit network of college and high-school activist cells across the country, ready to be mobilized at any moment.
It wasn't just luck when Kony 2012 exploded on social media. The initial 5,000 Twitter users who posted the video, launching the online momentum that made it the fastest-growing social media campaign in history, largely came from "highly connected groups of users," according to data analyzed by SocialFlow, a social-network monitoring site.
SocialFlow found two trends in the story of Kony 2012's social media success. First, these mini-networks were largely clustered in "small-medium cities" such as Pittsburgh, Oklahoma City, and especially Birmingham, where #Kony2012 trended several days before the video even launched, suggesting it was driven by a network of Twitter users who were connected enough to Invisible Children to know about the video in advance.
The campaign was also "heavily supported by Christian youth, many of whom post Biblical psalms as their profile bios," according to SocialFlow. An analysis of the users in these core activist networks found that the most common words in their Twitter bios include "Jesus," "God," "Christ," "Life," Love," "University," and "Student."
"Having them all operate at the same time, effectively spamming celebrities and spamming them enough times for them to all talk about it at the same," says Gilad Lotan, vice president of research and development at SocialFlow, "you reach such density in the network."
"I've never seen this tactic being used on such a large scale," Lotan says. "You see it with bots, but organizing actual humans? I hadn't seen that yet."
•       •       •       •       •
American Christians from an array of backgrounds have long found a purpose in Africa, from proselytizing to adopting orphans; from preaching social values, some so conservative that they're illegal back home, to delivering life-saving humanitarian aid.
They even care about saving the bad guys. A website called Adopt a Terrorist For Prayer lets people pay money to, well, pray for a terrorist.
"At the core of a faith-based group are people with a passion for Christ or God that drives them in ways that money, politics, and nations cannot," said J. Robert Hunter, who works as a consumer advocate in Washington, D.C., and who has performed ministry work across Africa for decades with the Fellowship Foundation. The Fellowship, as its known, is a Christian fraternity that counts many politicians around the world as members, including a number of U.S. Congressmen. It was as a member of the Fellowship that Hunter helped broker peace talks in Burundi to end its 12-year civil war.
 "The idea behind creating charities and getting close to politicians and trying to encourage their spirituality is the same idea: helping the people on the ground," Hunter told me. "Directly helping the LRA-damaged children is a blessing; getting a leader to become a friend with an enemy is a blessing; getting leaders to recognize their own humanity, turn and see the hurting people they lead is a blessing. My motivation is all because Jesus loves the poor and He can be seen in the poor and these steps might help them."
Yet the American evangelical community's involvement in Africa has also contributed -- at times, through some of the same charities and organizations doing so much good -- to some of Africa's cruelest policies, particularly Uganda's 2009 anti-homosexuality bill, which would call for "repeat offenders" of homosexuality to face the death penalty.
Three American evangelicals who specialize in "sexual orientation correction" participated in a 2009 anti-homosexuality conference in Kampala that is widely seen as having inspired the bill.
The bill's architect, David Bahati, once told me that he first got the idea for the bill from conversations with members of the Fellowship Foundation, with which Bahati was once associated.
Evangelists fly to Uganda regularly, holding mass prayer sessions with blind, broken-limbed, or AIDS-afflicted Africans. They pass out bibles and political advice.
Invisible Children is smack-dab in the middle of this evangelical activist community, and has received hundreds of thousands of dollars over the years in funding from some of the most right-wing evangelical charities in the United States: Christian Community Foundation, Pro-Vision, National Christian Foundation, and the Terry & Rosann Douglass Foundation.
"As a Christian, I believe that God is putting this burden in the hearts of hundreds and thousands of young people, even if they don't believe in Him," Faith McDonnell, a director at the Institute on Religion and Democracy, exclaimed to me.
But Russell's evangelism, like the Emerging Church faith that drives him, is different. And that's part of Kony 2012's power, as well as the subtext against which many critics seem to be reacting.
"We are able to be the Trojan horse in a sense, going into a secular realm and saying, guess what, life is about orphans and it's about the widow. It's about the oppressed," Russell said during the 2005 conference. "It's driven by an adventure and the adventure is God's and it's his story."
And he's not targeting Africans. He's targeting you.
"When Jesus talked about Heavenly Kingdom, the Kingdom comes now, it is now, it's like today," Russell told me, in describing the role his faith played in his mission to stop Kony. "A lot of us doing this work, we are sometimes disappointed in the church not showing up. Not fulfilling the mandate."
Rick Warren, the evangelist pastor who wrote The Purpose Driven Life and is famously close to a number of African presidents (as well as some American ones), contributed to a book about the Emerging Church alongside McLaren. He describes his movement also as a "stealth movement flying beneath the radar that's changing literally thousands of churches around the world."
"Invisible Children wants to be attractive to anyone from any background, period," as Ben Keesey, the CEO of Invisible Children, explained their movement. "We want to build loyalty around a lifestyle brand."
Indeed, staying silent on explicit religious topics while oozing a Jesus-y pheromone has allowed Invisible Children to tap an entire spectrum of Christian charities, philanthropists, and celebrities, from the most liberal to the most conservative.
The National Christian Foundation, which has provided Invisible Children with more than $600,000 over the years between itself and subsidiaries, according to figures from financial statements, gave $817,000 in 2008 alone to Ed Silvoso. An evangelist minister in California, Silvoso works closely with Julius Oyet, a prominent Ugandan Bishop and leading advocate for Uganda's notorious anti-homosexuality bill.
Much has been made of Invisible Children's funding from the religious right. But the truth is that these donations are far outweighed by those from pop-culture behemoths, who happen to be some of the most liberal Christians in the U.S.
Oprah Winfrey recently donated $2 million to Invisible Children. Tom Shadyac -- director of Ace Ventura, Bruce Almighty, and a new spiritually centered movie, I Am; and a self-described "Jesus freak" -- has given Invisible Children nearly $1 million over the years. He was one of the organization's earliest high-profile supporters.
Invisible Children has chosen to target a number of enthusiastically spiritual personalities, from Winfrey and Rick Warren to Bono, Tim Tebow, and Justin Bieber, whose faith (he's got Jesus tattoos) was on display in a recent documentary and Christmas album.
In 2006, Invisible Children received roughly $10,000 from an Emerging church in Santa Barbara. In 2007, it received $10,000 from a foundation that emphasizes faith spirituality, $20,000 from a foundation that focuses on the relationship between science and spirituality, nearly $10,000 from a Christian media organization, and $5,600 from a Catholic performing-arts high school.
In 2008, it received $5,000 from a Christian rehabilitation ministry that includes sexual orientation struggles. It received $6,000 from a Christian philosophy ministry and nearly $80,000 from an American Christian charity in Uganda that helps orphans. And it's not only Christians who are giving: Invisible Children won $1 million from a Chase Bank charity competition.
Jason Russell's experiment seems to be working. He's getting Christians, and others, to embrace his message of what the Gospel of Jesus Christ means without actually discussing religion explicitly.
The campaign contributed to a remarkable bi-partisan effort in Congress to introduce and pass legislation condemning Kony and the LRA, and eventually calling for money, equipment, and human expertise to be dispensed by the United States to regional African armies to stop them.
"The American response was highly correlated to people's religious beliefs," said David Rubenstein, a founder of the Save Darfur campaign, referring to that conflict's advocacy history. "There is certainly a religious and spiritual energy to advocating on Capitol Hill."
Even within the Invisible Children organization itself, a surprising blend of liberal and conservative have come together. Of Invisible Children's four independent board members, one is an openly gay pastor (and the head of an Emerging Church); another donated to California's Proposition 8 campaign to ban gay marriage.
 "If Jim Inhofe and Jim McGovern can get together," Keesey told me, in reference to board members Pastor Rich McCullen and John Bradel, "That's the beauty of this thing."
•       •       •       •       •
But it's been a hard journey for Russell. Almost as soon as he and his movie became famous, they became infamous, and the criticism -- from bloggers, university professors, politicians, and LRA victims themselves -- has been vitriolic. Russell was ridiculed in part for comments he'd made referring to himself as "the messenger."
Ultimately, it may have gotten the best of him. Criticism of Russell's campaign became overwhelming, from financial spending to the video's inaccuracies to a photo of the Invisible Children founders posing with weapons in Central Africa. From bloggers to academics, it seemed like virtually everyone wanted to bring him down.
Invisible Children even released a sequel to Kony 2012 last week. Yet only 1.3 million people have bothered watching so far -- less than 1% of the original viewers.
When a TV anchor asked last month if criticism of the organization felt surprising, Invisible Children CEO Ben Keesey gave the business answer, "No, I don't think so." But when the anchor pressed on Russell, he opened up.
 "It does, just a little bit," Russell said. "It's about the heart of the messenger." He paused again. "And we were like, 'Oh, wow, I didn't know this tension was out there.'"
Last month, Russell's family released a statement that, after his public breakdown, Russell was still being hospitalized and had a "long way to go."
---
* - This sentence originally identified Mark Driscoll as an "Emerging Liberal" in the Emerging Church movement. According to a spokesperson for Driscoll's Mars Hill ministry, he was once affiliated with other theologians affiliated with Emerging Liberals, but now identifies himself as an "Emerging Reformer."
We want to hear what you think about this article. Submit a letter to the editor or write to letters@theatlantic.com.
Josh Kron
is a writer based in Kampala, Uganda. He covers east Africa and Africa's Great Lakes Region for
The New York Times
and has written for
Foreign Policy
,
The Guardian
, CNN, and
Ha'aretz
.