Ghosts of a Genocide: The Contentious Ethnic Politics of Today's Bosnia
A mayoral election in Srebrenica, the site of a horrific 1995 massacre, is reopening scars from one of Europe's worst conflicts since World War Two.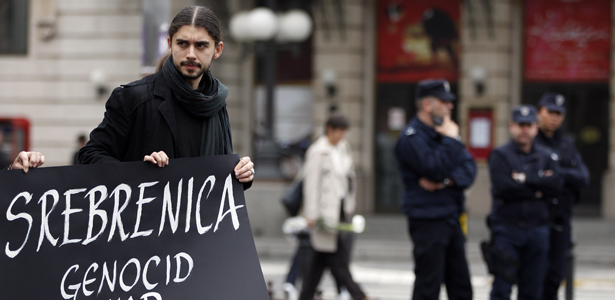 SREBRENICA, BOSNIA -- Six months from now, a municipal election will be held in this isolated mining town, the scene of the largest massacre in Europe since World War Two.
The town's current mayor, a 33 year-old Bosnian Muslim, says the election will hand Bosnian Serbs control of the town and complete the "ethnic cleansing," or removal, of all Muslims from eastern Bosnia. Serbs say it is democracy, plain and simple.
Seventeen years ago, Serb forces executed 8,100 Muslim men and boys here in the largest single mass killing of the war in Bosnia. The U.S. and its European allies - who had declared the town a U.N. protected "safe area" - stood by as the Serbs rampaged for days in the summer of 1995.
In local elections since then, a special exemption has been granted that allows Muslims who lived here before the war to vote in Srebrenica - even if they no longer reside here. This year, the country's High Representative - a foreign overseer with sweeping powers - plans to issue no such exemption. In a visit to the town this week, he called for Serb and Muslim politicians to compromise.
"The challenge in Srebrenica goes far beyond the elections," said Valentin Inzko, an Austrian diplomat who has pressed local officials to take more responsibility since becoming high representative in 2009. "People want a better life, and the key to that is constructive politics and economic development."
Under the exemption, Muslims have controlled the municipal government, interned the bodies of 5,137 of the victims in a sprawling memorial here and tried to reverse some of the impact of the killings by slowly moving back. Today Srebrenica's population, which was 75 percent Muslim before the war, is evenly split between Serbs and Muslims.
And that is where the good news ends. Already a glaring symbol of international fecklessness, the town's sorry state today sets a new standard for Western half-measures gone astonishingly wrong.
The 17-year effort to move Muslims back to this town began with a whimper. Clinton administration officials, eager to avoid American casualties, made little effort in the late 1990s to arrest the Serb nationalists who carried out the executions. Fears of violent clashes blocked large-scale efforts to return Muslims to Srebrenica.
Frustrated, the roughly 30,000 Muslims who had survived the town's fall scattered across Bosnia and the world. Roughly 20,000 resettled in Muslim-controlled parts of Bosnia. An additional 15,000 fled abroad; an estimated 7,000 arrived in the United States.
Many of them eventually settled in St. Louis, Missouri, a city with a Bosnian community already 80,000 strong, the largest in the United States. Today, roughly 5,000 refugees from Srebrenica live in St. Louis. The Midwestern American city is home to more Bosnian Muslim survivors of the massacre than Srebrenica itself.
One of the Srebrenica refugees who arrived in the U. S. was Camil Durakovic, the town's current Muslim mayor. After he survived the fall of Srebrenica at the age of 16, his family resettled in Manchester, New Hampshire. After attending a local high school, he graduated from Notre Dame in 2003 and planned to attend graduate school in the U.S.
A 2005 summer trip to Srebrenica convinced him that his home was here. He started working for the town's mayor. When the mayor passed away earlier this year, Durakovic, a burly man with a boyish face who wore a pin-striped suit and pink shirt in the town hall today, took over.
In an interview in his office on Thursday, he said returns of Muslim families rose from 2002 to 2005, largely as a result of heavy American and European support. In recent years, though, they have slowed. The economy has not helped. Unemployment is 50 percent in Srebrenica, making it a difficult place to settle for Muslims and Serbs alike. Today, 3,500 Bosnian Muslims live in Srebrenica. Because Serb officials decline to pay their pensions and other government benefits, many Bosnian Muslims maintain their official addresses in Muslim-controlled parts of Bosnia.
As a result, even though half the town's residents are Serbs and half are Muslims, its registered voters are roughly 60 percent Serb. Unless the high representative or national government grants another exemption allowing Muslims who lived in the town before the war to vote, Serb politicians will likely gain control of the local government this fall. With foreign aid and interest in the town dwindling, Durakovic and other survivors predict that Muslims will flee.
"It will be the finalization of the genocide," Durakovic told me. "Definitely."
Radomir Pavlovic, the likely Serb candidate for mayor in the October municipal elections, insisted that Muslims had nothing to fear. But he then echoed the divisive statements of the head of his political party, Bosnian Serb leader Milorad Dodik. Initially perceived as a moderate by the West, Dodik has rejected rulings by the International War Crimes Tribunal that genocide occurred in Srebrenica and has systematically thwarted international efforts to unify the country.
Pavlovic, the probable mayoral candidate, expressed views that are widely held among Bosnian Serbs. He said he believed 2,000 - not 8,000 - Muslims died in the executions, blamed "foreign mercenaries" for the killings and expressed sympathy for General Ratko Mladic, the Bosnian Serb commander now on trial in the Hague for carrying out genocide after evading arrest for 16 years.
"Others are more responsible than him and will go unpunished," Pavlovic told me. "It's always the pawns that get blamed."
Denial is nothing new here. After the fall of Srebrenica, Bosnian Serbs insisted that no mass killings had occurred and blocked journalists from investigating them. (Bosnian Serb forces jailed me for 10 days in 1995 after I discovered mass graves near the town while covering the conflict for the Christian Science Monitor.) After the bodies were exhumed, the Bosnian Serbs said too little attention was paid to the Serbs killed by Muslims around Srebrenica. As many as 1,300 Serbs may have died here, as Pavlovic argued, but that number is dwarfed by the 8,100 Muslim dead.
The high representative has until May 9 to grant an exemption for Bosnian Muslim voters here. He should immediately do so. The Dayton Peace Accords mercifully ended the war in 1995, but they created a still-born country with a constitution that makes it easy for corrupt nationalists on all sides to divide the country.
Until desperately needed constitutional reforms are implemented, the Bosnians who lived in Srebrenica before the conflict should be allowed to vote here. Serb nationalists should not gain control of a town that was 75 percent Muslim before the war. Genocide should not be rewarded.
This post also appears at Reuters.com, an Atlantic partner site.