Bo Xilai: The Hollywood Version?
A sample screenplay for China's biggest real-life political drama in decades.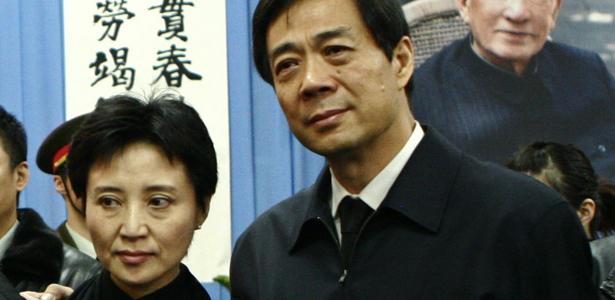 Hollywood has been warming up to China in a big way lately. Titanic creator James Cameron even trekked to Beijing, hoping to co-produce the sequel of the wildly popular Avatar with a Chinese film company. As Gady Epstein of The Economist reported, Iron Man 3 will also be a Hollywood-Chollywood co-production. Apparently, joint manufacturing ventures are now expanding from cars and machinery to cultural products.
The timing couldn't have been better, as China is caught in a political scandal that contains all the ingredients of a Hollywood political thriller: corruption, murder, sex, diplomatic intrigue, and even car chases. The story's every new twist -- the latest being Bo's shocking efforts to wiretap his own boss, Hu Jintao -- infuses reality with fiction and a large dose of high-brow, Sorkin-esque political drama.
Instead of comparing the Bo saga to a Hollywood film, why not portray it as a Hollywood film? Below is a rough conceptual script of what Bo Xilai: The Movie could be. Here I present a glimpse of scenes from the yet-to-be-made film:
TITLE: TWENTY-FIRST CENTURY EMPEROR

FADE IN:

EXT. HARVARD YARD--NIGHT

Students scurry across the campus green and groups congregate to chatter about weekend bacchanalia.

HARVARD YARD--CONTINUOUS

Lowell House, a historic residential hall, bathed in soft streetlight.

The front door opens and a young Chinese man emerges, dressed impeccably in a Gucci suit and matching tie, gripping a new bottle of Johnnie Walker Blue in his hand.

This is Bo Guagua, 24, Harvard graduate student and son of star Chinese politician Bo Xilai. He skips down the steps, whistling an unrecognizable tune.

HARVARD YARD--CONTINUOUS

A line of student revelers snakes around the lawn in front of the Spee Club, founded in 1852, which counts men John F. Kennedy among its alumni.

That fact is not lost on Guagua, the elite of Chinese elites--progeny of a powerful Chinese political family.

Guagua bounces past the serpentine line, nodding to the security guard as he enters the club.

INT. SPEE CLUB

Lil' Wayne's music fills the cavernous room. The dank odor of sweat, infused with hookah smoke, pervades the club. Bursts of laughter and testosterone-charged cheers punctuate the profane rap lyrics.

DERRICK

Yo, it's B to the double Gizzle!

(DERRICK PINES, Guagua's friend, spots him and approaches, Pabst Blue Ribbon in hand)

Didn't think you'd show up to this shindig man. What's happenin' prince?

GUAGUA

(looks disapprovingly at the Pabst)

So we're going down market these days now?

DERRICK

Hey man, we get down with the real America too at Hahvahd.

(Snatches Johnnie Walker from Guagua's hand)

Can't always afford this good shit. C'mon, I gotta introduce you to a couple Wellesley hotties.

Derrick pulls Guagua to the kitchen, where two young women are sipping what appears to be the seventh or eighth mojito.

DERRICK

Ladies, this is good friend of mine Guagua, or Double G if you prefer. His old man is some rock star party secretary in China, totally hooked up.

YOUNG WOMAN 1

So your dad is like China's party planner?

(laughs at her own joke)

YOUNG WOMAN 2

(rolls her eyes at friend)

I'm Kate. Hey I think I read about you somewhere. Your father could be the next prime minister of China or something?

GUAGUA

(sheepishly)

Yeah, well...     

Guagua's back pocket begins to vibrate. He reaches for his iPhone, the incoming call display reads: BLOCKED

...uh, I gotta take this, sorry guys.

He ducks into the small corner library and slides the door close.

GUAGUA

Dad? You never call my mobile...

INT. CHONGQING PARTY SECRETARY OFFICE--DAY

Bo Xilai, mid-60s, handsome and tall with a grey and regal mane. Exuding confidence, this is a man who believes he is destined for greatness in China. His bloodline is unmatched, having descended from political titans of Mao's days. He lords over a municipality of 30 million, Chongqing, that has enjoyed breakneck growth under his watch.

He is alone in his spacious waterfront office, talking quietly into his cell phone, possessed of his own thoughts.

BO XILAI

Something's happening ... something big. I have to protect your mother. I need you to take care of yourself.

GUAGUA (OFF SCREEN, THROUGH PHONE)

You're scaring me dad. Tell me what happened.

Through floor-to-ceiling glass windows, Bo stares aimlessly at the Yangtze River below. Freight ships crawl along like ants. ZOOM into Bo's ashen face.

EXT. HIGHWAY IN CHENGDU--NIGHT

SUPER: TWO NIGHTS AGO

A jeep careens into view and screeches onto the highway in this city, the capital of Sichuan province.

INT. INSIDE THE JEEP

At the wheel is a Chinese man of Inner Mongolian heritage. He wipes perspiration off his forehead and whips his neck around. In the rear view mirror, a fleet of police vehicles with flashing lights come into view. The faint sound of sirens grows louder.

This is Wang Lijun, until recently Bo Xilai's police chief and right-hand man on fighting crime in Chongqing. If Bo is Rudy Giuliani, then Wang is his Bernie Kerik. Now, recently removed from his post, he is running for his life.    

WANG LIJUN

(muttering through clenched teeth)

Come on, come on, you're gonna make it.

Wang cranes his neck around another time, fiddling with his glasses, which have fallen down his face. A blanket of police cruisers are gaining.

He glances at the passenger seat: a pistol rests on it.

He turns back to the road, steels his expression and floors the jeep.

A couple of miles ahead, a stately building rises into view. Standing before it is the star-spangled banner fluttering in the wind.

INT. CHONGQING OPERA HOUSE--SAME NIGHT

Painted warriors and costumed acrobats demonstrate their agility and weapon-handling exercises to a pleased crowd. Chinese string instruments and percussion are picking up speed, rising toward a crescendo. Acrobats tumble.  

Amid the clattering of instruments, Bo sits alone in his dimly lit private box above the stage, serene and nursing a Cuban cigar. He sips chrysanthemum tea.  

His cell phone suddenly lights up.

BO XILAI

You got him?

A beat of silence.

He what? The Americans?

Another beat of silence.

So, this is how it ends.

Bo hangs up abruptly. He takes another prolonged drag of the cigar and exhales, a veil of smoke clouds a hardened face.

EXT. US CHENGDU CONSULATE--SAME NIGHT

Wang is being escorted through the main gates by U.S. embassy security personnel.

Before disappearing into the building, Wang casts a final glance behind him. Outside the gates, the balding Mayor of Chongqing smashes his police cruiser's bumper in a fit of rage.

INT. DALIAN MOTEL--DAY

SUPER:15 YEARS AGO  

Curtains are drawn in this claustrophobic and rundown motel room. Lingerie is scattered among cigarette butts and empty Chinese grain alcohol bottles on a dusty floor.

A British man stripped down to his boxers sits on the corner of the unkempt bed, dragging on what little remains of his last cigarette. This is Neil Heywood, a British expat who found his way to the seaside city of Dalian, Liaoning, and ingratiated himself with the young and charismatic Mayor Bo Xilai.  

NEIL HEYWOOD

(mumbling)

What happens now?

An attractive middle-aged Chinese woman, wrapped in bed sheets, looks mischievously at Heywood. This is Gu Kailai, high-powered lawyer and the second, estranged wife of Mayor Bo. Bo's ambition had attracted her, but it quickly became obvious that it was a marriage of political convenience.

GU KAILAI

Now you take me to London, to see Leicester Square, to Westminster Abbey, to Notting --

HEYWOOD

Don't be silly, your husband, he --


GU KAILAI

Husband? You call what I have a husband? He's a damn ghost.   
At this time, I'd like to thank the Academy. OK, I can settle for an Emmy too.