Why the Arab Spring Hasn't Been Better for Women
New and old conservative groups are slowing or outright reversing progress on gender rights.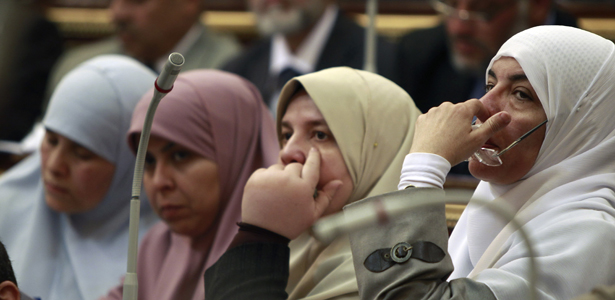 Female members of Egypt's parliament attend a session in Cairo / Reuters
---

MORE FROM THE COUNCIL ON FOREIGN RELATIONS
---
In honor of International Women's Day, Haleh Esfandiari, director of the Middle East Program at the Woodrow Wilson International Center for Scholars, asked a cross-section of female scholars, activists, business executives, journalists, politicians, and officials to comment on how women have fared in the Arab uprisings. The answers, especially from women living in the thick of it in Middle Eastern countries, are depressingly negative--and sometimes scathing.
One theme is that women played an essential role in the Arab world's uprisings, only to be marginalized once transitions began. Moushira Khattab, a former Egyptian ambassador to South Africa and minister of family and population, writes that women joined men in calling for freedom in Tahrir Square. Since then, though, "the train of change has not only left them behind, but has in fact turned against them... Dormant conservative value systems are being manipulated by a religious discourse that denies women their rights." Shirin Ebadi, an Iranian Nobel Peace Prize winner and human rights activist, says flatly that "the 'Arab Spring' is not an accurate description" of what has occurred. She notes that after Iran's revolution, "a dictator fell from power, but a religious tyranny took the place of democracy." The uprisings will only be fulfilled, she argues, "when women achieve their rights."
For many, the rise of traditional and religious-based politics is deeply harmful to women. Rola Dashti, a former member of the Kuwaiti parliament who lost her seat in the election last month (in which Islamists surged and no women were elected), says that "women's presence and participation in public life--specifically in politics, decision-making positions, and state affairs--moved from marginalization during repressive regimes to rejection with Islamist regimes." She pulls no punches when it comes to moderate Islamists: "the promotion of moderate Islamism by Islamists in power is nothing more than a hidden agenda of radical and extremist ideologies when it comes to social issues and citizens' rights, especially as it concerns women." Rend Al-Rahim, who served as the first ambassador to the United States in Iraq's post-Saddam government and now runs the Iraq Foundation, says that "the retreat in women's rights has more to do with the resurgence of patriarchal, narrowly conservative social mores embedded in ancient tribal customs than with religion. Sharia is only a convenient peg for the deeper instinct of male dominance."
Interestingly, the few optimistic entries come from the Maghreb. Omezzine Khélifa, a Tunisian woman who ran unsuccessfully for parliament with the Ettakatol Party, notes that Tunisia's Personal Status Code is the most progressive in the Arab world. "Women realize that they have the most to lose if the transition does not go well and, as a result, have continued to be very active in the political process," she writes. Indeed, Khélifa says that through Tunisia's progressive electoral law, women captured 27 percent of parliamentary seats in October's election, and "women's NGOs played a critical role in pushing the Tunisian government to lift key reservations to the Convention on the Elimination of All Forms of Discrimination against Women (CEDAW)--the first country in the region to do so." Najat Zarrouk, from Morocco, says that the recent upheaval provided "a favorable environment" for democratic progress in her country, notably through last year's new constitution, which established "parity, equal opportunities, and the promotion of merit."
It is too early to tell how women's rights will ultimately fare in the longer term. Moroccan professor Souad Eddouada argues that the past year's upheaval is producing "more grassroots youth activism whose equal access to social media tools is empowering individuals regardless of their gender or social class." This suggests that the past year has unleashed a genie of empowerment that will be difficult to put completely back in the bottle. Many, however, will continue to try.
This article originally appeared at CFR.org, an Atlantic partner site.