Why Netanyahu and Obama Are Still Divided Over Iran
The Israeli and Americans leaders couldn't hide their disagreements at this week's meetings.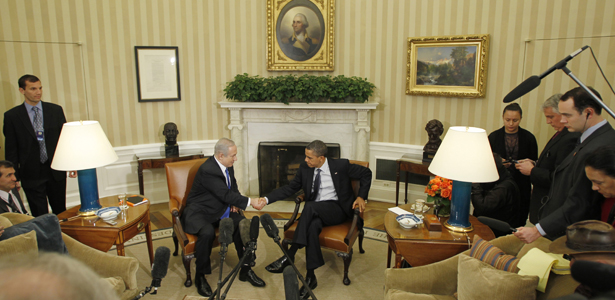 U.S. President Barack Obama shakes hands with Israel's Prime Minister Benjamin Netanyahu in the Oval Office of the White House / Retuers
President Obama and Israeli Prime Minister Benjamin Netanyahu have been working hard to present a united front on Iran, the nation at the heart of a simmering dispute between the two close allies.  But there is no disguising the fact that the two leaders remain sharply divided on the way forward.
Netanyahu sees a nuclear-armed Iran as an existential threat to his country's future, and Israeli officials have been openly suggesting they might conduct military strikes against Iran's nuclear sites this summer. Obama regularly says that he will not allow Iran to obtain a nuclear weapons, but just as regularly says that he believes the hard-hitting economic and diplomatic sanctions on Iran should be given more time to work.
That fundamental difference between the two leaders hung over every aspect of Netanyahu's visit this week, including a late-night address to more than 13,000 cheering supporters at the annual convention of the pro-Israel group the American Israel Public Affairs Committee.
Israel, Netanyahu said, supported Obama's ongoing effort to isolate Iran and impose ever-tougher sanctions on the country.  But the Israeli leader made clear he wasn't prepared to wait much longer for clear evidence that the measures were persuading Tehran to set aside its nuclear ambitions.
---
MORE FROM NATIONAL JOURNAL
---
"My friends, Israel has waited, patiently waited, for the international community to solve this issue," Netanyahu told the crowd. "We have waited for diplomacy. We have waited for sanctions. None of us can afford to wait much longer."
Netanyahu's last meeting with Obama in the summer of 2011 didn't go well. The prime minister used a shared press event at the time to lecture Obama about Israel's refusal to withdraw to its pre-1967 borders. Obama sat stone-faced and clearly angry. Aides to both men later told reporters the private meetings had been just as icy.
This time around, Netanyahu and Obama have gone out of their way to avoid public flare-ups and focus on their areas of agreement, like the dire outcomes - nuclear terrorism, a Middle East nuclear arms race - which could result from Iran obtaining the bomb.
Still, the differences were sharp enough they couldn't be entirely papered over. Shortly before Netanyahu's AIPAC address, he joined Obama at the White House for a series of lengthy meetings devoted to Iran's nuclear program. During brief joint comments to the press, Obama said he and Netanyahu agreed that there was no need to rush into a military confrontation with Iran.
"Both the prime minister and I prefer to resolve this diplomatically," Obama said, with Netanyahu sitting a few feet away.   "We do believe that there is still a window that allows for a diplomatic resolution."
Netanyahu, for his part, never mentioned diplomacy in his public remarks at the White House, focusing instead on his country's need to take any means necessary to defend itself.
"Israel must have the ability always to defend itself, by itself, against any threat," Netanyahu said at the White House. "Israel has the right, the sovereign right, to make its own decisions."
Netanyahu, who has warmer relations with Congressional Republicans than with the White House, received a boost shortly before his AIPAC speech when Senate Minority Leader Mitch McConnell R-Ky. said he was prepared to draft legislation authorizing the use of military force against Iran if American intelligence showed that Tehran had made a final decision to build a bomb. McConnell's comments received a sustained standing ovation from the overflow crowd.
The Israeli leader took a similarly hawkish stance, telling the AIPAC audience that "as the prime minister of Israel, I will never let my people live in the shadow of annihilation."
Netanyahu began by speech by telling the audience, to laughter, that he was not going to explicitly say what Israel would or would not do if Iran continued to make progress towards a nuclear weapon. But he left little doubt as to his thinking.
"When it comes to Israel's survival we must always remain the masters of our own fate," Netanyahu said, repeating words he used when he met with Obama earlier in the day.
The prime minister concluded his remarks by echoing Obama's own remarks Sunday, when the president told the AIPAC audience that he wasn't prepared to adopt a policy of trying to contain a nuclear Iran, an idea modeled on the Cold War-theory of deterrence.
"We're determined to prevent Iran from developing nuclear weapons, we leave all options on the table and containment is definitely not an option," Netanyahu said to applause.
The words were the same. The location was the same. But the shared language shouldn't disguise the fact that the two men remain far apart on what the words actually mean.