Why Are Women So Poorly Represented in Foreign Policy?
Six women discuss the gender imbalance in U.S. foreign policy and national security work.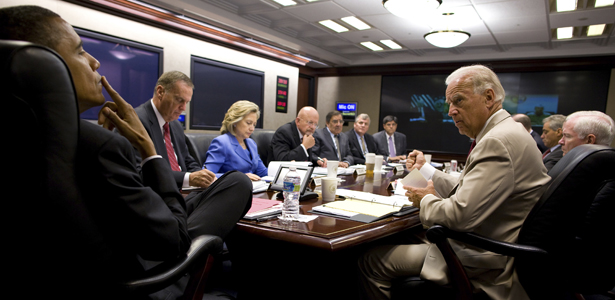 Obama meets with the national security team on Iraq in the Situation Room of the White House in Washington / Reuters
---

MORE FROM THE COUNCIL ON FOREIGN RELATIONS
---
Having worked at a number of institutions over the past fifteen years, I have long been struck by the proportional underrepresentation of women in U.S. foreign policy and national security positions. In an attempt to understand the scope and extent of this gender gap, I wrote a piece that examined the best available data for the government, military, academy, and think tanks. With few exceptions, I found that women make up less than 30 percent of senior positions across these institutions.
Since then, I have received an outpouring of feedback and have been fortunate to speak with a number of people on this issue, which nearly everyone recognizes as a persistent problem but is reluctant to address directly.
The Obama administration has strongly embraced and promoted women's rights and issues in other countries as part of the U.S. National Action Plan on Women, Peace, and Security. In a speech in December 2011, Secretary Clinton argued for the inclusion and mobilization of women abroad as critical to U.S. national interests, because "they raise issues like human rights, citizen security, justice, employment, health care" and "speak on behalf of other marginalized groups and across cultural and sectarian divides." It is reasonable to assume that, for these very same reasons, increased participation of women at home would only strengthen the foreign policy community and enhance the U.S. role in global affairs.
To commemorate International Women's Day, and in the hopes of provoking a broader conversation by bringing attention to this neglected issue, I asked several women of different backgrounds and varying levels of experience to address this question:
Women are significantly underrepresented in foreign policy and national security positions in government, academia, and think tanks. Why do you think this is the case?
Isobel Coleman, Senior Fellow and Director of the Civil Society, Markets, and Democracy Initiative; Director of the Women and Foreign Policy Program at the Council on Foreign Relations

There is no single answer to this tough question.  It partly stems from the reality that women typically still have more family responsibilities than men. Pressured by raising children and caring for aging parents, fewer women stay in the pipeline to make it to senior positions. It's also partly due to the staying power of the "old boy network." In the foreign policy world, who you know can trump what you know. Getting invited to speak on this panel, or attend that meeting, or serve on that committee - these decisions reflect one's network as much as anything, and they are self-reinforcing. I also think it has to do with what men and women deem important and find interesting. When I host meetings on global development at the Council on Foreign Relations, the list of speakers and invitees skews towards women--women seem to be running the big NGOs and filling many of the senior jobs in global development. Why? Perhaps that's where their interests lie, or perhaps the "harder" security fields are simply less welcoming to women. I suspect a bit of the latter, which is a loss all around.
Lisa Curtis is a Senior Research Fellow at the Heritage Foundation

While women may still be underrepresented in national security and foreign policy positions, they have made tremendous strides since I started my career nearly twenty years ago. At that time, there were few female role models in top national security positions and only a limited number of women around the table discussing critical foreign policy issues.
The continuing progress in creating opportunities for women in leadership positions in national security has occurred under democratic and republican administrations alike. The appointment of the first female U.S. Secretary of State (Madeleine K. Albright) in 1997 was a particularly inspiring moment for women of my generation. President Ronald Reagan had helped set the stage for women in foreign policy fifteen years earlier when he appointed Ambassador Jeane J. Kirkpatrick as the U.S. Representative to the United Nations. In the last seven years alone, women have held the posts of Secretary of State (twice), Secretary of Homeland Security, and USAID Administrator, as well as numerous other senior-level positions at State, Defense, and the NSC, testifying to the continuing achievements women are making.
The key to continuing this upward trend is mentoring and training. Younger women need to learn how other experienced women have navigated their own professional advancement and managed to balance career goals with family commitments.
With an increasingly globalized and complex world demanding creative and varied solutions, there will be more and more opportunities and indeed--requirements--for women to sit at the foreign policy decision-making table.
Tressa Gipe Guenov, Professional Staff Member/Designee to Senator Barbara Mikulski (D-MD) on the Senate Select Committee on Intelligence

As in broader society, the national security field tends to place unrealistic pressures on working mothers and women in top leadership positions. Masculine leadership traits are still the de facto standard of excellence. Women are expected to achieve perfection in the undefined space of "work-life balance." Some men and, yes, even some women are complicit in perpetuating these attitudes, usually unintentionally, but it can have real-world, negative effects on opportunities for women. Women helping women is a key remedy to this problem. Whether it is women encouraging others to lead a meeting or apply for a top job, mentorship and advocacy amongst women is powerful and necessary. There still isn't enough of it to go around in Washington, unfortunately.
It sounds mundane, but I also think a significant problem remains the lack of administrative infrastructure to enable women to pursue high-level careers while building a family, if they so choose. Senior managers are slowly getting used to this idea and are adjusting leave policies, expanding part-time options and widening the aperture of what a successful national security career path can look like (think Michele Flournoy or Wendy Sherman). I have personally benefitted from these changes, for which I am grateful, but progress is still tenuous and uneven across the national security establishment and must not be taken for granted.
Juliette Kayyem, Lecturer in Public Policy at the Harvard Kennedy School of Government; national security and foreign policy columnist for the Boston Globe

There are, no doubt, institutional and systemic reasons for why women are underrepresented in this field, a fact that seems hard to believe given the qualifications of so many women who serve in leadership positions. Like many women who had reached a certain level, it was not unusual for me to be the only one in the room.  But, having now spent several years in academia, many more in state and federal government, and now as a columnist for the Boston Globe writing on national security and foreign policy issues, the basic truth is also this: the travel sucks. As my youngest of three children is now 6, I can look back at the years when they were all young and realize just how disruptive all the travel was. There were also trips I couldn't take because I was pregnant or on leave, the conferences I couldn't attend because (note to conference organizers: weekends are a bad choice) kids would be home from school, and the various excursions that were offered but just couldn't be managed.  And this is with a giving husband with a more flexible schedule than not. Over time, I learned to manage the forty-eight hour visit to a foreign country, hardly conducive to the kind of exploration and career-building networking that help those with more time on their hands or the lunch meeting sandwiched between two flights. I have even lived apart from my family for six months during the end of my tenure with the Obama administration.
This is just descriptive, and the choices I made to try to balance the travel with children are not ones that I think everyone else must make. Now that I have a more flexible schedule, and more opportunity to write, I often have used this platform to speak up for women who sacrifice the most and often have the least opportunity to speak: the women who actually fight, and die, in America's wars and yet are still considered second class warriors.  That, to me, is the most egregious gender inequity of them all.
Jolynn Shoemaker, Director, Women in International Security (WIIS), Center for Strategic and International Studies (CSIS)

This piece is informed by hundreds of interviews and focus groups conducted by WIIS with women at the mid-senior levels to determine factors that are obstructing women's opportunities and to highlight successful practices of female leaders.
Having some key female figures in highly visible, powerful roles has not solved the female underrepresentation problem.  Even though there are gaps in retention and exit data, we do know that many institutions are losing women in significant numbers starting at the mid-level. Why?
Work-Life Concerns: Inflexible schedules, unrelenting travel, and constant pressure to be in the office are common features of these jobs.  Many women are looking for opportunities to contribute meaningfully but also have more control over their personal lives.  They perceive that the foreign policy field is unaccommodating to flexible arrangements or detours from the traditional advancement track, and they feel pushed out.
Career Burn-Out:  Mid-level women point out that the 24-7 schedules and constant pressures are leading to more women opting out of leadership opportunities.  Whether they have families or not, younger women are re-examining the established definitions of success, and in some cases, concluding that the personal sacrifices are too high.
Lack of Sponsorship:  Women recognize that they need "sponsors" -powerful advocates who will open doors for them - but that male colleagues are benefiting much more from this support.  Women also point to an underlying sense of competition, ineffectual mentoring approaches, generational divides, and different views on work-life balance as obstacles to building these relationships with senior-level women.
It's time to start paying greater attention to what women are saying at earlier stages of the career ladder.  We are losing women in the pipeline.  Hearing and responding to their voices provides an opportunity to improve and strengthen foreign policy and national security environments.  Until then, we will continue to face a female leadership deficit.
Diana Wueger is a freelance writer whose work has been featured at The Atlantic and UN Dispatch. She is the founder and editor of Gunpowder and Lead, a blog on international security and foreign affairs.

In the debate over the underrepresentation of women in foreign policy and national security, we're focused on the wrong point in the career trajectory. Rather than bemoaning the lack of women at the top, we should be asking whether women at the start of their careers are being offered the assignments, experiences, and opportunities that lead to later success.
There's a gap in the types of tasks women and men are assigned early in their careers. Intentionally or not, women tend to given more administrative or support work rather than policy or research work; path dependence takes over from there. I recall a prominent scholar regularly asking his female research assistant (RA) to pick up his dry cleaning and take his car to the shop--things he didn't ask of male RAs.
There's also a mentorship gap. Young women have trouble finding men willing to act in that capacity because there are few mechanisms to develop the rapport that underlies a good, productive mentoring relationship.  Conversely, men may be concerned about how a mentoring relationship will be perceived and shy away as a result. But mentors are vital for opening doors and offering suggestions and feedback about career choices--efforts that are particularly valuable in the foreign policy world.
The parity problem starts much earlier - and must be addressed much earlier. Without efforts to develop a deeper bench of women with the experiences, training, and knowledge necessary to excel in the field, we'll always be asking the same questions.
This article originally appeared at CFR.org, an Atlantic partner site.