Why Angela Merkel Is in Trouble, and Why That Should Worry Europe
The German chancellor, who has also been Greece's most important champion, is facing a domestic political challenge.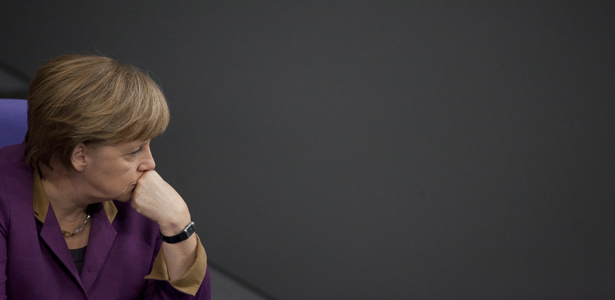 Reuters
It happened. Standard & Poor's downgraded Greece's long-term rating Monday to "Selective Default." And, well, the markets seem to be fine. Greece seems to be fine. The one who's really in trouble, though, is German Chancellor Angela Merkel.
The German leader has had one heck of a bad week-and-a-half, and the hits keep coming. The Greek bailout vote and the S&P downgrade are part of it. But the rotten political run began last Sunday with a confrontation that, on the surface, had absolutely nothing to do with Greece. Instead, it had to do with appointing a new German president.
The president of Germany is, in theory, elected: the members of the German parliament--the Bundestag--together with various delegates from the German states form the Federal Convention, who choose the president by secret ballot. But such is the power of coalition politics that the president, in practice, is more or less appointed, following a flurry of activity behind the scenes among whichever parties jointly hold a majority.
The old president of Germany, Christian Wulff, resigned February 17 over corruption allegations involving a loan, after having said for months that no resignation would be necessary. Merkel's reigning coalition, made up of her own Christian Democratic Union, its sister the Christian Social Union, and the Free Democratic Party, then had to come up with a successor.
It turns out, though, that FDP chairman and German vice chancellor Philipp Rösler came to his 5pm Sunday meeting with Merkel looking for a fight. Anonymous sources told
Der Spiegel
that Rösler came to the meeting having already gotten a unanimous vote from FDP leadership for Joachim Gauck as a candidate--the very Joachim Gauck whom Merkel had rejected for the presidency in 2010 and whom both she and her party were against this time around as well. Though Merkel and the FDP have tussled quite a bit in the past few months--
Der Spiegel
's team phrases it as "Merkel has humiliated the FDP repeatedly," while "the FDP has done nothing to defend itself"--the opposition took Merkel by surprise. Rösler apparently left the chancellor no choice: if the CDU/CSU voted for their candidate, Christian Töpfer, the FDP would vote with the Social Democratic Party and the Greens, effectively ending the coalition through which Merkel has governed.
So that was Sunday, February 12. The following Tuesday, European leaders finally settled the terms of a second bailout for Greece. It was greeted in Germany, as I
explained
last week, with very little enthusiasm. That is to say: half a dozen op-eds suggested it's a losing battle, a few wanted to drop the project entirely, and another half dozen pleaded for patience while Greece gets its stuff together. Given that European solidarity is Merkel's signature issue, the waning public enthusiasm wasn't a good sign.
A poll quantified that waning enthusiasm: Sunday, February 26 weekly newspaper edition 
Bild am Sonntag
 reported an Emnid Institute poll showing 
62 percent
of Germans opposed the bailout--up from 53 percent in September.
But that wasn't the only blow Merkel was to receive over the weekend. Evidently unknown to her, her interior minister Hans-Peter Friedrich, had also given an interview to
Der Spiegel
in which he came out in favor of Greece exiting the euro. When the interview was published on Monday, Merkel was then had to rebuke her own minister by announcing that she "[didn't] share this view," while Friedrich, presumably after some awkward behind-scenes shuffling, tried in
Der Spiegel's words
"to distance himself from his own statements." Happy Monday.
Then came vote time: the Bundestag had to approve the bailout package. Though the package passed, it did so without an absolute majority, and with 17 of Merkel's own coalition members defecting. That was enough for opposition leader Frank-Walter Steinmeier, a member of Merkel's previous coalition with his SPD party, to declare Tuesday that "the collapse of the [current] coalition is in full swing." In remarks made to
Der Tagesspiegel
, he announced: "this is the twilight of the chancellor."
And now S&P has downgraded the Greek debt, not just despite the bailout package, but because of it. Greek default may always have been on the horizon, but the immediate "Selective Default" rating on the long-term debt seems unlikely to play well in public opinion.
Let's not be too hasty to accept the words of a man who is, for now at least, Merkel's adversary. Merkel has proved a canny operator on more than one occasion, and Steinmeier has every incentive to declare her coalition done-for as soon as possible. That said, this is not looking good. Athens and the markets may be weathering the downgrade all right for now, but their champion is taking some hits. And Merkel is the Greek champion right now, much though rioting Athenians despise her for the austerity measures they've been forced to accept: for over a year now Merkel's been the keystone in the European effort to break Greece's staggering financial fall.
So take the markets' nonchalance about S&P's downgrade with a grain of salt. Greece was probably always headed towards default, and it may even already be set to leave the euro. But how hard the country hits the ground makes a big difference, and Merkel is a big factor in how hard Greece hits the ground. Right now, she's looking a little shaky.