What China's Talking About Today: The Second-Worst Tourists in the World
A survey of which country provides the most annoying tourists had China turn up second.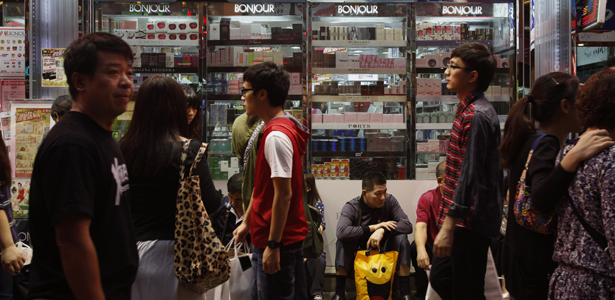 Mainland Chinese tourists sit on the street outside a cosmetic store in Hong Kong / Reuters
Congratulations, American readers, you are the worst tourists in the world, according to a recent survey conducted by Living Social, the discount deal Web site, and Mandala Research.
Micro-bloggers on Sina Weibo, the Chinese Twitter, didn't seem to feel too bad about Chinese tourists coming in as a close second, with 15 percent of the 5,600 votes in five countries -- roughly 4,000 of which were from the U.S..
"Not bad! We're only the second worst," wrote user 炮炮_Joy.
Among the seven million other comments on the issue, many seemed to take it for granted that Chinese tourists are held in low regard in some parts of the world.
"I guess China isn't the worst after all! ha ha ha ha ha, That's good. That's good," wrote wang25580.
In Hong Kong, one often hears negative comments about tourists from Mainland China. Many Hong Kongers complain that Mainland tourists spit, don't wait their turn in line at shops, and smoke in non-smoking venues. This disagreement, mostly over manners, has broken out into a kind of cold war between Hong Kongers and the Mainland in the past couple of years.
Sina Weibo reports that French tourists came in third, with 14 percent of the vote.