What China's Talking About Today: Mocking Women's Day
A somewhat misogynistic spin on the international day of recognition.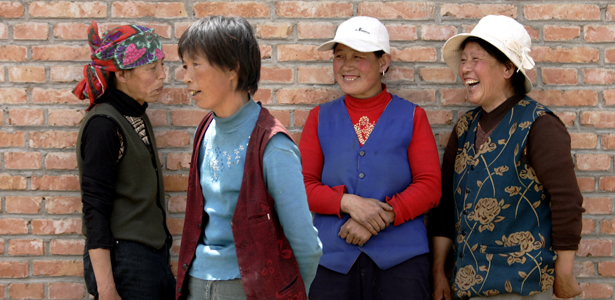 Chinese women chat in the rural outskirts of Duolun, China / Reuters
Sina Weibo micro-bloggers had already posted over 3 million messages in anticipation of International Women's Day by 12am this morning.
Chinese often refer to International Women's Day as San Ba, the numbers thee eight, referring to the date, March 8. Over the years, san ba has become a pejorative term for a woman who runs at the mouth, spouting nonsense. It's a serious insult.
Once, at a clothing bazaar in Beijing, I heard a customer call a shopkeeper "san ba," in an argument over some unsuccessful haggling.  Clearly incensed and on the brink of a physical reaction, the shopkeeper responded, "I'm san ba?  Then you si ba." Si ba is a Chinese double entendre that can mean the numbers four eight, or Go Die.
The spirit of International Women's Day in China has long been marked by the disparaging san ba, but Chinese on Weibo are doing their best to take their misogyny with a dose of humor.
User老亮孩wrote: "My mom is a San Ba! A chatter-box, a nag, a complainer, but to my most beloved mama, I love you <3 <3. Your child is now wishing you a great Women's Day."
Some female users seemed to re-appropriate the term.
juliaaaaa恩恩恩恩 wrote: "When shall we next san ba?" in response to her friend's comment, "One of the best things in life is to San Ba with a group of chatty San Ba-ers..."