What China's Talking About Today: Fired Worker Builds Mini Submarines
An unemployed man in Wuhan finds a market for small, man-made underwater vessels.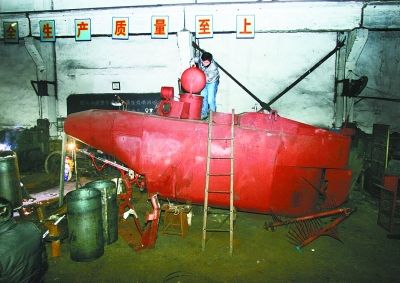 Zhang Wuyi works on his submarine in Wuhan, China /
Photos from Sina News
A laid-off man in Wuhan, Central China's most populous city, recently opened a factory to build small submarines.
Zhang Wuyi, named for the socialist International Workers' Day, was the subject of a Sina Weibo trend that spanned some 1.6 million micro-blogs yesterday.
Zhang, age 37, was laid off from a textile machine production plant. With only a high school diploma, he had to depend on his wits and mechanic prowess to earn a livelihood.
Talking with potential buyers, Zhang says that he's found a substantial market for underwater vessels with fishing capabilities.
Between the purchase of a small factory, built in the 1980s, parts, and associated costs, Zhang has spent roughly three million RMB (over $400 thousand) -- largely from a generous benefactor -- on his submarine factory. He is currently building his second submarine, complete with air-tight windows and wrought iron walls.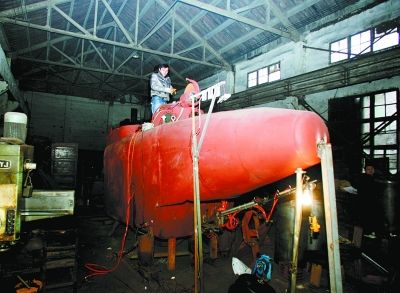 A few of Zhang's earlier prototypes reportedly sank in local lakes, but he now reports that his vessels are cleared for underwater travel.
A mini-submarine goes for about 200 thousand RMB, which means that Zhang should be well on his way to recovering the costs, assuming he can sell them. The free publicity he's gotten today won't hurt.
Many of Weibo's users applauded Zhang's unorthodox business venture.
User
S_yumi
wrote: #Laid-off worker makes submarines# That's pretty awesome!
Another user addressed Zhang's project with great enthusiasm, if not a little sarcasm.
PangLiHai wrote: Too clever - this man's got some prospects for success O(∩_∩)O hahaha
Others seemed more skeptical.
太湖闲夫wrote:  Everyone is doing far-fetched things, hoping to get rich quick.