What China's Talking About Today: Fear Spreads Over Tainted Water
A hyperlocal story about polluted tap water in Wuhan, Central China's most populous city, went viral on Sina Weibo, the Chinese Twitter, today.
Yesterday, the Wuhan Environmental Protection Bureau announced that sewage from Baishazhou Waterworks had broken into Qinling River, a major source of the Wuhan water supply.
According to Baishazhou Waterworks, the water's pollution levels are something of a scientific marvel -- Pollution levels are, at once, too low for consumers to get worried and too high for the plant to effectively clean the water.
The Waterworks plant manager told Sina News that, although the level of pollution is beyond their plant's water purification capacities, "But you can still consume it."
Weibo microbloggers -- many based in Wuhan -- waxed skeptical in roughly 20 thousand tweets since Thursday evening.
Zoe__yang wrote: "We can still drink this? I don't believe it."
Other microbloggers complained of illness. One user complained of wanting to throw up after using the tainted water, as per Baishazhou's instructions.
Wuhan residents who didn't heed Baishazhou's reassurance seemed to flock to supermarkets, where much of the bottled water supply was sold out.
This is a photo from 穷游老夏, who wrote, in a kind of sarcastic hyperbole, "Help! Water!!!  ... We are in Wuhan."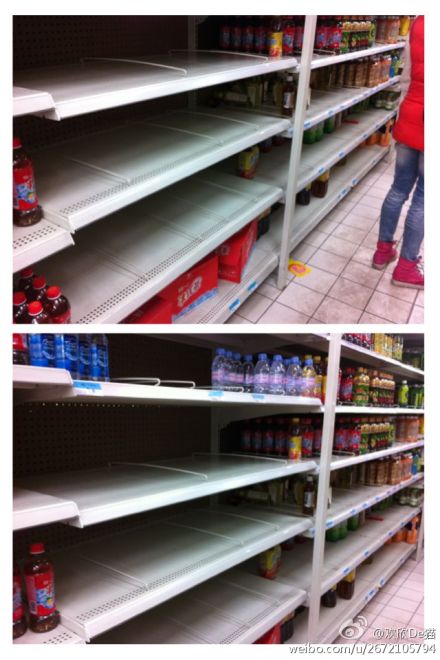 Outside of Wuhan, micro-bloggers were less concerned.
Beijing-based 展翌apple joked: #Wuhan's tap has a peculiar flavor. # That's the flavor of love~"
Weibo threads on hyperlocal news like this may hold more weight closer to Wuhan, but it is only one of many circumstances in which local government opacity and environmental abuses have led Chinese consumers to be less trustful that their air, water, and food aren't slowly poisoning them.