Washington Confronts the Hard New Realities of the Afghan War
Even Congressional Republicans may be shifting their position on the struggling conflict.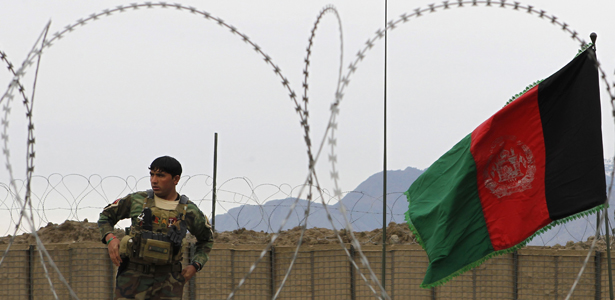 Afghan National Army soldier stands near an Afghan flag in Kunar province / Reuters
Shock-absorbency.
Gen. John Allen, commander of all US and NATO forces in Afghanistan, said on Monday that's what defines the relationship between western forces and Afghanistan's fragile government, semi-trained military and war-weary populace.
Those shocks will be tested as never before in the aftermath of what the U.S. military calls a rogue soldier's armed assault on Afghan civilians - primarily women and children - in the Panjwai District of Kandahar that left 16 dead and several wounded. The Taliban has called for revenge.
"Yes, this is a setback," Allen said on CNN. "Yes, this is a tragedy. But we're going to push on. We're going to ensure that this relationship, which is resilient and possesses a lot of shock-absorbency...is the one that defines the success of our campaign."
Allen, in Washington for a series of Pentagon meetings, amplified White House Press Secretary Jay Carney's earlier declaration that the as-yet-unnamed sergeant's rampage will not alter the existing timetable for U.S. troop withdrawals.
"This relationship is too deep, it has been going on too long, we have all sacrificed too much for us to permit this to be the single event that unhorses this relationship," Allen said. "The campaign is sound, it is solid. It does not contemplate, at this time, any form of accelerated drawdown."
For his part, Obama said the shocking and savage attack underscores "the importance of us transitioning in accordance with my plan so that Afghans are taking more of the lead for their own security and we can start getting our troops home." In an interview with ABC affiliate WFTV in Orlando, Obama said the U.S. and NATO will "keep an eye on going after al-Qaida" for the next couple of years.
Roughly 91,000 U.S. forces remain in Afghanistan. NATO forces number at least 31,000. The first 10,000 Afghanistan surge forces have already left and Allen said another 23,000 will depart by the end of September. The mission remains a tricky and hard-to-measure one of maintain security and training the Afghan army and police.
It's a goal that retains support in Congress, but splinters within that solid support are likely to emerge.
"It might prompt discussion of an accelerated drawdown," Sen. Jack Reed, D-R.I., told National Journal, noting that Republican presidential candidate Newt Gingrich has called for an immediate withdrawal from Afghanistan. Rick Santorum now says the war has begun to "unravel" but blames Obama's 2014 timeline for withdrawal - a timetable negotiated with NATO in 2010.
Reed said the left wing of the Democratic Party has always favored a faster withdrawal but has left Obama's policy largely unchallenged. Republicans, he said, may press for a re-think of current strategy.
"But the best pace of withdrawal is dictated by the facts on the ground," Reed said. "What's sobering is what the commanders on the ground are saying. There must be continued collaboration to shift the burden of security to Afghan forces. We can give them the tools to do the job. Whether they succeed, will be a test of their commitment more so than ours."
Reed, who has visited Afghanistan 12 times, supports Obama's withdrawal time-table of pulling most U.S. forces out by the end of 2014 - a timetable criticized by many Republicans when Obama announced it in December of 2009 (Senate Minority Leader Mitch McConnell, R-Ky., said troop movements should be determined by "conditions, not timetables.")
Reed acknowledged there could soon be calls from the left and the right to speed up U.S. troop withdrawals.
"You've got all these issues in terms of the strategy," Reed said.
With the exception of three congressmen -- Ron Paul of Texas (still in the GOP presidential derby), Walter Jones of North Carolina, and Jimmy Duncan of Tennessee - House Republican support for staying in Afghanistan appears to be strong. In the Senate, two Republican tea party senators - Rand Paul of Kentucky and Mike Lee of Utah - joined 21 Democrats and Independent Bernie Sanders of Vermont to ask Obama to accelerate U.S. troop withdrawals. The letter was sent to Obama on March 7. Paul and Lee were the only Republicans to sign the letter.
Near-solid GOP support for current Afghanistan policy may be shifting, however. Senior congressional Republicans say an under-the-radar shift is underway in GOP thinking about Afghanistan, one where the strategic interests of the U.S. are being weighed against other more pressing concerns, namely Iran and China.
"It is the most buttoned-up conversation in Republican ranks," said a senior GOP Senate adviser. "You hear about it in private conversations but you don't read about it. The questions being asked are, 'What's the plan? What's achievable?' The obvious problem and the reason you don't hear about it is you can't pull out too soon. That, and Republicans don't talk (trash) about on-going missions. But serious conversations are happening about what we're doing, our overall defense strategy, and what may come next with China or Iran."
The unease with Afghanistan in Republican ranks, invisible and quiet though it may be, is circulating principally among the rank-and-file membership of the national security and foreign policy committees. Last week, Rep. Buck McKeon, chairman of the Armed Services Committee, told the Ripon Society that it was his hope public dismay with Afghanistan won't lead to a swift withdrawal of forces. He blamed Obama for failing to adequately explain the stakes involved in the U.S. and NATO effort. "President Obama has given three speeches about Afghanistan," McKeon said. "He hasn't done anything to educate and bring the people along with why we are there." Other GOP leadership sources say increasing public opposition to the war may eventually weigh on Congress.
---
MORE FROM NATIONAL JOURNAL
---
The most recent ABC News/Washington Post poll shows 60 percent of the country no longer considers the Afghan war "worth fighting," with 30 percent saying it is. That's not the high-water mark of Afghan war fatigue. The same poll in March of 2011 found 64 percent said the war wasn't worth fighting, with only 31 percent saying it was. The current poll found 54 percent said it was time to withdraw, even if Afghan forces are not ready to assume control of security operations. More ominously, the survey found 55 percent said they don't believe Afghans support the U.S. security mission. In February, the Pew Research Center found that 20 percent of Americans thought Obama was withdrawing surge forces from Afghanistan "too quickly," while 22 percent said they were not moving out "quickly enough." Fifty-three percent, however, said the pace of U.S. withdrawal was "about right."
"The president made clear back in 2009 we are leaving," Reed said. "He has got us on the right trajectory."
That trajectory, Obama said at his press conference last week, was meant to avoid a "cliff" in Afghanistan.
"What we are now going to be doing...is to make sure that that transition is not a cliff," Obama said. "We're going to be able to find a mechanism whereby Afghans understand their sovereignty is being respected and that they're going to be taking a greater and greater role in their own security. I'm confident we can execute, but it's not going to be a smooth path. There are going to be bumps along the road."
Hence the need for shock-absorbency. Now, more than ever.