Uzbekistan Might Ban Toys With 'Foreign Values'
Lawmakers in the Central Asian country say they're worried about "sadistic tendencies."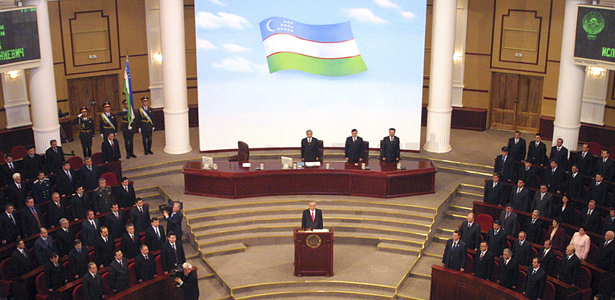 The Uzbek parliament meets in Tashkent / Reuters
Lawmakers in Uzbekistan have declared war on toys that harbor foreign values.
Members of the pro-government Milliy Tiklanish (National Revival) party in the lower house of parliament have proposed a bill to protect the "moral health" of children and teenagers by limiting the import of foreign-made toys, Regnum reports. A supporting article by government-run UzDaily.uz has denounced toys "that harm the spiritual and moral development of children and teenagers and lead to sadistic tendencies."
"Unfortunately, right now, our children mostly play with toys that are produced outside the country and are not tied to our national traditions," UzDaily explained.
This is not the first time authorities in Tashkent have sought to staunch so-called foreign values. In 2010, authorities launched the "Year of Harmonious Development of this Generation" and passed a series of laws that allowed the government "more effectively to protect children and formulate their respect for national values and tradition."
In April 2011, those laws led Uzbek authorities to finger another culprit in society's moral decline--rap music. They created a special committee to censor rap lyrics and oversee future recordings by Uzbek rappers.
Tashkent's concern about toys comes amid a regional crackdown on politically active playthings. In recent months, groups of toys have been rounded up in Russia and Belarus for holding unsanctioned protests.
This article originally appeared at EurasiaNet.org, an Atlantic partner site.