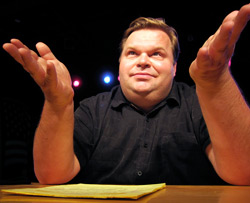 So many excellent things have been written about Mike Daisey's made-up reports while I have been hors d'Internet that my task now is easier and harder. Easier: just alluding to others who have made points I don't need to. Harder: refining what else there is so say.
On the "excellent" side: the PDF of This American Life's "retraction" show is absolutely riveting, even without hearing the real voices involved. I have intentionally not yet listened to the show, so as to judge from the words themselves. On that basis, it appears to me that Daisey has destroyed himself. (His "I stand by my work" statement on his site will not help him, in my view. The site is also the source of this photo of him.) I agree with Felix Salmon about the temptations and wrongness of "fabulous journalism." Credit again goes to Marketplace's Rob Schmitz for actually doing something about the unease many people with China experience, including me, felt when first hearing Daisey's monologue. Evan Osnos, of the New Yorker, gives the same list I would have given of the "tells" in what Daisey said:

Several places in the narrative sounded fishy to anyone who has spent much time here: 1) the gun-toting guards (maybe, but not at the factories I've seen; in China, guns usually belong to soldiers or armored-car drivers); 2) driving down a highway exit that ended with rebar jutting out into thin air (local taxi drivers usually know which exits aren't finished); 3) meeting workers who said they were twelve and thirteen years old (even if they were underage, they were probably too smart to blab about it in front of the gun-toting guards); [JF note: yes, this one especially] 4) workers who were such innocents that they'd never considered what they would change about the factories until Daisey asked them (where do I start?); and, perhaps most of all, 5) his description of going to the factory gates and talking to workers as a radical innovation in journalism. When he told journalists in Hong Kong about his plan, he said in his piece, they replied: "That's not really how we usually do things in China."

That was a howler. Going to the factory gates is exactly what reporters do in China.

Here is a picture I took at one of the Foxconn gates in Shenzhen when I made my own "this is what reporters do" trip there in 2007. Notice the guns the guards are carrying? Oh, wait, they're not carrying any.
When I heard Daisey's Shenzhen riff on C-Span late last year, I wrote to a longtime friend who is also a friend and supporter of Daisey's and had been trying to get us together. I said: This doesn't sound right. I also said that I was bleakly amused by Daisey's presenting the far-off exotic territory of "Shenzhen, China" as some super-secretive realm that he alone had thought to unveil. I pointed out that I had done a gigantic cover story and on-line slide show about this unknown land back in 2007, plus later in a book and a video series; that the Wall Street Journal had done hundreds of stories with Shenzhen datelines before and since; that there had been countless books, picture shows, news features, etc, about the Shenzhen phenomenon; that "Foxconn" was hardly an unknown enterprise; etc.