The Heroic Effort to Stop Acid Attacks on Pakistani Women
A film documenting the effort to stop this brutal practice won an Oscar last week.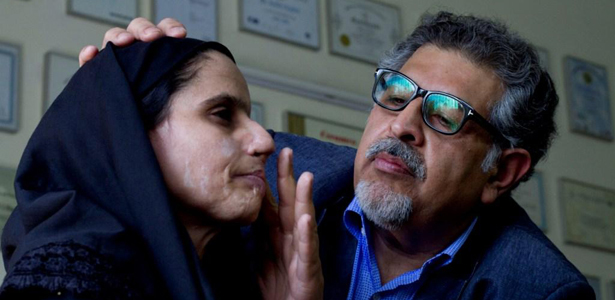 Mohammad Jawad, a subject of the documentary Saving Face, with a patient who has suffered acid burns on her face / Naked Edge Films
---

MORE FROM THE COUNCIL ON FOREIGN RELATIONS
---
In a feel-good moment for Pakistan, a native daughter won an Academy Award last week - a first for the country. Sharmin Obaid-Chinoy, 33, took home the Oscar, along with her co-director, Daniel Junge, for their documentary "Saving Face." The film tracks the heroic work of a British plastic surgeon, Dr. Muhammad Jawad, who tries to rebuild the faces, and lives, of Pakistani women who have been terribly disfigured by an acid attack. Every year in Pakistan, about 100 cases of acid attacks are reported to the police, but many more go unreported. These are usually intimate crimes, perpetrated by family members, often vindictive husbands, but also disgruntled mother-in-laws. The victims tend to be young women who have displeased in some way - perhaps producing a daughter instead of a son; or not doing the mother-in-law's bidding. Some die, but many are left with horrific deformities that often render them blind, unable to eat or to carry on a normal life.
In 2011, Pakistan passed a stringent law to punish perpetrators, and the determined and courageous lawyers, activists, and legislators behind the bill are woven into the documentary. As acid attack survivors watched the proceedings, the Pakistan Senate unanimously passed the Acid Control and Acid Crime Prevention Bill, which imposes on perpetrators a prison sentence of 14 years to life and a fine of up to $11,160. However, it is too soon to say whether Pakistan will rigorously enforce the bill. While Pakistan is eagerly embracing the film's success, it is still not yet scheduled for release in the country. As Chinoy explained, "We're going to try to find the best possible way to show the film while ensuring that the women in the film are safe." American audiences can see it on HBO on March 8th.
Acid attacks are not unique to Pakistan. They occur in India, Bangladesh, Afghanistan, Iraq, and Iran, in addition to Cambodia. The attacks also seem to produce a copycat effect within societies: in Baghdad in 2005, religious conservatives began to attack women with acid for not dressing modestly enough, eventually terrorizing "dozens of women." Acid is inexpensive and easy to access, and the consequences of the attacks are utterly dehumanizing to victims.
Chinoy's previous film focuses on young Pakistani recruits to Taliban, and she herself reflects a new breed of film makers determined to force a national conversation about some of the most disturbing aspects of societies. "Bol" is another remarkable Pakistani film that I saw recently (thanks to my colleague Ed Husain). Set in Lahore, this "Lollywood" film is a turgid social drama that deals with all sorts of sensitive subjects, including transsexuality, hermaphroditism, the oppression of women, female infanticide, prostitution, and sectarian tensions. Directed by veteran filmmaker Shoaib Mansoor, "Bol" was released last year by Geo Films. Although the film's portrayal of religious intolerance has provoked some backlash, "Bol" received critical acclaim and broke historic box office records in Pakistan.
Even as the Pakistani government debates new restrictions on media, films like "Saving Face" and "Bol" are challenging Pakistanis to think about some of the more brutal aspects of society and realize that change is possible.
This article originally appeared at CFR.org, an Atlantic partner site.