The Chinese State Media Don't Do Anything Halfway
The big political news in China appears to be the ouster of Bo Xilai, the most attention-getting figure in China's rising group of Communist leaders. But we shouldn't lose sight of other developments, like the ongoing Chinese state-media observances of International Women's Day.  Previously in this series, stories on "Beautiful service staff" and "Beautiful female journalists" at the big party conferences underway in Beijing. John Hudson of the Atlantic Wire has a nice wrap-up on this theme.
And again from the People's Daily, another Women's Day-themed story and slide show on female involvement at the conferences. ("Two sessions" refers to the simultaneous meetings of China's two main "representative" political groups.)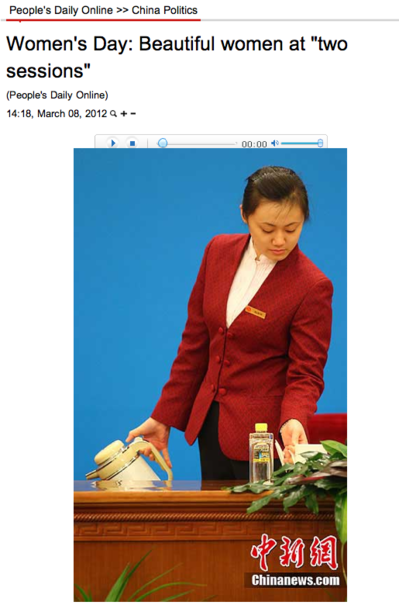 The caption on the picture above says, "A woman is busy in the meeting venue." Bless her heart!
Of course, all stories in this realm aspire to the greatness of a People's Daily item from a few years ago:
America's newspaper industry is in crisis. China's is booming. Hmmmm.