Syria Intervention Is Unlikely Until the Opposition Unifies
If the rebels want outside help, they'll have to learn from Libya.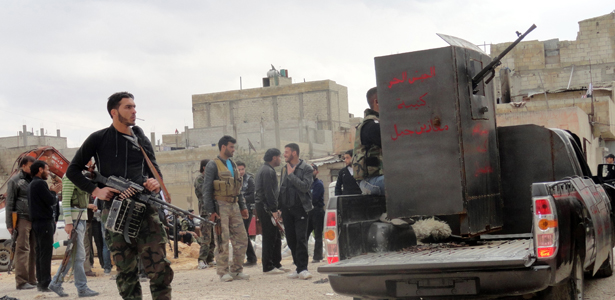 Members of the Free Syrian Army are seen deployed in al-Bayada, Homs / Reuters
Senate Armed Services ranking member John McCain, R-Ariz., on Wednesday pressed Defense Secretary Leon Panetta and Chairman of the Joint Chiefs of Staff Martin Dempsey to strike President Bashar al-Assad's ground forces and provide the Syrian opposition with weapons to overthrow the longtime leader.
If you're wondering exactly who these rebels are, you're not alone. For a little-noticed but compelling case as to why the U.S. won't intervene in Syria as it did in Libya, look no further than the evolution of their respective rebel movements. To gain international support for their uprising against the late Muammar el-Qaddafi, the Libyan rebels did things the Washington way, crisscrossing the globe and presenting written plans for democratic transition. As long as the Syrian opposition remains fragmented without a cohesive message, American lawmakers and officials are likely to remain skeptical of getting involved.
Just days into the Libyan uprising, Qaddafi suffered a serious blow as his envoys to the United Nations, the United States, the Arab League, Australia, and others resigned en masse from their posts or publicly denounced the strongman. Officials defecting from within Qaddafi's government teamed up with longtime opponents of the regime to form an interim government in the eastern city of Benghazi. Declaring itself the only legitimate body representing the Libyan people, the council quickly acted as the political face of the uprising. Rebel leaders embarked on a charm offensive to Western and Arab capitals, pleading for diplomatic recognition, access to billions of dollars in Qaddafi-linked assets, and a supply of weapons and ammunition. Eventually, they got their wish.
---
MORE FROM NATIONAL JOURNAL
---
As the Libyan rebels on the ground waged a bloody military fight, these and other high-level defections were clear signs to the international community that Qaddafi's stronghold was collapsing--and the opposition coalescing. This is not the case in Syria. There have been virtually no high-level defections from Assad's government, the opposition has little political experience, and its fractious composition worries the West with its competing visions of a future Syria without Assad.
Highlighting Washington's lasting uncertainties roughly a year after the Syrian uprising intensified last March, Secretary of State Hillary Rodham Clinton cited the discrepancies between the Libyan rebel council and Syria's less-polished opposition.
The opposition in Libya "had a face, both the people who were doing the outreach diplomatically and the fighters," Clinton told a House panel last week. "We could actually meet with them. We could eyeball them. We could ask them tough questions. Here, you know, when [Ayman al-] Zawahiri of al-Qaida comes out and supports the Syrian opposition, you've got to ask yourself: 'If we arm, who are we arming?'  Clinton's worries were echoed on Tuesday by the head of U.S. Central Command, Marine Gen. James Mattis, who said al-Qaida elements could be present within the Syrian opposition, as evidenced by "rather spectacular" attacks with improvised explosive devices.
Panetta affirmed their worries about the lack of cohesion among the armed Syrian rebels. "With regard to Syria, for us to act unilaterally would be a mistake,"  Panetta told a Senate panel on Wednesday. "It is not clear what constitutes the Syrian armed opposition. There has been no single unifying military alternative that can be recognized, appointed or contacted." With the possibility of civil war, he added, direct outside intervention could inflame the volatile conditions on the ground.
Senate Foreign Relations Chairman John Kerry, D-Mass., has called for the most potent armed opposition force, the loosely organized Free Syrian Army largely composed of military defectors, to subsume itself under the political leadership of the Syrian National Council. That political opposition network, Kerry said, also needs to define a clearer plan for a democratic transition.
Neither task will be simple. "The opposition ... is divided," U.S. Ambassador to Syria Robert Ford recently testified. "And I think it's probably a reach to think they're going to unify anytime soon into one single organization. I don't think that's going to happen." The fractious opposition--with Islamist and secular elements touting competing visions for a future society--has not even united around a solid transition plan, Ford said. "They don't all have to unite into one single party, but they do need to share a vision and they do need to share an agreement on the way forward."
The Syrian opposition is at a disadvantage without a political cheerleading squad in Washington. Defected Libyan ambassador Ali Aujali was able to combat Qaddafi's own claims that the revolt was sparked by a shadowy cabal of al-Qaida operatives by conveying the rebels' message at influential forums like the Center for American Progress. To defuse concerns about the composition of the Libyan opposition, Aujali's aides passed out glossy packets with biographies of its key figures.
Their rich biographies are another thing the Libyan rebels had going for them. The council's chairman, Mustafa Abdul Jalil, was a former Libyan Justice Minister. Its finance minister, Ali Tarhouni, was once a business professor at the University of Washington.
The average Syrian opposition member has little to no political experience, said Sasha Ghosh-Siminoff, executive director of the nonprofit Syrian Emergency Task Force. Some Syrian National Council members were former opposition members of parliament, but for the most part the rebels are "starting from scratch" in politics, Ghosh-Siminoff said. What's more, the personalities within the widespread opposition network based outside Syria often "don't play well with others," he added.
The Assad family's four-decade hold on a police state, thriving off a divide-and-conquer strategy to control its people, is now taking its toll as the rebels try to piece together a transition plan, Ghosh-Siminoff said. "People don't grow up in Syria with the ability to trust someone.... To undo 42 years of psychological trauma in one year is a tall order." Making matters more difficult, the Syrian National Council is made up of groups with different interests like the exiled Muslim Brotherhood, the Kurds, and the so-called revolutionary youth largely based in Syria, who called into the recent "Friends of Syria" conference in Tunisia via Skype.
In recent days, the Paris-based leadership of the Syrian National Council formed a military wing to organize and unify all armed resistance to Assad's government for the first time. It's only a baby step, because the high-level government and military defections that brought political skill and heavy clout to Libya's opposition are unlikely to occur anytime soon in Syria. Assad made the threat clear that defectors will pay a heavy price. "People in the diplomatic corps know what will happen to your family back home if you defect," Ghosh-Siminoff said.
Case in point: The Free Syrian Army was formed originally to encourage portions of Assad's military to defect. Yet Assad's security forces cracked down on the civilian population to punish the army defectors hiding among them. Soldiers instead fled to Turkey or Lebanon, but soon Syrian street protesters began to call for a force to protect them.
With "battalions" forming as soldiers began to defect in groups, command and control networks are budding between the armed rebels on the ground and their high command in Turkey. But the risks of defection are still grave. Just this past weekend 47 soldiers were executed for attempting to join the opposition, and their bodies were dumped in a nearby lake, according to local sources and witnesses. "For high-level defections, there has to be a way for them to defect with their families--at least a 50-50 chance they're going to survive," Ghosh-Siminoff said. To enable defections, there need to be safe zones or humanitarian corridors.
The Syrian opposition's lack of cohesion means they need "all the help they can get" as Assad shows no signs of relinquishing power, said Shadi Hamid, director of research for Brookings Doha Center. The lack of high-level defections is a reason in favor of intervention, not against it, he said. "I think this talk of not knowing the Syrian opposition is in some ways an excuse for inaction."
Hamid called on the international community to make a real effort to unify the Syrian opposition and back its armed struggle. "You can have a debate over whether or not the Syrian National Council is representative. You can say that you don't like the SNC leadership and they've done a bad job," Hamid said. "The opposition is weak, and yes, the SNC has made a lot of mistakes. The SNC has not been able to unify all the strands of the opposition, coordinate effectively with Free Syrian Army on the ground."
But that doesn't make the Syrian opposition any less worthy of support, Hamid said. "We heard a lot of these same arguments before the Libyan intervention too [about the] fighters: 'Do we know who these people are? Are they unified?' It's deja vu all over again."