New at The Atlantic: The Iran War Dial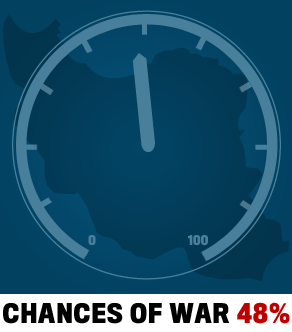 War or peace in the Middle East amounts to a coin toss. The probability that the United States or Israel will strike Iran in the next year is 48 percent according to the Iran War Dial, our new project gauging the chances of conflict.*
How does the Iran War Dial work?
We've assembled a high-profile panel of experts from the policy world, academia, and journalism to periodically predict the odds of conflict. They include:
Daniel Byman, Shahram Chubin, Golnaz Esfandiari, Azar Gat, Jeffrey Goldberg, Amos Harel, Ephraim Kam, Dalia Dassa Kaye, Matthew Kroenig, John Limbert, Valerie Lincy, James Lindsay, Marc Lynch, Gary Milhollin, Trita Parsi, Paul Pillar, Barry Rubin, Karim Sadjadpour, Kenneth Timmerman, Shibley Telhami, Stephen Walt,
and
Robin Wright
.
It's a diverse group ranging from a former Deputy Assistant Secretary of State for Iran, to a Senior Vice President at the Council on Foreign Relations; from a Deputy Head of the Institute for National Security Studies in Tel Aviv, to a military correspondent at
Haaretz
.
Each panelist makes an individual estimate about the percentage chance of war and we report the average score.
The Iran War Dial is not designed to be pro-war or anti-war. Rather, the purpose is to gauge the chances of conflict with Iran in the hope of producing a more informed debate in the U.S. and abroad. If people hold very inaccurate views of the odds of war, it could be dangerous.
We're humble about the accuracy of this prediction, which is really a collective "gut-check." But it may be closer to the truth than the alternative forecasts available.
For more details on project, and the panel, 
read these FAQs
.
Before turning to the panel's estimate, what is the latest on the Iranian crisis?
In February 2012, the UN's nuclear watchdog, the International Atomic Energy Agency,
announced
that its mission in Iran had failed. Tehran was unwilling to offer full access to its nuclear sites and allay concerns over "possible military dimensions" to its nuclear program. Iran's supreme leader, Ayatollah Ali Khamenei,
said that
IAEA fears were "baseless," and Tehran offered to resume negotiations.
Israel has recently stepped up its rhetoric, describing an Iranian bomb as an existential threat and suggesting that there is a limited window of opportunity to significantly damage the Iranian nuclear program. "Whoever says 'later',"
remarked
Defense Minister Ehud Barak: "may find that later is too late." Israel also
signaled
that it would not warn Washington before launching a unilateral strike on Iran.
According to Israeli President Shimon Peres, Israel is
not rushing into war
, but "if another war is forced upon us, we will fight it and we will win it." U.S. defense analysts have
raised doubts
, however, about Israel's capacity to wage a sustained bombing campaign over the "days and weeks" necessary to destroy key Iranian sites.
In the last week, President Barack Obama
delivered
a carefully calibrated message on Iran. He told the
Atlantic
that, "as president of the United States, I don't bluff," adding that, "when the United States says it is unacceptable for Iran to have a nuclear weapon, we mean what we say." In a speech to the American Israel Public Affairs Committee on Sunday, the president
affirmed
that the United States had "Israel's back," and rejected a policy of containing a nuclear Iran. At the same time, Obama announced his "deeply held preference" for peace over war, and urged Israel to allow time for economic sanctions against Iran to bite.
Prominent Republicans have adopted a more hawkish stance on Iran,
criticizing
the president for a weak policy, and pushing Obama to draw clear "red lines" that, if crossed, would provoke a U.S. strike.
Given this context, the panel estimated that the odds of war in the next twelve months were 48 percent. Out of interest, the median estimate was also 48 percent.
This prediction is consistent with the betting market
Intrade.com
, which estimates a 40 percent chance of a U.S./Israeli strike by December 2012. When two different methods of prediction produce a similar result, it increases our confidence that the estimate is fairly accurate.
Peace is still more likely than war, but only just. And when we next update the Iran War Dial, an increase of just three percentage points would mean the odds will favor the hawks.
---
*
When we launched this feature, we called it the "Iran War Clock." See here for an explanation of the change.