photo credit:  Reuters/Alexander Demianchuk
Nobuo Tanaka's hair is on fire.  The immediate past executive director of the International Energy Agency is on a mission attempting to alert officials in the United States, Japan, Europe, China and elsewhere that post-Fukushima Japan may be approaching an energy death spiral.
Tanaka's argument is mathematical at its core.  He argues that if Japan does not find a way to 'turn on' its now shuttered nuclear energy reactors, not only will Japan's already sluggish economic condition be crushed with much larger oil and gas imports from Russia, Southeast Asia and the Middle East -- but because of the costs and risk uncertainty -- Japan's powerful manufacturing base may begin pulling out of the world's third largest economy.  In a morning meeting with me last week, Nobuo Tanaka said that if Japan didn't get its domestic energy production back on line soon, Japan would experience serious 'deindustrialization.'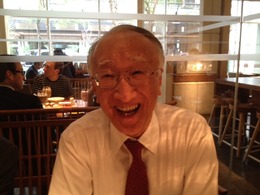 Tanaka explained that at current levels, Japan consumes about 5 million barrels of oil a day.  Without domestically produced nuclear energy -- for which Japan has stockpiled for decades the world's largest non-weaponized highly processed plutonium reserves -- Japan falls about 10% or half a million barrels of oil short of what it must have.