Hawk-in-Chief: Obama Courts Israel Supports by Getting Tough on Iran
His Sunday speech to AIPAC was part of a three-part campaign to soothe Israel's leadership, deter Iran's, and keep Republicans from winning over Jewish voters.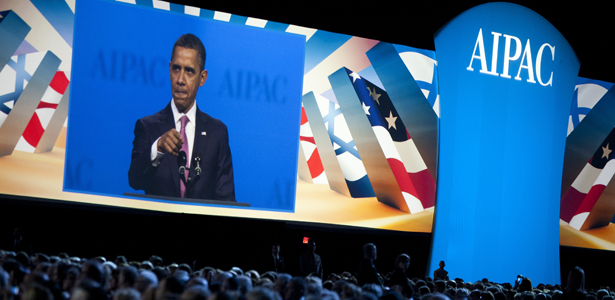 Obama speaks at the American Israel Public Affairs Committee (AIPAC) policy conference in Washington / Reuters
In a rousing election-year speech to the powerful Jewish lobby in Washington, President Obama on Sunday sought to eliminate any remaining daylight between the United States and Israel, especially on the threat from Iran. In so doing he may have succeeded both at firing up Jewish voter support--and at bringing America closer to another war.
Directly confronting the threat from Tehran in a more aggressive way than he ever has before, Obama declared that a nuclear-armed Iran equally violates Israel's interests and "the national security interests of the United States." He tried to remove any remaining doubts about his willingness to use force himself and to green-light, under the right circumstances, Israel's own right to use it, even while urging Israeli leaders to observe a timetable that would delay action until after the U.S. election in November.  Deploying important code words familiar to AIPAC and its supporters, Obama said Iran's leaders  "should not doubt Israel's sovereign right to make its own decisions about what is required to meet its security needs."
---
MORE FROM NATIONAL JOURNAL
---
Toward the end of his speech, which drew several standing ovations, Obama also once again addressed perhaps the central doubt in the mind of visiting Prime Minister Benjamin Netanyahu, who will meet the president at the White House on Monday: whether America will act militarily if Israel cannot seriously damage or destroy the Iranian nuclear facilities on its own.
Obama delivered something close to the guarantee that Israelis and many American Jewish supporters of Israel were looking for: a pledge that if diplomacy, sanctions and pressure don't work, he will attack Iran's nuclear facilities. "I will take no options off the table, and I mean what I say. That includes all elements of American power," Obama said. "A political effort aimed at isolating Iran; a diplomatic effort to sustain our coalition and ensure that the Iranian program is monitored; an economic effort to impose crippling sanctions; and, yes, a military effort to be prepared for any contingency."
Obama also attempted to clarify that he is not pursuing "a policy of containment." The president said his only interest is "to prevent Iran from obtaining a nuclear weapon ... And as I've made clear time and again during the course of my presidency, I will not hesitate to use force when it is necessary to defend the United States and its interests."
The initial reaction from Israel supporters was positive. "The President said some welcome things today on Iran, including making clear that he has a policy of prevention not containment, explicitly pointing to a military option, delivering an extended explanation of why it is in America's interest to stop Iran, and in particular making explicitly clear that Israel has a sovereign right to defend themselves as they see fit," said Josh Block, AIPAC's former spokesman.
Despite the critical national security issues at stake, Obama's address must be seen largely as a re-election campaign speech. He urged AIPAC (and by extension the U.S. Jewish voters) to ignore GOP slurs on his record "not backed up by the facts," saying that  "the U.S.-Israel relationship is simply too important to be distorted by partisan politics. Using a phrase that he first delivered to The Atlantic in an interview published Friday, Obama said "there should not be a shred of doubt by now: when the chips are down, I have Israel's back."
But after delivering those more martial pledges, Obama then tried to tamp down what he called "loose talk of war. Over the last few weeks, such talk has only benefited the Iranian government, by driving up the price of oil, which they depend upon to fund their nuclear program.  For the sake of Israel's security, America's security, and the peace and security of the world, now is not the time for bluster; now is the time to let our increased pressure sink in, and to sustain the broad international coalition that we have built." Obama laid out a timetable for obtaining a diplomatic commitment from Iran to negotiate away its nuclear program that seemed to take him well beyond November. "Sanctions are continuing to increase, and this July - thanks to our diplomatic coordination - a European ban on Iranian oil imports will take hold," he said.
The president, who is under regular attack from Republican candidates for supposed weakness in defense of Israel, also sought to put his administration's early missteps behind him. "As you examine my commitment, you don't just have to count on my words. You can look at my deeds," he said. "The fact is, my administration's commitment to Israel's security has been unprecedented. Our military and intelligence cooperation has never been closer. Our joint exercises and training have never been more robust. Despite a tough budget environment, our security assistance has increased every year. We are investing in new capabilities. We're providing Israel with more advanced technology - the type of products and systems that only go to our closest friends and allies."
Obama remains deeply mistrusted in Israel, and as part of his effort to assuage those concerns he continued to cultivate Israeli President Shimon Peres, who has become his greatest advocate. Speaking just before Obama, Peres affirmed that U.S.-Israeli "security cooperation has reached its highest level" under this president, with a record $3.1 billion in aid a year, and declared to applause that in Obama "we have a friend in the White House." In his speech, the president announced that later this spring he will invite Peres to the White House to present him with America's highest civilian honor - the presidential Medal of Freedom.
At the beginning of his tenure, the president stunned Israel and its supporters in the American Jewish community by attempting to strong-arm the Israelis into halting settlements on the West Bank. Then, last year, Obama sought to blunt a Palestinian effort to win a U.N. General Assembly vote unilaterally recognizing a Palestinian state by declaring, in a speech, that "the borders of Israel and Palestine should be based on the 1967 lines with mutually agreed swaps." Even though such a position has been privately adopted in peace negotiations going back to Camp David, Netanyahu was furious and alarmed by Obama's decision to offer it up unilaterally while getting nothing in return.
On the campaign trail, Republican candidates Mitt Romney and Rick Santorum have both come close to promising U.S. preemptive war against Iran--and soon--if elected. At the most recent GOP presidential debate in Arizona, Romney said that for him, military action wouldn't be merely "an option." Obama, Romney said, has "made it clear through his administration and almost every communication we've had so far that he does not want Israel to take action, he opposes military action. He should have instead communicated to Iran that we are prepared, that we are considering military options. They're not just on the table. They are in our hand."
Despite the all-out effort being made by the White House to talk down the Israelis and muster political support among critical Jewish voters at home, some daylight remains between U.S. and Israeli positions. In particular, while Obama says he will do what is necessary to prevent a "nuclear bomb," Israelis still tend to define their own "red line" as preventing Iranian bomb-making "capability." "With the backing of the U.S. military, [Obama] has stood firm behind weaponization rather than weapons capability as the red line," said Washington commentator Trita Parsi. As a result, Parsi insists, the differences between the U.S. and Israel remain "profound."
Republicans will no doubt continue to assert that the daylight is still there. As GOP advisors Karl Rove and Ed Gillespie put it in recent article in Foreign Policy that attempts to identify Obama's vulnerabilities as commander in chief: "In part because of how he has mishandled the Iranian threat, Obama has lost much political and financial support in the American Jewish community. His approach to Israel must be presented as similarly weak and untrustworthy. The Republican candidate must make clear the existential threat to Israel from a nuclear-armed Iran -- not only because it will lead to a better policy, but also because it will reduce the president's support among this key voting bloc in the critical battleground states of Florida, Michigan, Ohio, and Pennsylvania."
It also remains to be seen how Iran will react to this combustible mix of intensifying U.S. domestic politics and the perception of a heightening security threat from Tehran. Iran continues to deny that it is pursuing nuclear weapons, but experts suggest its position is only hardening. In parliamentary elections on Sunday, loyalists in support of Supreme Leader Ayatollah Ali Khamenei trounced candidates in support of incumbent President Mahmoud Ahmadinejad, who has displayed an occasional willingness to negotiate with the West.  The results delivered a tough message to "the arrogant powers bullying us," Khamenei said in a statement.
And so for Obama, two key questions will dominate in the coming months: Will Netanyahu take him at his word and delay a planned attack on Iran that some security experts suggest could come before the U.S. election? And will the president's politics-fueled new hard line prod the Iranians second-guess their approach--or will it only commit Obama to another war he really doesn't want?