For the Chinese State Media, Every Day is Women's Day
The world will be duller, and we will be thrown back on the Onion and its like for entertainment, when someone in China's propaganda ministry stops to ask WTF??? about the state-owned publications that present China's "soft power" face to the outside world. Last week, People's Daily observed International Women's Day with a photo feature on "beautiful service staff" at the main Communist Party plenaries. Now China Daily's exploration of the same theme continues, with...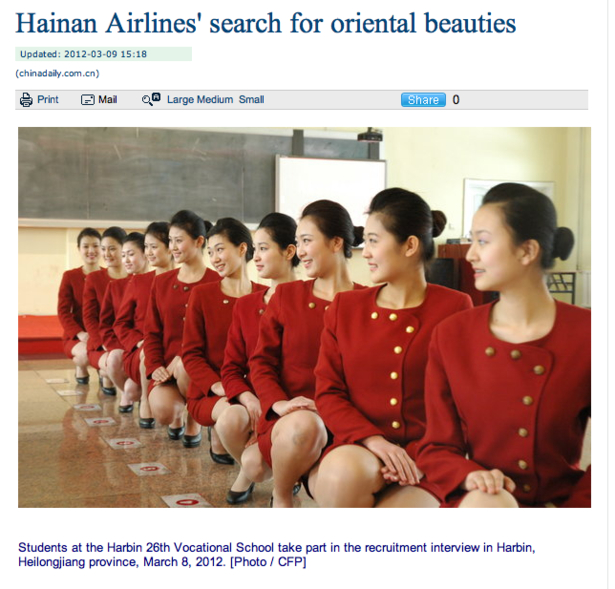 Hainan Airlines, by the way, has been a rough counterpart to Southwest, pioneering a lot of innovations for the Chinese air-travel industry. As the story puts it:

China's Hainan Airlines kicks off its flight attendant recruitment campaign at the Harbin 26th Vocational School in Harbin, Heilongjiang province on Mar 8, 2012. The airliner plans to recruit 1,000 flight attendants through the campus recruitment event, titled "Looking for the oriental beauties".

I'm not sure which is more interesting: how the airline has chosen to cast its campaign, or the deadpan way in which the state media present it. By the way, for all those primed to write in fury after seeing the word "oriental": hey, tell it to people at the newspaper's head office in Beijing, or the airline's in Haikou. Here's more from coverage of the recruiting drive: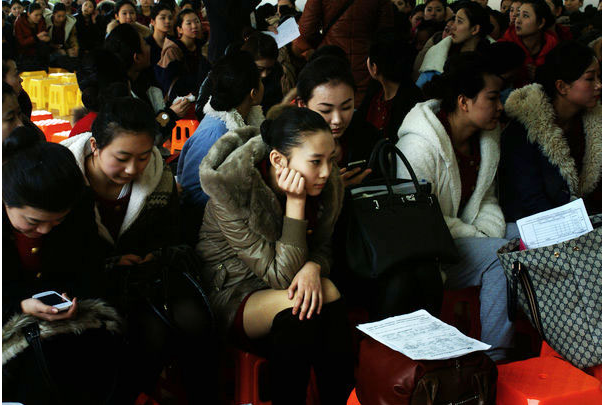 If the real Chinese media ever wise up, I hope we'll still have China Daily Show, a nice combination (as they name would imply) of the original China Daily and the Daily Show spirit. Here is a feature that will warms the heart of anyone who has read the recent pensees of a venture capitalist named Eric Li: