Why Are Afghan Troops Killing Their American Counterparts?
Though the most recent reason appears to be a mistaken Koran-burning, it's a longer trend.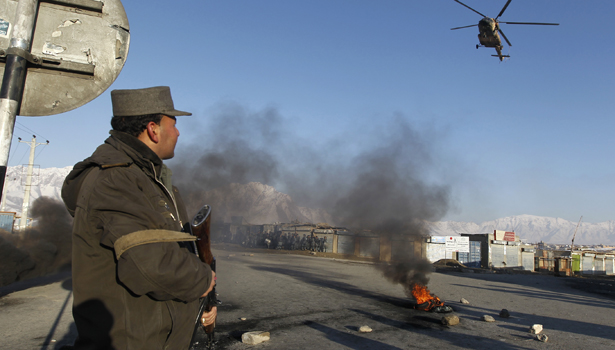 An Afghan policeman keeps watch as a helicopter flies past during clashes with protesters in Kabul / Reuters
The deaths of a pair of American soldiers in Afghanistan Thursday highlights the bloody intersection of two dangerous aspects of the long war there: the growing Afghan fury over the burning of Korans and the continued killings of Western troops by their Afghan counterparts.
An Afghan soldier shot and killed the U.S. soldiers at an outpost in eastern Afghanistan's Nangarhar Province and then, according to a U.S. official familiar with the matter, fled into the large crowd of demonstrators outside the base. They were protesting reports that American troops had burned copies of the Koran, the holiest text in Islam. Elsewhere, a large crowd of protesters also threw stones at a U.S. base in eastern Afghanistan's Laghman Province, while Afghan police fired on protesters in northern Afghanistan's Baghlan Province, killing at least one person.
The increasingly large and violent protests began Tuesday, when the U.S.-led military alliance confirmed that "religious materials" were accidentally burned at a sprawling American base in eastern Afghanistan.
---
MORE FROM NATIONAL JOURNAL
---
President Obama sent a letter to Afghan President Hamid Karzai apologizing for the incident, echoing similar expressions of regret from top administration and military officials. But the apologies have done nothing to assuage public fury in Afghanistan. At least 13 Afghans have died this week, and the riots - and their resulting death tolls - seem certain to escalate in the days ahead.
Fury in Afghanistan and other parts of the Muslim world over reports of U.S. troops descerating the Koran is not new. A Newsweek article in 2005 reported that an American interrogator at Guantanamo Bay flushed a copy of the Koran down a toilet. The article was later retracted, but not before sparking violent protests in Afghanistan, Pakistan, and Indonesia. At least 16 people were killed.
There was more violence last March in response to a Florida pastor publicly burning copies of the Koran. Those riots left roughly 24 people dead, including seven United Nations employees killed in what remains the world body's largest one-day death toll in Afghanistan.
The Koran-related anger may now threaten more Afghan troops to turn their weapons on their American counterparts, a growing trend concerning American policymakers here and in Afghanistan. Taliban officials are already exploiting the widespread fury towards the U.S. In a statement cited by the Associated Press, a Taliban spokesman said destroying the Korans was an "unforgivable crime" and explicitly encouraged Afghan soldiers and police officers to "become real sons of the nation" by killing U.S. and NATO troops.
It's not clear that extremists within the ranks of the Afghan military need much encouragement to target their American counterparts.  Indeed, the two U.S. soldiers killed during the protests in Nangarhar Thursday were the latest additions to a grim tally of so-called "green on green" violence (the phrase is a reference to the color of the uniforms historically worn by military personnel) throughout Afghanistan.
This year alone, an Afghan soldier opened fire at U.S. soldiers playing volleyball at a base, killing one and wounding several others. Another Afghan soldier killed four French soldiers less than a week later, prompting Paris to suspend its training mission in Afghanistan and threaten to accelerate its withdrawal from the country.
U.S. officials had consistently argued that such attacks were motivated by financial problems, personal stress and other prosaic concerns, not ideological affinity with the Taliban. But that case is increasingly difficult to make as more and more Western troops die at the hands of their Afghan counterparts.
A leaked report prepared last year for the American military command in Kabul found that Afghan soldiers and police officers attacked Western troops at least 26 times between May 2007 and May 2011, killing approximately 58 U.S. and NATO troops. The pace of such attacks has been steadily increasing since 2009, the report found. The worst single incident occurred in April 2009, when an Afghan officer killed eight American troops and one U.S. contractor.
"Lethal altercations are clearly not rare or isolated; they reflect a rapidly growing systemic homicide threat (a magnitude of which may be unprecedented between 'allies' in modern military history)," the report said, according to The New York Times, which obtained a copy. U.S and NATO declarations that the attackers were motivated by factors other than ideology "seem disingenuous, if not profoundly intellectually dishonest," the report said.
All of those attacks took place before the fury unleashed by the Koran burnings, suggesting that there is already a pool of Afghan troops pre-disposed to committing acts of violence against Western troops. The Taliban are calling for more such attacks. Barring something unforeseen, extremist Afghan troops seem likely to listen.