What the Middle East Can Learn From the Bronx About Religious Tolerance
Jews and Muslims can and should work with one another.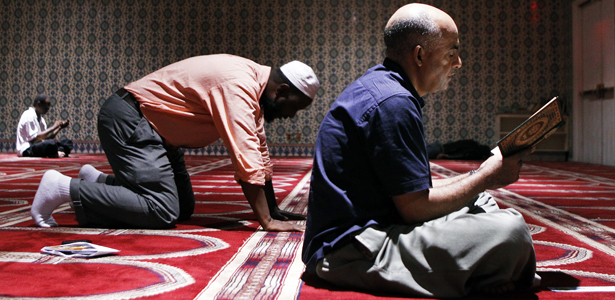 A man reads the Koran in a prayer hall at the Islamic Cultural Center of New York / Reuters
---

MORE FROM THE COUNCIL ON FOREIGN RELATIONS
---
I am a Muslim, yet I sometimes visit Shabbat services in London and New York. Why? Because there is something deeply instructive about being among descendants of Abraham while they worship and recall lives of their ancestors, the ancient prophets of the Old Testament. Muslims also venerate Abraham, Isaac, Joseph, Solomon, Moses, Aaron, and others. Yet the abiding Arab-Israeli conflict continues to consume the children of Abraham: Jews, Christians, and Muslims.
Many Muslims in the Middle East would balk at the idea of sharing mosque space with Jews. I suspect most Jews in Israel or elsewhere would react with similar discomfort.
A recent development in the Bronx not only challenges extremist, separatist tendencies among many Muslims and Jews, but it also falsifies commonly held beliefs about Jews among Muslims. Rarely do I visit a Muslim-majority country and discuss Jewish communities without somebody commenting that Jews are universally wealthy and have an inherent hatred of Muslims. Needless to say, both assertions are flawed, racist, and historically inaccurate. Likewise, many Jews and others wrongly believe that Muslims intrinsically hate Jews. Demonstrating that such ideas are flawed is essential to promoting interfaith understanding and undermining extremist tendencies.
In this story, an Orthodox Jewish community lacking funds to pay the rent for their synagogue prays at a local Muslim center of worship. This religious unity among Abrahamic cousins in New York is an example for people in the Middle East of how Muslims and Jews can harbor less animosity toward each other.
Another example of this religious cooperation, a prelude to greater trust and potential political alliances, is the annual twinning of mosques and synagogues by the Foundation for Ethnic Understanding, the Islamic Society of North America (ISNA), and the World Jewish Society, among other organizations in the United States, Latin America, and Asia.
These incidents of hope and harmony rebut the narrative of extremists and offer a model for Muslims and Jews in the Middle East--the Palestinian conflict is about land, not religion per se.
This article originally appeared at CFR.org, an Atlantic partner site.