What China's Talking About Today: The Rising Cost of Living
The country's Twitter-like microblog starts a conversation about livable wages and disposable income in the world's powerhouse economy.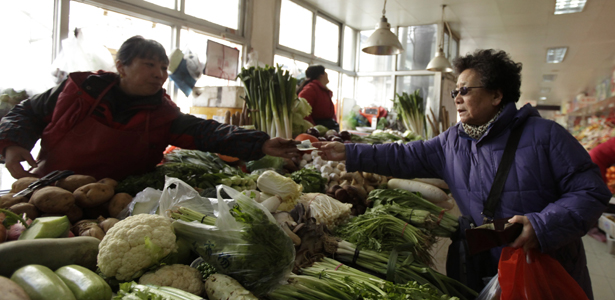 A woman shops for groceries at a Beijing supermarket / Reuters
Chinese Web users are discussing livable wages, savings, and disposable incomes -- all at a time when analysts argue that China must promote consumerism and ween itself off a chronic dependence on production.

Trending today on Sina Weibo, China's popular micro-blogging site, is the phrase "月入7500没安全感." in English: "There's no feeling of security with a 7,500RMB monthly salary."
The hash-tagged quote comes from a Beijing resident who was interviewed in a recent article on Sina News that discusses Chinese middle-class city-dweller's dissatisfaction with their incomes.
In the article, Xiao Yao, a recent university graduate, broke down his monthly finances:
Monthly income before taxes: 7,500RMB (~US$1,191)
Tax and insurance deductions: -1,000
Rent: -1,500
Food: -1,200
Money to send home to the family: -500
Entertainment/ misc. expenses: -1,100
---
Net savings: 2,200
Xiao Yao's gripe is more about savings than being able to spend more than 1,100RMB a month on entertainment and miscellaneous expenses. His net savings rate is about 30%, which he considers perilously low. (The average U.S. savings rate is around 4% right now.)

He doesn't shop much. He doesn't have a girlfriend, so that he doesn't need to do things like "buy designer bags or think about purchasing a home."
"Other than daily expenses, I basically don't make any contributions to the national GDP," Xiao Yao told Sina.

In under a day, discussion of Xiao Yao's monthly salary spanned roughly a million micro-blogs, as of 5 AM on February 29th, Beijing time. On a sidebar poll of nearly 13 thousand Weibo users, some 85 percent reported that they were either altogether unhappy with their earnings -- selecting the option reading, Who doesn't want more money? -- or were living paycheck-to-paycheck.
The Sina News article observes that, although urban Beijing's per capita annual income of over 80,000 RMB is "on-par with rich countries," the city's per capita disposable income is only 33,000RMB -- 40 percent of GDP per capita, "at least 10 percentage points below most rich countries."
Some Weibo users seemed a little more likely to spend their meager disposable incomes than Xiao Yao. 

User 小猪快跑去美国 (literally, "Little pig's soon going to the U.S.") wrote,"For me, [7,500 a month] is more than enough... I spend what I earn. I earn less, I spend less. I earn more, I spend more. -- Don't beat yourself up [about savings]."

Others waxed philosophical about spending.

谷美丽1987 wrote:"If you work hard, spend hard. What's this security you're talking about? Add a 1 in front of that 7,500, and you'll still be insecure. What you should be afraid of is dying and still having a lot of money in the bank."
Shopaholics like the above micro-bloggers could serve to save an economy that, according to this recent post on TheAtlantic.com, attributes only 35 percent of GDP to consumption -- trailing far behind rival developing power, India.