Turkey, Europe's Economic Rising Star, Could Be Pulled Down by Euro Crisis
The country has seen remarkable growth recently, but it may be too reliant on the struggling eurozone nations.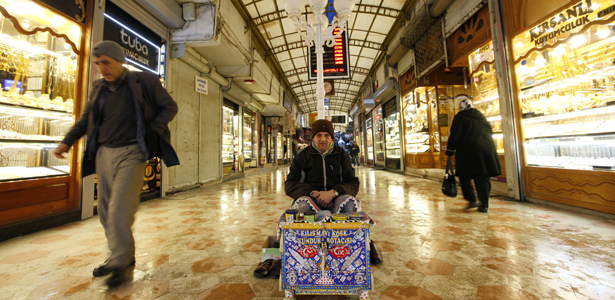 A shoe-shiner waits for customers in the border city of Kilis, southeastern Turkey / Reuters

The last decade has seen the Turkish economy grow at record and world-leading rates and show a remarkable immunity to the financial and economic ills that have gripped the economies of many other countries. But with the Eurozone crisis coming right up to its borders, can Turkey's economy -- which is heavily dependent on trade with Europe -- avoid being impacted by the economic troubles to its west? Not very likely says Daron Acemoglu, a well-known Massachusetts Institute of Technology economist, in an interview with the Hurriyet Daily News. From the interview:
The eurozone debt crisis has turned the European economy into "a ticking time bomb" that lies at Turkey's door, according to a top economist who has been ranked among the most influential thinkers of our time.

Speaking to the Hürriyet Daily News in an interview last week, Daron Acemoğlu, a professor at the Massachusetts Institute of Technology (MIT), also urged the Turkish Central Bank to raise interest rates from their current historic lows.

"The European time bomb lies at the door for Turkey," Acemoğlu said. "The Turkish economy is closely connected to the European economy. Thus, it is open to all possible shocks."

Regarding the possibility of a new global recession, Acemoğlu put the chance as high as 50 percent. "If there is a new recession in Europe, Turkey would go back to experience 2009 once again," he said, a year when the Turkish economy contracted by 4.7 percent.

Despite the positive effects of economic reforms, Turkey should "increase interest rates" in order to put the brakes on strong domestic demand, Acemoğlu said, adding that such a move would provide the policy flexibility that would be necessary following a possible shock from the eurozone.

The Turkish Central Bank's one-week repo rate remains at 5.75 percent, while the overnight interest rate corridor stands at 5 to 12.5 percent. Year-end inflation target is at 5.5 percent, but many analysts foresee it exceeding 9 percent. Meanwhile, Turkey's current account deficit has neared 10 percent of gross domestic product - unsustainable in the eyes of many economists.

"Turkey aims to slow down credit expansion while keeping interest rates too low. This is not the right thing to do," Acemoğlu said. According to the 44-year old economist, today's Turkey has similarities with the pre-crisis period of U.S. and European economies.

"A key [sign] of an economic crisis is overspending and overconsumption, which generally is followed by a sharp decline in consumption later on, creating serious problems," he warned.
Full article here.
Hurriyet economics columnist Emre Deliveli also recently took a look at what the Eurozone crisis means for Turkey and suggests that while many Turkish economists aren't concerned about any sort of repercussions for the Turkish economy he is less optimistic, particularly regarding issues surrounding Turkey's debt. From his column:
In addition to the $ 77 billion of current account deficit that needs to be financed, there is $ 135 billion of short-term external debt maturing within a year.

Although some of this, such trade credits, can easily be rolled over, Turkish banks have $ 32 billion of debt, mostly owed to European lenders. As Eurozone banks deleverage to meet capital adequacy ratios or simply to make ends meet, their Turkish counterparts could find it more and more difficult to secure new borrowing.

The government is well aware of the external financing risks, but there isn't much they can do at this point.
Meanwhile, surrounding the question of how Europe's economic troubles will affect Turkey is a debate over if the Turkish Central Bank should raise interest rates in order to cool the Turkish economy down. In fact, it's a debate that's gotten so hot that some economists and journalists who have criticized Ankara's monetary policy have found themselves under attack. From a recent Wall Street Journal article on the subject:
Some economists--like Fitch on Wednesday--have worried aloud that the central bank and government are too sanguine about inflation and the current-account deficit, which is running as high as 10% of gross domestic product. On Tuesday the central bank nudged its end of year inflation forecast up to 9.2%, well above the bank's 5.5% target.

A special report.

See full coverage

Some of these economists say they have come under pressure for criticizing the bank for keeping rates too low, especially after Economy Minister Zafer Caglayan in July accused them of trying to force interest rates up so they can "earn more money on Turkey."

Economists say their criticisms are basic analysis. "You are growing rapidly and you cut [rates]. That isn't normal," said Alpay Dinckoc, equities analyst at Oyak Securities, an Istanbul-based brokerage. The central bank last cut interest rates in August, after a second quarter in which growth was 8.8%. In September, industrial production grew 12% compared with a year earlier, twice the rate forecast, suggesting that Turkey's growth remained strong.

"This is a ridiculous debate but there is a rising pressure....In all topics people are censoring themselves," said one Istanbul economist, who declined to be named. "When I criticize the central bank it might be published in Sabah [a large pro-government newspaper] and then I can't get an appointment in Ankara and can't do my job effectively."
Full article here.
This article originally appeared at EurasiaNet.org, an Atlantic partner site.