The Vital Role of Global Journalism in the Digital Age
A new report from the Committee to Protect Journalists shows the new challenges they face around the world.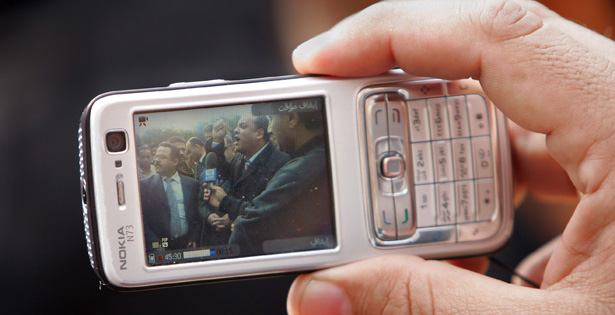 The Committee to Protect Journalists has just marked its thirtieth anniversary, in a year notable for the breadth of international protest movements and the expansion of digital technology for the collection and distribution of information. Facebook, Twitter, and YouTube have become embedded in the dissemination of events as they take place and have impacted the definition of news in fundamental respects. In ways unimagined a decade ago, the streets are filled with amateurs. Their efforts at working around the repressive techniques of authoritarian governments have made a significant difference in newsgathering. Trained journalists and the "citizen" reporters who supply so much of the raw material for them are at the forefront of upheaval, with consequences that are as dangerous as they are illuminating.
CPJ's annual report, along with the many additional surveys available on its website, provide unusually valuable insight into the organization's work: monitoring the role of journalism and defending the rights of journalists wherever unrest spreads. Joel Simon, who served first as deputy director and since 2006 as CPJ's executive director, summarized its activities in the introduction to this year's annual report:
The tumult of events around the world has tilted us wildly from exhilaration to despair and back again--sometimes within the space of a single day. We are privileged at CPJ to work with journalists on the frontlines of history, but we have never worked on so many fronts at once. From Arab Spring to bloody summer and onward, we have been consumed this year with events across the Middle East and North Africa. CPJ tracked attacks against journalism in real time, reporting on Tunisia, Egypt, Bahrain, Libya and Syria--not to mention the ongoing crisis in Iran, one of the world's leading jailers of journalists. We did all this while responding to other crisis situations--a renewed crackdown on dissent in China following calls for a "Jasmine Revolution", a spate of attacks against journalists caught up in the outbreak of civil war in Ivory Coast and a spike in the murder of journalists in Pakistan...

With our 30th anniversary in 2011, CPJ enjoys greater influence and international reach than ever before. We also serve an exponentially growing constituency as more journalists today work independently without institutional guidance or support in cases of emergency.
Leafing through the pages of its report and scanning the extensive online output, what is striking is which countries stand out as particularly repressive, and, occasionally, where unexpected progress has been made. Under the headline "Imprisonments jump worldwide, and Iran is the worst," CPJ recorded a 20 percent increase in the jailing of journalists, to the highest level since the mid-1990s. Much of that is attributable to the conflicts in the Middle East and North Africa, but Iran, with 42 journalists behind bars, ranks first. On the other hand, CPJ found that, for the first time since 1996, no Cuban journalists are in custody, a culmination of eight years of advocacy that led to the gradual release of 29 who had been arrested in a major crackdown in 2003. Another major survey was headlined: "For journalists, coverage of political unrest proves deadly." At least 43 journalists were killed worldwide in connection with their work in 2011, with seven deaths in Pakistan the largest number, followed by Libya and Iraq, with five each.
The extraordinary growth in 2011 of social media and the daring engagement of protesters who funnel the information they collected represents the distinctive factor in how journalism operated in the arenas of turbulence, where arrests and killings were often recorded. The CPJ report contains revealing photographs credited to Ed Ou of the New York Times/Redux, captioned with this summary of what was happening in Egypt exactly a year ago: "Young Egyptians played a leading role in documenting the revolution as it unfolded. Journalists and activists collected pictures, videos and voices from protestors in the streets and posted their material on social media sites such as Facebook and Twitter. Even when the Egyptian government switched off much of the Internet on January 28, media activists found innovative ways to get information out and stay connected with the world."
CPJ's findings reflect a profound shift toward reliance on Internet advocacy. "Blogging, video sharing and text messaging from cellphones now bring news from some of the most oppressive countries to the rest of the world," the annual survey concludes, "Yet the technology used to report the news has been matched in many ways by the tools used to suppress information." In Syria, for example, CPJ says, there is a practice that computer experts call "rubber-hose cryptanalysis," which means, bluntly, the use of force to extract critical data from activists, including passwords and log-in details. As 2012 unfolds, the likelihood is that the governments and regimes where civil strife continues will keep up the pressure on journalists, and social media will defy the attempts to suppress it. While Twitter has been a symbol of free expression, its management recently announced that it would, as the Wall Street Journal reported, remove messages if "the request to do so comes from 'an authorized entity' and would notify people whose tweets have been removed."
Twitter faces a storm of criticism if it holds to that position, but ultimately, the journalists and their sources among protestors and dissidents are likely to find ways around the restrictions. As Joel Simon wrote in the CPJ report, "journalism is a manifestation of a basic human urge to know and to communicate our knowledge to others. Such an essential impulse is impossible to fully repress."

Photo credit: AP Images