The Risks of Romney's Anti-China Rhetoric
The presidential candidate says he wants to take "counteraction" against Beijing for its trade policies, but U.S. China-hands are skeptical.
The presidential candidate says he wants to take "counteraction" against Beijing for its trade policies, but U.S. China-hands are skeptical.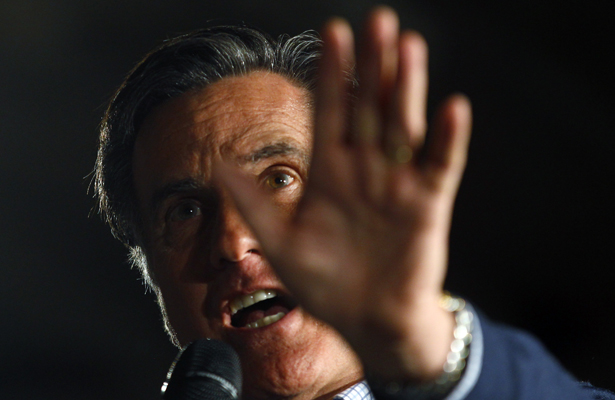 Mitt Romney / Reuters
Mitt Romney's investment-banking background and free-market message would seem to make him the candidate of choice for America's business community. Except when he talks about China.
The Republican presidential hopeful sounds more like a card-carrying union member than a former CEO when he outlines his White House agenda for China, urging tariffs and downplaying the threat of a trade war. He extended his tough talk recently to the pages of The Wall Street Journal in a piece epitomizing the protectionist rhetoric he's deployed for much of his presidential campaign.
"Unless China changes its ways, on day one of my presidency I will designate it a currency manipulator and take appropriate counteraction," Romney wrote. "A trade war with China is the last thing I want, but I cannot tolerate our current trade surrender."
Politically speaking, Romney has good reason to attack the economic relationship with the world's largest country. The issue resonates with the conservative activists his campaign has struggled to attract.
But the approach has also tarnished his reputation in the business community. Private-sector leaders aren't panicking quite yet about a leading GOP contender sounding like a Rust-Belt Democrat, but there's a palpable nervousness among them that Romney isn't an ally on what they consider a crucial economic issue.
"It doesn't make a huge amount of sense," said Bill Reinsch, president of the National Foreign Trade Council. "I don't know why anyone would think that on the first day in office, the most important thing to do is to stick it to the Chinese."
---
MORE FROM NATIONAL JOURNAL
---
Even Romney allies have blasted Romney's position as oversimplified. Jon Huntsman, the former U.S. ambassador to China, who endorsed Romney after exiting the presidential race last month, criticized him during an appearance on MSNBC last week. "When it comes to China, I think it's wrongheaded when you talk about slapping a tariff on day one," Huntsman said. "That pushes aside the reality, the complexity of the relationship."
The political reality is something else entirely. A May 2011 survey by the Pew Research Center found that the most conservative part of the electorate, the 11 percent of registered voters it calls "staunch conservatives," is by far the most eager to apply economic pressure on China. Seventy-nine percent want to "get tough" on China instead of increasing cooperation. That's a dramatic 30 points higher than get-tough sentiment among the "Main Street Republicans" who account for 14 percent of registered voters.
"Republicans tend to have more negative views about China, and the conservative base in particular tends to have negative views toward China," said Richard Wike, an associate director of the Pew Global Attitudes Project.
The politics have shaped not only Romney's views but those of the Republican Party as a whole, which has lurched leftward on free trade with China. That helps explain the thinking behind ads like Michigan GOP Senate candidate Pete Hoekstra's controversial Super Bowl spot, which linked too much U.S. domestic spending (and borrowing from China) with a rise in China's global dominance.
The timing of Romney's anti-China piece in The Wall Street Journal wasn't an accident. It came during Chinese Vice President Xi Jinping's visit to the United States. It also came during a critical time for his campaign in Michigan, where he faces a fierce challenge from former Pennsylvania Sen. Rick Santorum in the Feb. 28 primary. In a state where employment has been hollowed by the decline of the manufacturing industry, tough talk toward China seems a sure political winner.
The business community for decades has watched presidential contenders routinely use free trade with China as a political punching bag, only to preserve the same policies once in office. But Romney's campaign is giving them pause.
According to one Washington lobbyist who works on U.S.-China relations, and who requested anonymity in order to speak candidly, Romney's continued hammering on the issue -- he has mentioned it frequently for months -- has raised concern among private industry leaders that this is more than rhetoric. "He has clearly staked out a position," said the lobbyist, who backed Romney in 2008.
Romney's stand also doesn't sit well in free-market circles, where some dispute the idea that China's currency manipulation has wreaked havoc on the U.S. economy. That a former CEO would lend credence to the theory shifts the public debate leftward, said Derek Scissors, a research fellow who focuses on Asia at the conservative Heritage Foundation. "I've had members of Congress say to me, 'You know, Romney thinks you're wrong,' when I'll make argument that the exchange rate doesn't affect us," he said.
Challengers to a sitting president usually attack incumbents as soft on China, putting Romney -- who calls President Obama a "supplicant" to China -- well in the mainstream. But Scissors said there's a difference this year because Obama, who imposed a tariff on tires imported from China, is already farther to the protectionist left on China trade than any recent president. "Republicans have made a choice that even though President Obama is ambivalent about free trade and on the protectionist side, we're going to move even farther" in that direction, he said.
Harming trade with China would have huge reverberations across the U.S. economy. According to the Census Bureau, China was America's second-largest trading partner in 2011, behind only Canada. It accounted for 13.6 percent of all trade. In other words, billions upon billions of dollars are at stake.