The Politics of Apology: Obama Must Say 'Sorry' to Afghanistan and Pakistan
The importance of preserving ties with Kabul and Islamabad should trump domestic U.S. politics.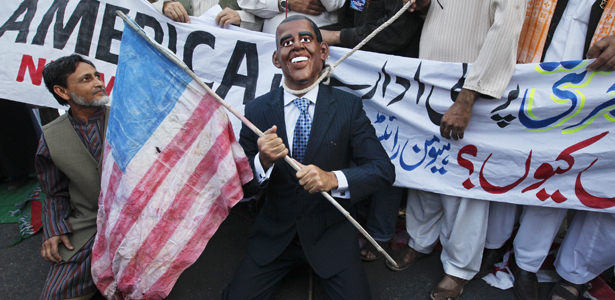 Pakistani protesters at an anti-U.S. rally in Pakistan / Reuters
The killing of two U.S. military officers by a gunman inside Afghanistan's heavily guarded Interior Ministry on Saturday, part of an explosion of anti-American violence that has continued unabated despite a U.S. apology over the burning of Korans by U.S. troops, has complicated President Obama's plans to accelerate the NATO troop withdrawal and hand some operations over to the new Afghan army by mid-2013.
The challenge facing Obama is even more difficult, both strategically and politically, because his administration is preparing another apology to neighboring Pakistan over the errant NATO strikes that killed 24 Pakistani soldiers last fall. This statement was to have been delivered shortly by high-ranking U.S. military and civilian officials, most likely by Joint Chiefs Chairman Martin Dempsey and Secretary of State Hillary Clinton, two U.S. officials told National Journal.
---
MORE FROM NATIONAL JOURNAL
---
The anti-American protests in Kabul have raged since early last week, when it was first reported that Korans and other religious materials had been thrown into a pit used to burn garbage at Bagram Air Field north of Kabul. At least 25 people have been killed, including two other U.S. soldiers. A U.S. military spokesman in Kabul told National Journal that the violence would not set back plans to begin handing over security to Afghan forces, despite the decision by Gen. John Allen, commander of U.S. forces, to withdraw all NATO personnel from government ministries after the shootings on Saturday. Allen had previously apologized for the burning of the Korans.
"I don't think there's any discussion about this affecting transition," said the official, who spoke on condition of anonymity. "Frankly our position is this was a careless act, but we've already apologized for it and we want to move on."
Whether the planned transition in Afghanistan is affected or not, the apologies over the Koran incident and the NATO strikes pose some political peril for Obama at home in an election year. Republican presidential candidates have been regularly accusing Obama of appeasement and, as former Massachusetts Gov. Mitt Romney has put it, "apologizing for America."
On Thursday, GOP presidential candidate Newt Gingrich, who has grown increasingly immoderate in his statements as he has faded in the polls, called the U.S. apology to Afghan authorities over the burned Korans "astonishing'' and undeserved. Other Republicans have not joined in the criticism as yet. Neither Mitt Romney nor Rick Santorum's campaigns responded to requests from National Journal for comment on the killings of the officers on Saturday -- underscoring not only the distance those campaigns have put between their operations and Gingrich's but their reluctance to wade into the snarled issue of U.S.-NATO operations in Afghanistan.
As one senior congressional GOP adviser told National Journal Saturday: "The military made a mistake, even if there were radical sayings written in the Korans, we should have sought the help of a local cleric on how to dispose of them. It was a stupid mistake by our military that undercut the very essence of our strategy. When similarly unfortunate events occurred, President Bush apologized as well. There are a thousand things to criticize about the president's handling of two wars. But this ain't one of them."
Whether Obama can escape similar criticism over the apology to Pakistan that his administration is quietly preparing remains to be seen.
The latter apology, linked to an official Pentagon investigation that partially blamed mistakes made by U.S. forces for the NATO incident, was put off indefinitely after the Koran incident, but U.S. officials say they still plan to deliver it in coming weeks.
The administration initially had refused to apologize for the NATO strikes. The White House, Pentagon and State Department rebuffed the U.S. ambassador to Pakistan, Cameron Munter, early on when he pressed for an immediate apology following the Nov. 27 incident. But prodded by the new Pakistani ambassador in Washington, Sherry Rehman, the State Department resurrected the idea in recent weeks, and this time the White House and Pentagon signed off on it.
As one Defense Dept official put it this week, the administration realized that something had to be done to "try move past the rough patch" with Pakistan. Last month, Ryan Crocker, the U.S. ambassador to Afghanistan, sent a top-secret cable to Washington concluding that Taliban havens in Pakistan were jeopardizing the success of the U.S. strategy in Afghanistan, The Washington Post reported on Saturday.
With U.S.-Pakistan relations still roiled by the fatal NATO strikes and other disputes, especially the unilateral mission that killed Osama bin Laden in a Pakistani town last year, the administration has felt compelled to give Islamabad a face-saving way to resume normal ties. The United States is pushing for talks with the Taliban ahead of a planned withdrawal from neighboring Afghanistan that is to be completed in 2014. Recently the Afghan government and Pakistani Prime Minister Yusuf Raza Gilani also called for negotiations with the Taliban.
But U.S. officials fear that without more assistance from Islamabad, the Taliban could exploit the American withdrawal from Afghanistan to wreak havoc from across the border. Relations between Pakistan and Afghanistan are also tense following the assassination of Burhanuddin Rabbani, Afghan President Hamid Karzai's chief peace negotiator and a former Afghan president himself, last September, allegedly by a Taliban suicide bomber. Kabul blamed Pakistan for the attack. Pakistan denied it, but Islamabad has sought to support the Islamist group as a strategic asset.
President Obama now faces a crisis in which strategic challenges abroad and presidential politics at home could collide head on in the months ahead.