South Africa Leads the Continent (Slowly) on Gay Rights
Homophobia is a problem in much of Africa, but one country is showing signs of progress.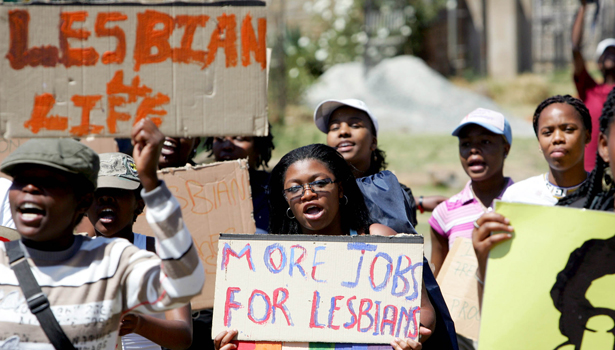 Gay rights activists march in Soweto, South Africa / Reuters
---

MORE FROM THE COUNCIL ON FOREIGN RELATIONS
---
Unfortunately, much of sub-Saharan Africa is homophobic. Recent legislation, some proposed, some passed, condemns gay marriage and sometimes outlaws gay sexual activity. Nigeria, Uganda, and Liberia all have such legislation pending or passed, often with the provision of draconian penalties. Such legislation appears to be very popular.
The exception is South Africa, with a constitution that provides among the most comprehensive protection of individual rights in the world. Last week, a regional court magistrate sentenced four men convicted of murdering a 19-year old lesbian in 2006 to eighteen years in prison, with four years suspended. The sentencing was widely hailed by the human rights community.
The trial and sentencing took place in Khayelitsha, a grim township outside of Cape Town and an area of severe social deprivation.
Certainly there is homophobia in South Africa. The Zulu King, Goodwill Zwelithini, was quoted in the South African press as saying, "Traditionally, there were no people who engaged in same-sex relationships. There was nothing like that and, if you do it, you must know that you are rotten."
But, the acceptability of homophobia in South Africa appears to be low. Following outcry, the Zulu Royal Household issued a public statement saying that the king was a victim of a "reckless translation" of his remarks from Zulu to English. The household spokesman said, "At no stage did His Majesty condemn gay relations or same sex relations."
Meanwhile, in Uganda, where a particularly draconian piece of anti-gay legislation is working its way through parliament again, former South African president Thabo Mbeki said publicly that what consenting adults do in private "is really not the matter of law." He also recalled that the apartheid regime in South Africa had prohibited sexual relations across the color line, and that it provided the police with the authorization "to raid peoples' bedrooms."
Outside of South Africa, Western advocacy of gay rights is often seen as a form of cultural imperialism. There was harsh criticism of UK Prime Minister David Cameron's statement at the Commonwealth Heads of Government Meeting that the UK might suspend assistance to commonwealth countries that violated gay rights, as well as Secretary of State Hillary Clinton's decision to encourage NGOs funded by the U.S. government to promote gay rights.
It is an interesting question why South Africa is so different on this issue from the rest of Africa. Some of it has to do with the memories of apartheid, as Mbeki said. Some of it has to do with the wide recognition that gay rights are an aspect of human rights, about which South Africans are very sensitive. But, I think leadership has also played a role. Among those who have spoken out in favor gay rights have been Nelson Mandela, Archbishop Desmond Tutu, and Thabo Mbeki. They help create an atmosphere in which public homophobia is unacceptable.
This article originally appeared at CFR.org, an Atlantic partner site.